The Last to See Me: The Last Ghost Series, Book One (Paperback)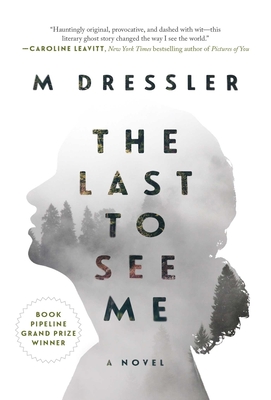 Other Books in Series
This is book number 1 in the The Last Ghost Series series.
Description
---
"Exquisitely written, introduced me to the inner life of a ghost and held me spellbound throughout….M Dressler has written an extraordinary book, poignant and tragic."—Luanne Rice, New York Times bestselling author

Over one hundred years ago, Emma Rose Finnis was born and died in the remote northern California town she now haunts. When she was alive, she was a lowly chambermaid and worse, a Finnis. Now, no one remembers her hardworking life and her grand dreams—because there are none left to remember. In a world where phantoms are considered "unclean," the spirits of her town have already been removed. All except Emma Rose.

But when a determined hunter arrives with instructions to extinguish her once and for all, Emma Rose refuses to be hounded from her haunt, the stately Lambry Mansion. She's earned her place and she'll keep it—even if it means waging a war on the living. After all, she's got nothing left to lose. The same might not be said for those who still enjoy the luxury of a breath . . .
About the Author
---
M Dressler's work has been praised by the New York Times as "splendid" and by Library Journal as the writing of a "natural-born storyteller." She is the critically-acclaimed author of novels, novellas, and essays, and her stories and nonfiction have appeared in the Kenyon Review, Creative Nonfiction, and LitHub, among others. Her honors include the Fulbright Fellowship and the Paisano Fellowship in Literature, as well as writing residencies at Hedgebrook and the Carson McCullers Center. She is a professor and current writer-in-residence at Guilford College in North Carolina. She lives in Greensboro, North Carolina and in Moab, Utah.
Praise For…
---
Book Pipeline 2017 Grand Prize Winner
Winner of the Audiofile Magazine 2018 Earphones Award for Fiction

"In this highly atmospheric and beautifully crafted novel, the movements of the ghost Emma Rose are both palpable and fascinating. This latest from Dressler (The Deadwood Beetle) is spellbinding from page one." "—Library Journal, starred review

"Evocative . . . astonishing . . . at once lyrical, and ruthlessly human."—Horror Reviews

"A gorgeous mystery of love that twists into curses." — Kirkus

"Dressler's chilly new story is one woman's unforgettable fight for visibility."—Booklist

"Dressler . . . possesses a sublime talent for supernatural fiction—The Last to See Me being her first foray into the genre. Like Alice Lambry's sea-glass, glimmering and reflecting the light of the golden sun, Dressler's attention to detail helps capture the ethereal in a flash."— Sublime Horror

"Moving, chilly . . . perfect.""—Book Page

"In this enjoyably claustrophobic novel set almost completely within Lambry House, Dressler reaches beyond the grave to consider the lengths that people go to in order to leave their mark behind." ——Publishers Weekly

"Hauntingly original, provocative, and dashed with wit—this literary ghost story changed the way I see the world." —Caroline Leavitt, New York Times bestselling author of Pictures of You and Cruel Beautiful World

"A book that will leave you breathless."—Milwaukee Journal Sentinel

"For those who need a good scare."—Telegraph Herald

"Dressler knows how to make worms and flowers seem positively, dreadfully frightening, a talent readers will come to adore."—Bluffton Today

"Dressler does weave what could be her own version of how love can undo you. How it can become this thing that blinds, that quite literally becomes your ruin, the ghost is ultimately the haunted until set free. The imperfect metaphor for love's much darker side."—Chippewa Herald

"This poem of a novel, exquisitely written, introduced me to the inner life of a ghost and held me spellbound throughout. . . . I heard whisperings from the attic, from under the bed. M Dressler has written an extraordinary book, poignant and tragic." —Luanne Rice, New York Times bestselling author of The Beautiful Lost

"M Dressler has created an original world between time and place, but the longings of her characters are very real. She paints exquisite images with her words, each paragraph a revelation. Don't miss this unusual and wonderful novel." —Carolyn Haines, USA Today bestselling author of the Sarah Booth Delaney mystery series

"Marvelously written . . . A book about how the present and past live in constant tension, how past tragedies still influence our lives today." —Jeff Abbott, New York Times bestselling author of Blame

"The Last to See Me is a riveting supernatural duel that reveals itself one measured and lyrical gut punch at a time. A compelling and beautifully written page-turner."—Scott Hawkins, author of The Library at Mount Char

"Readers will be ensnared and entranced by this story." —Wendy Webb, bestselling author of The Fate of Mercy Alban

"A new way to think about place, alienation, and the yearnings that make ghosts of us all. This is a writer working at the height of her powers." —W. Scott Poole, Bram Stoker Award nominee and author of In the Mountains of Madness: The Life and Extraordinary Afterlife of H. P. Lovecraft

"Dressler weaves a suspenseful ghost story that explores love in many dimensions—both spiritual and of the human heart." —April Smith, author of Home Sweet Home

"Completely captivating, The Last to See Me is the most original take on the ghost story since The Others." —Lauren A. Forry, author of Abigale Hall

"The Last to See Me is the most original ghost story I've read in years. It's both a thrilling tale and a bold condemnation of moral tyranny—a tyranny that fires the spirit of a brave, vulnerable young woman even after death. I couldn't stop reading until I turned the last shocking page. Exquisite and terrifying." —Laura Benedict, Edgar-nominated author of the Bliss House novels

"Love, longing, fear, hope—the common threads of mortal experience weave themselves through Dressler's exquisite story of an ordinary life that reaches extraordinary proportions. The Last to See Me is a ghost story that's deeply human, rich with wonder at all that makes even the most invisible life profound." —Margo Catts, author of Among the Lesser Gods

Book Pipeline 2017 Grand Prize Winner
Winner of the Audiofile Magazine 2018 Earphones Award for Fiction

"In this highly atmospheric and beautifully crafted novel, the movements of the ghost Emma Rose are both palpable and fascinating. This latest from Dressler (The Deadwood Beetle) is spellbinding from page one." "—Library Journal, starred review

"Evocative . . . astonishing . . . at once lyrical, and ruthlessly human."—Horror Reviews

"A gorgeous mystery of love that twists into curses." — Kirkus

"Dressler's chilly new story is one woman's unforgettable fight for visibility."—Booklist

"Moving, chilly . . . perfect.""—Book Page

"In this enjoyably claustrophobic novel set almost completely within Lambry House, Dressler reaches beyond the grave to consider the lengths that people go to in order to leave their mark behind." ——Publishers Weekly

"Hauntingly original, provocative, and dashed with wit—this literary ghost story changed the way I see the world." —Caroline Leavitt, New York Times bestselling author of Pictures of You and Cruel Beautiful World

"A book that will leave you breathless."—Milwaukee Journal Sentinel

"For those who need a good scare."—Telegraph Herald

"Dressler knows how to make worms and flowers seem positively, dreadfully frightening, a talent readers will come to adore."—Bluffton Today

"Dressler does weave what could be her own version of how love can undo you. How it can become this thing that blinds, that quite literally becomes your ruin, the ghost is ultimately the haunted until set free. The imperfect metaphor for love's much darker side."—Chippewa Herald

"This poem of a novel, exquisitely written, introduced me to the inner life of a ghost and held me spellbound throughout. . . . I heard whisperings from the attic, from under the bed. M Dressler has written an extraordinary book, poignant and tragic." —Luanne Rice, New York Times bestselling author of The Beautiful Lost

"M Dressler has created an original world between time and place, but the longings of her characters are very real. She paints exquisite images with her words, each paragraph a revelation. Don't miss this unusual and wonderful novel." —Carolyn Haines, USA Today bestselling author of the Sarah Booth Delaney mystery series

"Marvelously written . . . A book about how the present and past live in constant tension, how past tragedies still influence our lives today." —Jeff Abbott, New York Times bestselling author of Blame

"The Last to See Me is a riveting supernatural duel that reveals itself one measured and lyrical gut punch at a time. A compelling and beautifully written page-turner."—Scott Hawkins, author of The Library at Mount Char

"Readers will be ensnared and entranced by this story." —Wendy Webb, bestselling author of The Fate of Mercy Alban

"A new way to think about place, alienation, and the yearnings that make ghosts of us all. This is a writer working at the height of her powers." —W. Scott Poole, Bram Stoker Award nominee and author of In the Mountains of Madness: The Life and Extraordinary Afterlife of H. P. Lovecraft

"Dressler weaves a suspenseful ghost story that explores love in many dimensions—both spiritual and of the human heart." —April Smith, author of Home Sweet Home

"Completely captivating, The Last to See Me is the most original take on the ghost story since The Others." —Lauren A. Forry, author of Abigale Hall

"The Last to See Me is the most original ghost story I've read in years. It's both a thrilling tale and a bold condemnation of moral tyranny—a tyranny that fires the spirit of a brave, vulnerable young woman even after death. I couldn't stop reading until I turned the last shocking page. Exquisite and terrifying." —Laura Benedict, Edgar-nominated author of the Bliss House novels

"Love, longing, fear, hope—the common threads of mortal experience weave themselves through Dressler's exquisite story of an ordinary life that reaches extraordinary proportions. The Last to See Me is a ghost story that's deeply human, rich with wonder at all that makes even the most invisible life profound." —Margo Catts, author of Among the Lesser Gods