Battle for Loot Lake: An Unofficial Novel for Fortnite Fans (Trapped In Battle Royale) (Paperback)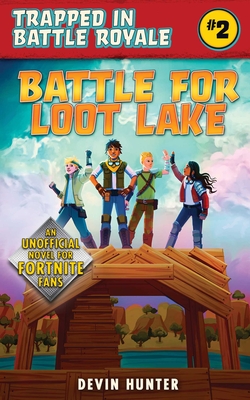 Description
---
What is more fun for boys and girls than reading? More fun that playing the world's most popular game? Reading an adventure set in the world of Fortnite!

Twelve-year-old Grey has been sucked into a hacked, virtual reality version of Fortnite Battle Royale along with one hundred other players.

To get home, he must become one of the top five players before the season ends, or he's stuck in Fortnite for another two months. Grey and his friend have gone up in ranks and are learning how to build structures to improve their tactics.

While they're not at the top by any means, they are solidly in the middle of the pack. They aspire to be like the Top Player, who has been unbeatable for fifteen games in a row. No one knows how the Top Player does it, but everyone is chasing him.

Before Grey can aspire to beat the Top Player, though, he has to get through the Rival players that are just above him. These players are threatened by him and his friend and hunt them down in every battle. Grey wants to beat them, but he can't figure out how. How can Grey survive long enough to beat the Top Player? And will he ever escape the Fortnite world?
About the Author
---
Devin Hunter has never been trapped in a video game, but doesn't think it sounds so bad. Devin lives in the USA and, when not writing, spends many hours gaming with friends and family all over the world.