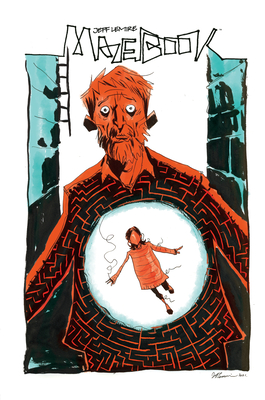 $29.99

Usually Ships in 1-5 Days
Staff Reviews
---
A lonely building inspector lives his life one day at a time, lost in a deep depression triggered by the loss of his maze-loving daughter and his now ex-wife. One night he receives a phone call from his daughter saying that she is still alive and that he needs to come find her at the end of the maze! This graphic novel by Jeff Lemire is truly heart wrenching, beautiful and a wonderful short series for any comic book fan!
-Zach
-Zach
— From
Zach's Recs
Description
---
From New York Times bestselling and Eisner award-winning Black Hammer creator Jeff Lemire comes this ambitious and haunting graphic novel about family, mourning, and reality.


A lonely building inspector still grieving the loss of his puzzle-loving daughter receives a mysterious phone call one night from a girl claiming it's her and that she's trapped in the middle of a labyrinth. Convinced that this child is contacting him from beyond this world, he uses an unfinished maze from one of her journals and a map of the city to trace an intricate path through a different plane of reality on an intense and melancholy adventure to bring his daughter back home.

Collects issues #1-5 of The Mazebook and featuring a sketchbook section and pinups by Andrea Sorrentino, Dustin Nguyen, Dean Ormston, Matt Kindt, and Gabriel Hernández Walta!

About the Author
---
New York Times bestselling author, Jeff Lemire, is the creator of the acclaimed graphic novels Sweet Tooth, Essex County, The Underwater Welder and Trillium. His upcoming projects include the original graphic novel Roughneck from Simon and Schuster, as well as the sci-fi series Descender for Image Comics (with Dustin Nguyen) and Black Hammer for Dark Horse Comics (with Dean Ormston). Jeff has also written Green Arrow, Justice League and Animal Man for DC Comics and Hawkeye for Marvel Comics. In 2008 and in 2013 Jeff won the Schuster Award for Best Canadian Cartoonist. He has also received The Doug Wright Award for Best Emerging Talent and the American Library Association's prestigious Alex Award, recognizing books for adults with specific teen appeal. He has also been nominated for 8 Eisner awards, 7 Harvey Awards and 8 Shuster Awards. In 2010 Essex County was named as one of the five Essential Canadian Novels of the Decade. He currently lives and works in Toronto with his wife and son.