Vanishing Point: The Search for a B-24 Bomber Crew Lost on the World War II Home Front (Hardcover)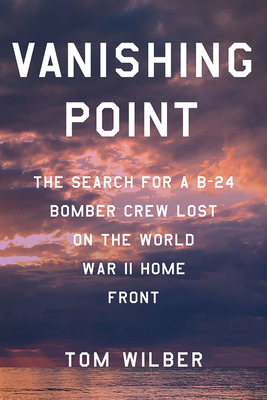 Description
---
In Vanishing Point, award winning journalist and author Tom Wilber pieces together the largely forgotten story of the bomber, Getaway Gertie, and an eclectic group of enthusiasts who have spent years searching for it.
At the height of World War II, a B-24 Liberator bomber vanished with its crew while on a training mission over upstate New York. The final hours and ultimate resting place of pilot Keith Ponder and seven other US aviators aboard the plane remain mysteries to this day. The tale is at once a compelling instance of loss on the World War II American home front and a more extensive, largely unreported history. Ponder-a 21-year-old from rural Mississippi-and his crew were tragically unexceptional casualties in the monumental effort to recruit and train an air force en masse to counter the global conquest of Nazi Germany and Imperial Japan. More than fifteen thousand American airmen and, in some cases, women burned, crashed, or fell to their deaths in stateside training accidents during the war-their lives and stories shuffled away in piles of Air Force bureaucracy.
The forgotten story of Getaway Gertie was originally inspired by summer evenings around the campfire on the shores of Lake Ontario, where parts of the plane have washed up. Building on those campfire tales, Wilber deftly connects myth with fact and memory with historicity. The result is a vivid portrait of the forgotten soldier of the home front and a new take on the meaning of wartime sacrifice as the last survivors of the Greatest Generation pass away.
About the Author
---
Tom Wilber's writing career spans 25 years at USA Today Network's Central New York Newspaper Group, where he won Best of Gannett honors on multiple occasions. He also taught journalism at Binghamton University, and is the author of Under the Surface.