Bloomsbury Encyclopedia of Popular Music of the World, Volume 12: Genres: Sub-Saharan Africa (Hardcover)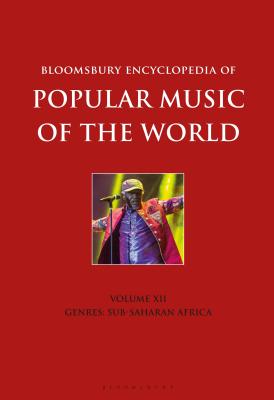 $340.00
Email or call for price/availability
Description
---
The EPMOW Genre volumes contain entries on the genres of music that have been or currently are popular in countries and communities all over the world. Included are discussions on cultural, historical and geographic origins; technical musical characteristics; instrumentation and use of voice; lyrics and language; typical features of performance and presentation; historical development and paths and modes of dissemination; influence of technology, the music industry and political and economic circumstances; changing stylistic features; notable and influential performers; and relationships to other genres and sub-genres.
This volume, on the music of Sub-Saharan Africa, features a wide range of entries and in-depth essays. All entries conclude with a bibliography, discographical references and discography, with additional information on sheet music listings and visual recordings. Written and edited by a team of distinguished popular music scholars and professionals, this is an exceptional resource on the history and development of popular music. This and all other volumes of the
Encyclopedia
are now available through an online version of the
Encyclopedia
: https: //www.bloomsburypopularmusic.com/encyclopedia-work?docid=BPM_reference_EPMOW. A general search function for the whole
Encyclopedia
is also available on this site. A subscription is required to access individual entries. Please see: https: //www.bloomsburypopularmusic.com/for-librarians.
About the Author
---
Heidi Feldman is a Visiting Scholar and American Association of University Women American Fellow at the University of California, San Diego's Center for Iberian and Latin American Studies, USA. David Horn was a founding editor of the journal Popular Music and a founding member of IASPM (International Association for the Study of Popular Music). He was Director of the Institute of Popular Music at the University of Liverpool, UK, from 1988 until his retirement in 2002. He first proposed the idea of EPMOW with blues scholar Paul Oliver in the 1980s, and has worked on the project since then. John Shepherd is Chancellor's Processor of Music and Sociology at Carleton University, Canada. He was from 2012 to 2017 Carleton Vice-Provost and Associate Vice-President (Academic). He has been a member of EPMOW's editorial board since 1990. In 2000, he was elected a Fellow of the Royal Society of Canada in recognition of his role "as a leading architect of a post-War critical musicology." Gabrielle Kielich is a PhD Candidate in the department of Art History and Communication Studies at McGill University in Montreal, Canada.