Vacuum in the Dark: A Novel (Hardcover)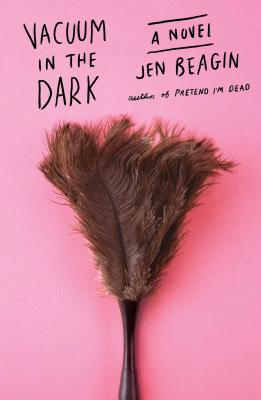 Staff Reviews
---
This novel is a triumph; a testament to Jen Beagin's masterful ability to depict the struggles of a widely downtrodden generation in all its crass defiant beauty. Mona is a poignant and obscurely hilarious protagonist who struggles with a messy past, bad relationships, obscene thoughts, and a disassembled life. Her cutting humor makes it OK to not be OK and her stark realism brings the absurdities of adulthood into vivid focus. Vacuum in the Dark is a love letter to those who are the misfits of their own life. It will make you laugh loud, cry hard, and otherwise occupy any hole left in you to fill.
- Tianna
— From
Tianna's Recs
Description
---
From the Whiting Award-winning author of Pretend I'm Dead and one of the most exhilarating new voices in fiction, a new hilarious, edgy, and brilliant one-of-a-kind novel about a cleaning lady named Mona and her struggles to move forward in life.

Mona is twenty-six and cleans houses for a living in Taos, New Mexico. She moved there mostly because of a bad boyfriend—a junkie named Mr. Disgusting, long story—and her efforts to restart her life since haven't exactly gone as planned. For one thing, she's got another bad boyfriend. This one she calls Dark, and he happens to be married to one of Mona's clients. He also might be a little unstable.

Dark and his wife aren't the only complicated clients on Mona's roster, either. There's also the Hungarian artist couple who—with her addiction to painkillers and his lingering stares—reminds Mona of troubling aspects of her childhood, and some of the underlying reasons her life had to be restarted in the first place. As she tries to get over the heartache of her affair and the older pains of her youth, Mona winds up on an eccentric, moving journey of self-discovery that takes her back to her beginnings where she attempts to unlock the key to having a sense of home in the future.

The only problems are Dark and her past. Neither is so easy to get rid of.

A constantly surprising, laugh-out-loud funny novel about an utterly unique woman dealing with some of the most universal issues in America today, Vacuum in the Dark is an unforgettable, astonishing read from one of the freshest voices in fiction today.
About the Author
---
Jen Beagin holds an MFA in creative writing from the University of California, Irvine, and is a recipient of a 2017 Whiting Award in fiction. She is the author of Pretend I'm Dead and Vacuum in the Dark. A former cleaning lady, she lives in Hudson, New York.
Praise For…
---
Praise for Vacuum in the Dark

"A follow-up to the riotous Pretend I'm Dead, this is what a sequel should be: darker, sexier, funnier. By turns nutty and forlorn... Brash, deadpan, and achingly troubled, Mona emerges as that problematic friend you're nonetheless always thrilled to see."
— O, the Oprah Magazine

"This novel is a joy: truly laugh-out-loud funny, while staying grounded and dignified, even as Mona capsizes again and again."
— Stephanie Danler, The New York Times Book Review

"A thoroughly delightfully, surprisingly profound encore. Beagin stands out among fiction's fresh crop of promising voices: Her prose is dry, cutting, and genuinely funny; she loves writing about strange people, an affection which translates in characterizations that stay sharp and peculiar without ever turning cruel... Vacuum proves dramatically satisfying too, as Beagin pushes its boundaries to grant us deeper, darker access into Mona's interior life, and the pain of her troubled past. The character's salty perspective resonates perfectly — a kind, weary, almost laconic wit that carries a sneaky depth."
— Entertainment Weekly

"A wildly exuberant novel that doesn't shy away from the weirder and more disgusting parts of life. Vacuum in the Dark is a funny and surprisingly sweet book about a young woman who grew up too fast and is trying desperately to reinvent herself... Beagin is a wonderfully funny writer who also happens to tackle serious subjects, which few authors are able to pull off successfully... the result is a comic novel that's a joy to read but never frivolous or superficial. Beagin is unafraid to take risks, and they all pay off here — Vacuum in the Dark is an excellent book by a writer with a singular voice."
— NPR

"Energetic... These adventures open up into larger questions of Mona's own stalled artistic ambitions and a reckoning with her estranged mother—issues refracted with black humor and a sense of timing that rarely slackens... The escapades are underpinned by a strong voice that seems to have seen everyone's worst, and to have nothing left to conceal."
— The New Yorker

"Piquantly amusing... Weird, darkly funny... sharply drawn, sexually charged, wry with Mona's deadpan wit."
— Minneapolis Star Tribune

"Revels in both order and transgression... Stands alone beautifully... Mona's unforgettably wry voice remains throughout."
— Vulture

"Tremendously engaging... Funny and poignant... Beagin excels at mixing comedy and pathos in a way that dilutes neither... Beagin secures her position as a new writer to watch.
— Kirkus, starred reviews

"Sharp and superb... Beagin pulls no punches--this novel is viciously smart and morbidly funny."
— Publishers Weekly, starred review

"Inventing situations and conversations that are off-the-charts in both weirdness and relatability, Beagin fashions an enchantingly intriguing main character in unfiltered, warmhearted Mona. This story of a woman embracing life's what-ifs and her own darkness is a great read."
— Booklist, starred review

"Beagin introduces readers to several recurring characters whose quirkiness infuses the book with its humor and drawing power."
— Albuquerque Journal

"Fresh, strange, hilarious and very moving... I am so taken with this book. I loved it...It reminded me a bit of Dennis Johnson's Jesus's Son or a more hardcore, ravaged Lorrie Moore... Other writers work this road but few so affectingly. The main character is a cleaning woman whose scars from childhood neglect and abuse are deeper and more complicated than we first realize or she understands... Gradually she bewitches and in her way inspires the reader. She has a real heroism as she tries to reclaim her life and, like her creator, has an absolutely piercing eye. I totally capitulated to her when she compared one of her clients lizard-killing cats to the Manson family and my affection for her grew from there with leaps and bounds. She is an unintentional artist and her lack of ambition about it and her drive to do it because it is necessary is one of the many, many interesting things about this novel... The writing is spare and feels effortless. Like the heroine it doesn't call undue attention to itself but hovers on the brink of danger... I am kind of in awe of Jen Beagin. I am so glad she's out there and am running backwards at a rapid speed to find her first book."
— George Hodgman, author of Bettyville

Praise for Pretend I'm Dead

"Alternately warm, sharp, and deeply wise... Scathingly funny."
— Entertainment Weekly

"Vacuum in the Dark is wacky, wicked and funny on the surface but roiling below with danger and deep seriousness. Beagin's writing style is breezy and light, and Mona is delightful and witty. This makes for enjoyable reading but ensures that the punches the book packs are hard-driving and always on target. Mona is refreshingly honest and heartbreakingly hurt. Beagin allows her protagonist to be strange and charming, sexual and smart, even as she forces Mona to confront pain, loss and uncertainty. This is a very good, original and human-hearted novel."
— Book Reporter

"Rib-ticklingly funny-sad... [Beagin] works magic in the space between hilarity and heartbreak... Absurdly affecting."
— O, the Oprah Magazine, a Best Book of 2018

"How can you resist a love story in which the object of desire is named Mr. Disgusting? Like Denis Johnson, Jen Beagin is able to find humanity and wonder (and yes, love) in some of the most forlorn and hopeless corners of our world."
— Tom Perrotta, author of Mrs. Fletcher and The Leftovers

"Pretend I'm Dead by Jen Beagin is like one of those old-fashioned classics by Charles Bukowski or John Fante or, more recently, Denis Johnson, a shambling, lyrical dispatch from the dive bars and the flop houses where the downtrodden, divested of hope, livelihood, good health, and any number of other markers of respectability, nevertheless retain full possession of their hearts and minds, their integrity, their souls, too, perhaps--and no one nearly as triumphantly as Mona Boyle, Beagin's heart-breaking hero & alter-ego. Rare is the encounter with such a frank and unflinching voice reporting from life on the edge, and rarer still the humor and compassion that Beagin manages to locate in some of the country's, and the psyche's, darkest corners. This book invaded my dreams, took over my conversation, and otherwise seduced me totally."
— Joshua Ferris, author of Then We Came to the End

"Jen Beagin has one of the freshest voices I've read in years - funny, wise, whip-smart and compassionate. I tore through Pretend I'm Dead with a deep sense of affection for all of its beautifully flawed characters and their bittersweet lives."
— Jami Attenberg, author of The Middlesteins and All Grown Up

"Pretend I'm Dead is funny, weird, disturbing, and just a touch magical. Mona, our main character, is such fabulous company, even when she wants everyone in her life to leave her alone. Jen Beagin's novel will stare you down, mesmerize you, and dare you to laugh."
— Annie Hartnett, author of Rabbit Cake

"With her droll humor and hilarious (but also earnest) observations, the 24-year-old narrator of Pretend I'm Dead had us hooked from page one. Mona gets by cleaning houses; in her free time, she hands out clean needles to heroin junkies. She is adrift; a dreamer without the fuel to make her dreams real. Pretend I'm Dead follows Mona as she moves to a new city, through a few relationships. But reciting the plot doesn't do the book justice. Glide through Mona's series of bad decisions with her – she's a good companion."
— Refinery 29, a Best Book of 2018

"Beagin's work has been compared to Denis Johnson, which is high praise indeed, and totally deserved based on this smart, funny, darkly profound debut."
— Nylon
Upcoming Events
Event date:

Tue, 03/31/2020 - 10:30am