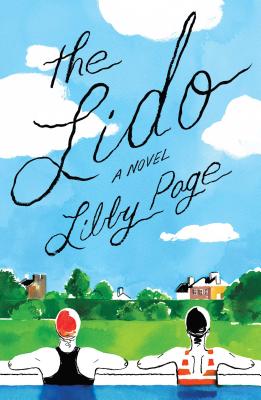 $25.00
Email or call for price/availability
Staff Reviews
---
In a word, perfection! The Lido is a story of unlikely friendships and the lengths a community will go to to save a local landmark. Kate is 26 and her anxiety threatens to consume her every day. Rosemary is 86 and has swum at the Lido for over 80 years. When the city council threatens to close it, this pair must rally the troops and keep the pool open. Are they saving the lido or are they saving each other? Heart-warming, delightful, and every positive adjective you can think of, Libby Page has made a splash with her debut novel! The characters are rich and colorful, making them feel like old friends. I truly hope she keeps writing!
- Clare
— From
Clare's Recs
Description
---
**INTERNATIONAL BESTSELLER**

"In many ways, this meditation on community and swimming follows in the footsteps of the enormously popular A Man Called Ove… Both are charming and heartwarming."—Kirkus Reviews

WE'RE NEVER TOO OLD TO MAKE NEW FRIENDS—OR TO MAKE A DIFFERENCE

Rosemary Peterson has lived in Brixton, London, all her life but everything is changing.

The library where she used to work has closed. The family grocery store has become a trendy bar. And now the lido, an outdoor pool where she's swum daily since its opening, is threatened with closure by a local housing developer. It was at the lido that Rosemary escaped the devastation of World War II; here she fell in love with her husband, George; here she found community during her marriage and since George's death.

Twentysomething Kate Matthews has moved to Brixton and feels desperately alone. A once promising writer, she now covers forgettable stories for her local paper. That is, until she's assigned to write about the lido's closing. Soon Kate's portrait of the pool focuses on a singular woman: Rosemary. And as Rosemary slowly opens up to Kate, both women are nourished and transformed in ways they never thought possible.

In the tradition of Fredrik Backman's A Man Called Ove, The Lido is a charming, feel-good novel that captures the heart and spirit of a community across generations—an irresistible tale of love, loss, aging, and friendship.
About the Author
---
Libby Page graduated from The London College of Fashion with a BA in fashion journalism before going on to work as a journalist at The Guardian. After writing, her second passion is outdoor swimming. Libby lives in London, where she enjoys finding new swimming spots and pockets of community within the city. Mornings with Rosemary (originally published as The Lido) is her first novel. Follow her on Twitter @LibbyPageWrites and Instagram @TheSwimmingSisters.
Praise For…
---
PRAISE FOR THE LIDO by LIBBY PAGE

"Charming… an unusually poignant tale of married love."—The Washington Post

"In many ways, this meditation on community and swimming follows in the footsteps of the enormously popular A Man Called Ove… Both are charming and heartwarming."—Kirkus Reviews

"Populated with endearing, multidimensional characters covering a wide span of ages and backgrounds, Page's debut novel makes it easy for readers to imagine themselves in the mix…Page's underdog tale can also inspire timely discussions about how to build diverse, place-based communities. A smart suggestion for book clubs and readers who enjoy substance with style."—Booklist

"A delicious debut about the endearing friendship between two women who join forces to save the town pool. Refreshing, funny and heartwarming, The Lido is must read."—Laura Dave, national bestselling author of Eight Hundred Grapes and Hello, Sunshine

"A joyous and uplifting debut—a testament to kindness and friendship."—Sarah Winman, author of When God Was a Rabbit and Tin Man

"The next Eleanor Oliphant is Completely Fine."—The Independent (UK)

"Heart-warming."—Good Housekeeping

"This debut is set to be one of the biggest of the year."—Grazia (UK)

"Brimming with charm and compassion."—Daily Express (UK)

"A lavish depiction of an unlikely friendship, a London community and life-long love, all charmingly told in rich, yet gentle prose."—Catherine Isaac, UK bestselling author of You, Me, Everything

"Feelgood and uplifting, this charming novel is full of heart."—Lucy Diamond, UK bestselling author of The Beach Café

"Did I #lovethelido? So much my heart broke a little turning the last page. A stunning debut."—Clare Mackintosh, UK bestselling author of I See You