The Necklace: A Novel (Hardcover)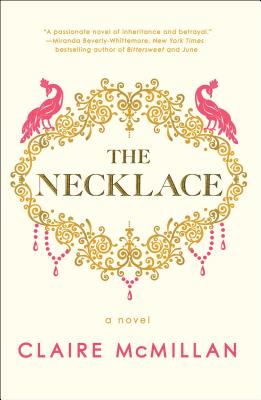 Staff Reviews
---
It's Jazz-Era 1920s and Ambrose Quincy leaves May, the woman he loves, to take an extended trip to India. Upon his return, bringing May an exotic necklace, he is stunned to find that she's married to his brother. As she wears her gift their passion for each other is never far from view, and her reason for marrying is slowly revealed. The Necklace moves back and forth between the 1920s and the 21st century where Nell Quincy, estranged from her extended family, has been summoned to the run-down family mansion to act as executor to her great aunt's estate. Simmering family resentments boil over when it's revealed that a heretofore unknown and, as it turns out valuable, necklace has been left to Nell. Her efforts to determine the provenance of the necklace uncover unwelcome family secrets and, in the process, Nell discovers her own strong path forward.
- Cindy
— From
Cindy's Recs 2
Description
---
Two generations of Quincy women—a bewitching Jazz Age beauty and a young lawyer—bound by a spectacular and mysterious Indian necklace.

Always the black sheep of the tight-knit Quincy clan, Nell is cautious when she's summoned to the elegantly shabby family manor after her great-aunt Loulou's death. A cold reception from the family grows chillier when they learn Loulou has left Nell a fantastically valuable heirloom: a stunningly ornate necklace from India that Nell finds stashed in the back of a dresser in a Crown Royal whiskey bag. As predatory relatives begin circling and art experts begin questioning the necklace's provenance, Nell turns to the only person she thinks she can trust—the attractive and ambitious estate lawyer who definitely is not part of the old-money crowd.

More than just a piece of jewelry, the necklace links Nell to a long-buried family secret. It began when Ambrose Quincy brought the necklace home from India in the 1920s as a dramatic gift for May, the woman he intended to marry. Upon his return, he discovered the May had married his brother Ethan, the "good" Quincy, devoted to their father. As a gesture of friendship, Ambrose gave May the necklace anyway—reigniting their passion and beginning a tense love triangle.

Crisp as a gin martini, fresh as a twist of lime, The Necklace is the intelligent, intoxicating story of long-simmering family resentments and a young woman who inherits a secret much more valuable than a legendary necklace.
About the Author
---
Claire McMillan is the author of Gilded Age and The Necklace. She is the 2017-18 Cuyahoga County Writer-in- Residence and currently serves as a member of the board of trustees of The Mount, Edith Wharton's home in Lenox, Massachusetts. She practiced law until 2003 and then received her MFA in creative writing from Bennington College. She grew up in Pasadena, California and now lives on her husband's family farm outside of Cleveland, Ohio with their two children.
Praise For…
---
"Enthralling."
— The Mercury News

"Claire McMillan's The Necklace has everything I love in story: a rich family drama, an enthralling mystery, exotic settings and gorgeous historical detail. McMillan writes in assured and often witty prose, and her characters came to life on the very first page. An enchanting, intoxicating book."
— Cristina Alger, author of The Darlings and This Was Not the Plan

"At the center of this passionate novel of inheritance and betrayal lies the titular necklace—with mysterious origins, a tragic past, and an uncertain future. Deftly spanning the globe and a century, McMillan's sharp writing explores whether it is possible to undo our wrongs across generations—or if we are doomed to repeat ourselves."
— Miranda Beverly-Whittemore, New York Times bestselling author of Bittersweet and June

"The Necklace is a delicious, delicious adventure."


— Ramona Ausubel, author of Sons and Daughters of Ease and Plenty and No One is Here Except All of Us

"Claire McMillan's brilliantly evoked novel has the glamour of The Great Gatsby, the intrigue of Bleak House and the stolen passion of The Age of Innocence. This elegant, clever, irresistibly sexy book is destined to become a classic. The Necklace sparkles brighter than a Cartier showroom."
— Koren Zailckas

"With an expansive cast of vivid characters, McMillan weaves a complex and compelling narrative that balances intensity and levity. Written with wit, compassion, and a meticulous attention to period and cultural detail."
— Kirkus Reviews

"Glittering, Gatsby-esque...an emotionally resonant, captivating tale of love, loss, and family secrets that culminates in a satisfying finale."
— Publishers Weekly

"Charming...the historical narrative shines...and the modern setting crackles with wit, as Nell outmaneuvers her kin with ease and maybe finds true love herself. Kate Morton fans will enjoy."
— Library Journal

"Some will make immediate comparisons to The Great Gatsby and The Nest, while others will call this a "beach read" or "pure escapism." McMillan's fast-paced, cross-generational mystery/saga is highly compelling....McMillan did her research well, and her finely tuned portraits of the era and the characters captivate as she builds her tale to a satisfying conclusion."
— RT Book Reviews

"Imagine what it would be like for Tom and Daisy Buchanan's grandchildren to deal with the messes their grandparents made 80 years ago....Absorbing."
— BookPage

"Soaring adventure. A sparkling inheritance. Bitter family jealousy… Readers will struggle to catch their breath as they tear through this fast-paced piece of historical fiction. . . . McMillan deftly guides us through a century of family conflict and betrayal."
— Cleveland

"Readers should enjoy unwrapping the mystery of The Necklace."
— Historical Novels Review

"Novelist Claire McMillan knows a thing or two about Gilded Age drama."
— The Berkshire Eagle