The Seven Husbands of Evelyn Hugo: A Novel (Paperback)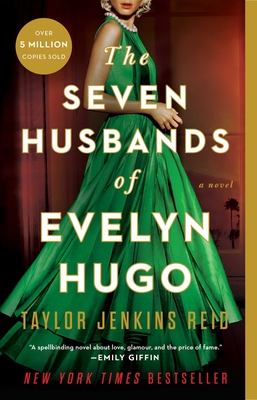 Staff Reviews
---
Monique Grant is an introvert, a writer for Vivant – a top magazine platform, and is going through life without truly living. That is, until she's specifically requested by Hollywood star Evelyn Hugo. Evelyn wants to write a book about Monique's life story. The same actress who was married not once or even twice, but SEVEN times. What made Evelyn choose Monique? Will it change her life forever? I devoured this entire book and felt I was experiencing love, loss, and fame right alongside Evelyn Hugo. Evelyn is a character that I won't be able to get out of my head for a long time.
-Faith
— From
Faith's Recs
June 2017 Indie Next List
---
"Steeped in the glory of Hollywood when marriages were made for reasons other than love and could be slipped on and off like a fine dinner jacket, The Seven Husbands of Evelyn Hugo reveals the behind-the-scenes stories of lives full of hunger, self-pity, jealousy, and rage, as well as lost love. This is a story that could have been pulled from the pages of fan magazines of the '50s. It's so entertainingly real that you will be wondering why you can't remember the great star Evelyn Hugo and the movies she made famous. Read for pure pleasure, and you'll be tempted to play the game of, 'Who is this about, really?' What fun!"
— Linda Bond (E), Auntie's Bookstore, Spokane, WA
Description
---
NEW YORK TIMES BESTSELLER

"If you're looking for a book to take on holiday this summer, The Seven Husbands of Evelyn Hugo has got all the glitz and glamour to make it a perfect beach read." —Bustle

From the New York Times bestselling author of Daisy Jones & the Six—an entrancing and "wildly addictive journey of a reclusive Hollywood starlet" (PopSugar) as she reflects on her relentless rise to the top and the risks she took, the loves she lost, and the long-held secrets the public could never imagine.

Aging and reclusive Hollywood movie icon Evelyn Hugo is finally ready to tell the truth about her glamorous and scandalous life. But when she chooses unknown magazine reporter Monique Grant for the job, no one is more astounded than Monique herself. Why her? Why now?

Monique is not exactly on top of the world. Her husband has left her, and her professional life is going nowhere. Regardless of why Evelyn has selected her to write her biography, Monique is determined to use this opportunity to jumpstart her career.

Summoned to Evelyn's luxurious apartment, Monique listens in fascination as the actress tells her story. From making her way to Los Angeles in the 1950s to her decision to leave show business in the '80s, and, of course, the seven husbands along the way, Evelyn unspools a tale of ruthless ambition, unexpected friendship, and a great forbidden love. Monique begins to feel a very real connection to the legendary star, but as Evelyn's story near its conclusion, it becomes clear that her life intersects with Monique's own in tragic and irreversible ways.

"Heartbreaking, yet beautiful" (Jamie Blynn, Us Weekly), The Seven Husbands of Evelyn Hugo is "Tinseltown drama at its finest" (Redbook): a mesmerizing journey through the splendor of old Hollywood into the harsh realities of the present day as two women struggle with what it means—and what it costs—to face the truth.
About the Author
---
Taylor Jenkins Reid is the New York Times bestselling author of seven novels, including Malibu Rising, Daisy Jones & The Six, and The Seven Husbands of Evelyn Hugo. She lives in Los Angeles with her husband and their daughter.
Praise For…
---
Praise for The Seven Husbands of Evelyn Hugo:

"Riveting, heart-wrenching, and full of Old Hollywood glamour, The Seven Husbands of Evelyn Hugo is one of the most captivating reads of 2017."
— Buzzfeed

"A novel of Old Hollywood that's simultaneously gossipy and poignant. Look no further for the glamour, ambition and shocking secrets your beach-blanket sessions demand."
— People

"Come for the glam old Hollywood vibes; stay for a touching tale of a young reporter and a silver-screen legend."
— Cosmopolitan

"In her mesmerizing tale, Taylor Jenkins Reid explores Hollywood's heyday with a heroine akin to Elizabeth Taylor. Movie icon Evelyn Hugo, now a recluse at 79, unfurls the story of her glamorous life and her scandalous seven marriages."
— Us Weekly

"The epic adventures Evelyn creates over the course of a lifetime will leave every female reader mesmerized. This wildly addictive journey of a reclusive Hollywood starlet and her tumultuous Tinseltown journey comes with unexpected twists and the most satisfying of drama."
— PopSugar

"If you're looking for a book to take on holiday this summer, The Seven Husbands of Evelyn Hugo has got all the glitz and glamour to make it a perfect beach read — as long as you're prepared to cry off all your sunscreen, because this book gets *emotional*. Each of Evelyn's marriages comes with its own hurt and heartbreak, from infidelity and betrayal to domestic abuse. But running throughout Evelyn's tumultuous life is one great love that will leave you sobbing into the pages."
— Bustle

"The Seven Husbands of Evelyn Hugo is more than escapism fiction sweeping its audience back to an era when show biz glamour danced with real-life intrigue, romantic entanglements and perceived impropriety. With memorable characters rivaling any Hollywood blockbuster, Taylor Jenkins Reid marries themes of loyalty, betrayal, friendship and love into a soaring, fast-paced and gripping performance. It leaves readers asking if they are merely role-playing with those they love or being true to an authentic self."
— Shelf Awareness, starred review

"[The Seven Husbands of Evelyn Hugo] is fascinating, emotional and will be hard to put down. For fans of Taylor Jenkins Reid, this is her best work yet."
— Associated Press

"A spellbinding novel about love, glamour and the price of fame."
— Emily Giffin, New York Times bestselling author of First Comes Love

"In her latest mesmerizing tale, Reid transports readers back to Hollywood's heyday with a heroine in the likes of — but more intriguing than — Elizabeth Taylor, Zsa Zsa Gabor and Katherine Hepburn. Yes, Evelyn Hugo is the glamorous idol you admire, but she's also the relentless fighter you aspire to be. Her life's story is heartbreaking, yet beautiful and will keep readers captivated until the very last page."
— Jamie Blynn, Us Weekly

"The Seven Husbands of Evelyn Hugo is the total package: the very best of Classic Hollywood intrigue, a delicious twist, and incisive commentary on the wages of stardom, especially for women."
— Anne Helen Petersen, BuzzFeed culture writer and author of Scandals of Classic Hollywood

"Reid's characters will enchant readers as they travel through the glitz and glamour of Old Hollywood and the truths they both must confront."
— Real Simple

"Taylor Jenkins Reid is the queen of queens when it comes to beach reads, and this breathtaking treat proves once again the throne is hers alone."
— Redbook

"Addictive, dazzling and bound to leave you in tears (classic Taylor Jenkins Reid), The Seven Husbands of Evelyn Hugo should be your No. 1 reading priority this summer."
— SheKnows

"Leave it to Taylor Jenkins Reid to keep readers captivated, from the first page to the last. With a parade of lovable characters and unputdownable plot, The Seven Husbands of Evelyn Hugo should top every reading list this summer."
— Working Mother

"A cinematic tale with hardscrabble roots, staggering highs and sickening lows. The novel reads like a celebrity tell-all, and this makes it delicious. But it's also got heft, because Hugo's story is one of overcoming adversity, racism and sexism to get to the top. She fails, falls, triumphs and learns difficult lessons about the things that really matter. With this riveting novel, Reid has created an exceptional character with the wherewithal to take on the patriarchy."
— Globe and Mail

"A big, juicy read…Reid expertly captures the hothouse nature of Hollywood…the story is fresh, and the end reveal is worth the wait"
— Historical Novel Society

"This sweeping tale is about an aging Hollywood starlet and the rookie magazine reporter she hires to pen her breathtaking (and scandalous) life story. Trust us: You'll be swooning over the twist for months."
— Brit & Co.

"Jenkins has crafted another tale sure to appeal to fans of women's fiction, Susan Meissner, and Beatriz Williams."
— Library Journal

"Evelyn Hugo is a character who can demand top billing...Reid's heroine reveals her darkest secrets as if she were wiping off makeup at the end of the night—a celebration of human frailty that speaks to the Marilyn Monroe and Elizabeth Taylor in us all."
— Kirkus Reviews

"Reid knows how to tug at heart strings with unusual tales of finding real and lasting love...the reader [will be] captivated by old Hollywood glamour, intriguing and complex characters, and Reid's unsurpassed ability to leave her audience reaching for a hankie. An utterly unique take on what truly makes a family."
— Booklist

"The Seven Husbands of Evelyn Hugo has big, juicy secrets at its heart-- not just about the surprising identity of movie star Evelyn Hugo's true love, but of the lengths she has gone to protect that mysterious lover. Brimming with heartache, betrayal, and a lifetime of Hollywood gossip, this raucous novel will seduce you even as it leaves you wanting more."
— Miranda Beverly-Whittemore, New York Times bestselling author of Bittersweet and June

"A glamorous romp through Hollywood in its heyday, Taylor Jenkins Reid's latest offers up several unexpected twists and a dazzling, ambitious movie star who will break your heart."
— Fiona Davis, author of The Dollhouse

"Evelyn Hugo makes Liz Taylor seem pedestrian. Taylor Jenkins Reid has drawn a rich, emotionally complex heroine who is so real that you'll forget she only lives in the pages of a book. This is an utterly compelling dance with love and tragedy, sometimes both at once; you'll laugh with Evelyn, cry with her, ache with her, and then go back to page one and do it all over again."
— Heather Cocks and Jessica Morgan, authors of The Royal We

"Anyone who appreciates old Hollywood glamour will want to check this one out."
— Today.com