Nobody: Casualties of America's War on the Vulnerable, from Ferguson to Flint and Beyond (Paperback)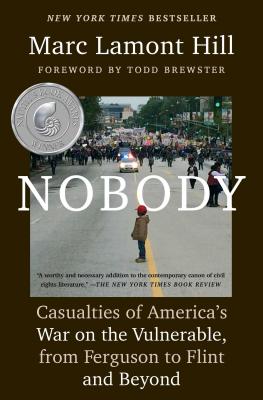 $17.00

Usually Ships in 1-5 Days
Description
---
Named a Best Book of the Year by Kirkus Reviews

A New York Times Editor's Choice

Nautilus Award Winner

"A worthy and necessary addition to the contemporary canon of civil rights literature." —The New York Times

From one of the leading voices on civil rights in America, a thoughtful and urgent analysis of recent headline-making police brutality cases and the systems and policies that enabled them.

In this "thought-provoking and important" (Library Journal) analysis of state-sanctioned violence, Marc Lamont Hill carefully considers a string of high-profile deaths in America—Sandra Bland, Freddie Gray, Michael Brown, Eric Garner, Trayvon Martin, and others—and incidents of gross negligence by government, such as the water crisis in Flint, Michigan. He digs underneath these events to uncover patterns and policies of authority that allow some citizens become disempowered, disenfranchised, poor, uneducated, exploited, vulnerable, and disposable. To help us understand the plight of vulnerable communities, he examines the effects of unfettered capitalism, mass incarceration, and political power while urging us to consider a new world in which everyone has a chance to become somebody. Heralded as an essential text for our times, Marc Lamont Hill's galvanizing work embodies the best traditions of scholarship, journalism, and storytelling to lift unheard voices and to address the necessary question, "how did we get here?"
About the Author
---
Marc Lamont Hill is currently the host of BET News and Black News Tonight and is the Steve Charles Chair in Media, Cities, and Solutions at Temple University. He is the founder and director of the People's Education Center and the owner of Uncle Bobbie's Coffee & Books in Philadelphia. He has authored or coauthored several books, including Nobody and We Still Here.

Todd Brewster is a veteran journalist and historian who has worked as an editor for Time and Life and as a senior producer for ABC News. He is the coauthor, with Peter Jennings, of the #1 New York Times bestselling book, The Century, which spent nearly a year on the bestseller list, the author of the acclaimed Lincoln's Gamble, and coauthor, with Marc Lamont Hill, of Seen and Unseen; Technology, Social Media, and the Fight for Racial Justice. Brewster was the founding director of Center for Oral History at West Point and the executive producer of Into Harm's Way, an award-winning documentary about the West Point Class of 1967. He has taught journalism at Cooper Union, Temple University, and Mount Holyoke College. A native of Indianapolis, Brewster now lives in Connecticut.
Praise For…
---
"With Nobody, Hill marshals the full weight of multiple scholarly traditions to expose complex, ancient, and intersecting injustices of American racism. This is the book that respects Michael Brown, Sandra Bland, Freddie Gray, Trayvon Martin, and all the other lost black women, men, girls, and boys by taking them seriously. This is the book we needed to understand how we got here and to understand what it means to be here. This is the definitive text. It will remain so for generations."
— Melissa Harris-Perry, Maya Angelou Presidential Chair at Wake Forest University and Editor-at-Large, Elle.com

"Marc Lamont Hill is the most courageous and progressive voice in 'Main Stream Media,' whose new book, Nobody, is a subtle and persuasive historical and contemporary analysis of our state of emergency in America. He gives new meaning to the now popular idea of "intersectionality" with intellectual gusto and political urgency!"
— Cornel West, author and professor of philosophy and Christian practice at Union Theological Seminary and professor emeritus at Princeton University

"An essential primer on the relationship between anti-Black racism and state-sanctioned violence, Nobody chronicles historical and social developments around race, class, gender and the role of the State in America which have served to develop, maintain, and expand an expendable underclass. In Hill's book we see how repression breeds resistance, the very same dynamic that has led to an upsurge in the Black Freedom Movement that seeks justice for all of us."
— Alicia Garza, cocreator of the Black Lives Matter Network

"Marc Lamont Hill proves once again why he is one of the leading voices on race in America. With its fresh insight and careful on-the-ground reporting, Nobody is a powerful call to action that gives a voice to our most vulnerable communities. As with anything Hill writes, this book is essential reading."
— Neera Tanden, president and CEO of the Center for American Progress

"Marc Lamont Hill has written the book we desperately needed. No mere chronicle of recent anti-Black violence, Nobody digs deeper, revealing how the killing fields of urban America were tilled by seven decades of Jim Crow and four decades of neoliberalism, turning the very people who brought the prospect of genuine justice, democracy, and citizenship to America into a disposable nation of 'nobodies.' But as Hill reminds us, precarity is not death, the market is not God, and an equitable, just future is in 'nobody's' hands."
— Robin D. G. Kelley is the Gary B. Nash Professor of American History at UCLA and author of Freedom Dreams; Thelonious Monk; and Africa Speaks, America Answers

"Picking up the baton that James Baldwin left behind, Nobody gives urgent voice to the generation of the descendants of the poor, unacknowledged people Baldwin captured so vividly in his 1985 classic, The Evidence of Things Not Seen."
— ESSENCE Magazine

"Nobody provides a comprehensive look at the effects, where police are shooting unarmed minority citizens, and their drinking water is literally poisoned . . . . It will constantly energize you and never bore you."
— The Intercept

"[Hill] challenges us to join a new generation of activists prepared to organize, agitate and act (against the backdrop of state sanctioned violence, economic injustice, social misery, and appeals to fragmentation and fear) on the eminently reasonable proposition that our "nobodies" will not have a fair shot at becoming "somebodies" until we reduce the unconscionably high – and growing – gap between America's "have-gots" and our "have-nots."
— Dr. Glenn C. Altschuler, Thomas and Dorothy Litwin Professor of American Studies at Cornell University

"In our hyper-partisan era, Hill might not be able to persuade many readers who aren't already on the political left. But "Nobody" is a sincere effort to do just that, and even those who disagree with him should concede that he's the kind of social commentator — passionate but rarely hyperbolic, well-informed yet respectful of other points of view — whose ideas are worthy of our attention."
— Kevin Canfield