Moon's First Friends: One Giant Leap for Friendship (Hardcover)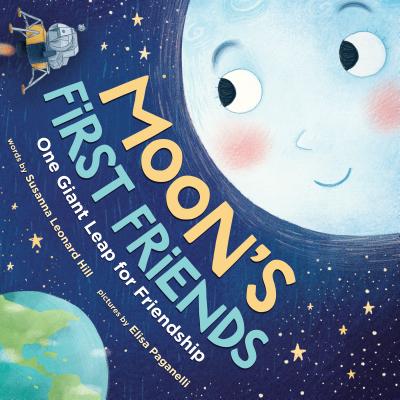 $17.99
Usually Ships in 1-5 Days
Staff Reviews
---
The Moon's First Friends is a "lesson" on our changing earth and its occupants, told through the eyes of a lonely Moon. Author Susanna Leonard Hill, combined with Elisa Paganelli's colorful illustrations, cleverly teaches kids about eclipses, phases of the Moon, gravity and finally components of the historic Apollo 11 space voyage – the rocket, its astronauts and their space suits. The Moon finally has some visitors! And readers will get an extra bonus ­– scan the two QR codes to listen to the actual countdown and to hear Armstrong's first words on the Moon! A terrific commemorative to one of the greatest events in American history.
— Mindy
Description
---
A New York Times Bestseller
A heartwarming story of a friendship-seeking moon that also celebrates the extraordinary 50th anniversary of the Apollo 11 moon landing
From high up in the sky, the Moon has spent her whole life watching Earth and hoping for someone to visit. Dinosaurs roam, pyramids are built, and boats are made, but still no one comes. Will friends ever come visit her?
One day a spaceship soars from Earth...and so does her heart.
Includes bonus educational pages about the moon mission