This Is Where It Ends (Hardcover)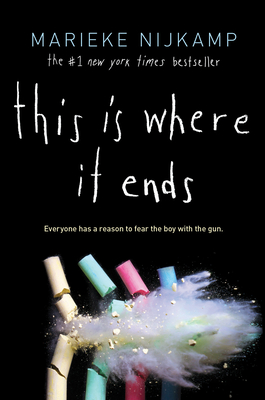 $17.99

Usually Ships in 1-5 Days
Staff Reviews
---
A small, idyllic town is turned on its head as past and present secrets collide in the most deadly of ways. At the end of Principal Trenton's speech students try to leave the auditorium only to find the doors are locked. In walks a former student with revenge on his mind and fire in his eyes. Four students give a minute-by-minute account of the massacre, each with their own connection to the shooter. They each feel partly to blame for the tragedy and believe it is their charge to save anyone they can. This Is Where It Ends will grip you from the start and keep you turning the pages until the explosive end.
- Clare
— From
Clare's Recs
Description
---
The reviews are in! This Is Where It Ends, the #1 New York Times bestseller and one of the Best Books of the Decade (Buzzfeed, Paste Magazine, BookRiot), "could break you." "I am speechless." "The saddest book I have ever read." "Literally tore my heart out."
Go inside a heartbreaking fictional school shooting, minute-by-terrifying-minute. Everyone has a reason to fear the boy with the gun...
10:00 a.m.: The principal of Opportunity, Alabama's high school finishes her speech, welcoming the entire student body to a new semester and encouraging them to excel and achieve.
10:02 a.m.: The students get up to leave the auditorium for their next class.
10:03 a.m.: The auditorium doors won't open.
10:05 a.m.: Someone starts shooting.
Over the course of 54 minutes, four students must confront their greatest hopes, and darkest fears, as they come face-to-face with the boy with the gun. In a world where violence in schools is at an all-time high and school shootings are a horrifyingly common reality for teenagers, This Is Where It Ends is a rallying cry to end the gun violence epidemic for good. 
Praise for This Is Where It Ends:
A Buzzfeed Best Young Adult Book of the Decade
A Paste Magazine Best Teen Book of the Decade
A Book Riot Biggest YA Book of the Decade
A Professional Book Nerds Best Book of the Decade
A Bustle.com Most-Anticipated YA Novel
A Goodreads YA Best Books Pick
A Goodreads Choice Award Finalist for Young Adult Fiction
Kids Indie Next List Pick
"Marieke Nijkamp's brutal, powerful fictional account of a school shooting is important in its timeliness." —Bustle.com
"A gritty, emotional, and suspenseful read and although fictionalized, it reflects on a problematic and harrowing issue across the nation." —Buzzfeed
"A compelling, brutal story of an unfortunately all-too familiar situation: a school shooting. Nijkamp portrays the events thoughtfully, recounting fifty-four intense minutes of bravery, love, and loss." —BookRiot
About the Author
---
MARIEKE NIJKAMP is the #1 New York Times bestselling author of This Is Where it Ends and Before I Let Go. She is a storyteller, dreamer, globe-trotter, geek. She holds degrees in philosophy, history, and medieval studies, has served as an executive member of We Need Diverse Books, and is the founder of DiversifYA. She lives in the Netherlands. Visit her at mariekenijkamp.com.
Praise For…
---
"[A] compelling story of terror, betrayal, and heroism… This brutal, emotionally charged novel will grip readers and leave them brokenhearted." — Kirkus Reviews

"Love, loyalty, bravery, and loss meld into a chaotic, heart-wrenching mélange of issues that unite some and divide others. A highly diverse cast of characters, paired with vivid imagery and close attention to detail, set the stage for an engrossing, unrelenting tale." — Publishers Weekly

"With narration firmly rooted in the moment and smooth transitions in and out of flashbacks, each first-person account reveals an intricate web of betrayal and pain that connects the four to Tyler and the horror he has unleashed." — The Horn Book Magazine

"A gritty, emotional, and suspenseful read and although fictionalized, it reflects on a problematic and harrowing issue across the nation." — Buzzfeed

"Marieke Nijkamp's brutal, powerful fictional account of a school shooting is important in its timeliness." — Bustle.com

"A compelling, brutal story of an unfortunately all-too familiar situation: a school shooting. Nijkamp portrays the events thoughtfully, recounting fifty-four intense minutes of bravery, love, and loss." — BookRiot

"The core message and potential to open thoughtful discussion make this a solid choice for teen readers." — VOYA Magazine

"Harrowing first-person narrations reveal the way characters try to understand what is happening, where they are in relation to the emergency, and what they can do to save those they love… readable, gripping, and well balanced." — The Bulletin of the Center for Children's Books

"You'll finish this book in a single evening, guaranteed." — Paste Magazine

"Intense and compelling, this debut novel balances the senseless violence of a school shooting with uncommon acts of courage and compassion by a diverse cast of characters." — Common Sense Media

"With an ending that will leave readers rocked with fear, grief, chills and tears, this outstanding debut will hit close to home and is best suited for older teens." — BookPage

"Nijkamp's emotional, powerful debut fictionalizes an all-too-frequent occurrence in today's world. Her strong storytelling pulls readers into a school shooting, leaving them amongst the gunman's victims in Opportunity High's auditorium." — RT Book Reviews, 4 Stars