The Last True Love Story (Hardcover)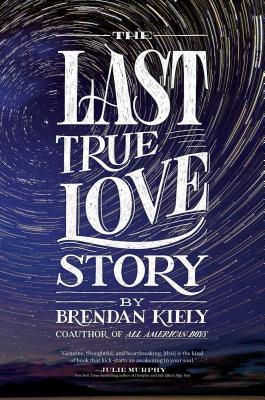 Staff Reviews
---
YA
Teddy has too much on his plate for a 17-year-old: a dead father, a largely absent mother, a swirl of unanswered questions, and providing care for a grandfather distraught at losing his memories to Alzheimer's. Corinna has a plateful, too: Guatemalan by birth and adopted by two clueless white ex-hippies, betrayed by a boyfriend, scorned by former friends, and burning with musical talent and ambition. To help the grandfather reconnect with memories of his late wife, the three decide to drive from Santa Monica to Ithaca, NY. As several characters say, "Everybody respects the road trip." This is one you definitely want to go on.
- Banna
— From
Banna's Recs
Description
---
From the critically acclaimed author of The Gospel of Winter and the coauthor of All American Boys comes a cool, contemplative spin on hot summer nights and the classic teen love story as two teens embark on a cross-country journey of the heart and soul.

The point of living is learning how to love.

That's what Gpa says. To Hendrix and Corrina, both seventeen but otherwise alike only in their loneliness, that sounds like another line from a pop song that tries to promise kids that life doesn't actually suck. Okay, so: love. Sure.

The thing about Corrina—her adoptive parents are suffocating, trying to mold her into someone acceptable, predictable, like them. She's a musician, itching for any chance to escape, become the person she really wants to be. Whoever that is.

And Hendrix, he's cool. Kind of a poet. But also kind of lost. His dad is dead and his mom is married to her job. Gpa is his only real family, but he's fading fast from Alzheimer's. Looking for any way to help the man who raised him, Hendrix has made Gpa an impossible promise—that he'll get him back east to the hill where he first kissed his wife, before his illness wipes away all memory of her.

One hot July night, Hendrix and Corrina decide to risk everything. They steal a car, spring Gpa from his assisted living facility, stuff Old Humper the dog into the back seat, and take off on a cross-country odyssey from LA to NY. With their parents, Gpa's doctors, and the police all hot on their heels, Hendrix and Corrina set off to discover for themselves if what Gpa says is true—that the only stories that last are love stories.
About the Author
---
Brendan Kiely is the New York Times bestselling author of All American Boys (with Jason Reynolds), The Last True Love Story, and The Gospel of Winter. His work has been published in ten languages, received a Coretta Scott King Author Honor Award, the Walter Dean Myers Award, the Amelia Elizabeth Walden Award, was twice awarded Best Fiction for Young Adults (2015, 2017) by the American Library Association, and was a Kirkus Reviews Best Books of 2014. Originally from the Boston area, he now lives with his wife in New York City. Tradition is his fourth novel.
Praise For…
---
"Brendan Kiely's writing soars off the page, ultimately landing someplace between heartwarming and heart-aching (but definitely somewhere in the heart). Here is a book about music, friendship, first and final loves, and all the blue notes in between. Indeed, The Last True Love Story may be exactly that."
— David Arnold, bestselling author of Mosquitoland

"As cool as it is tender, this poignant story about the power of love thrums with classic rock and aches with honesty. I was so moved by Hendrix's journey and, as a brown girl who loves music, I was completely invested in Corrina--one of my new favorite characters in all of YA. Authentic and beautifully written, The Last True Love Story will truly capture your heart."
— Jasmine Warga, author of My Heart And Other Black Holes

"A beautiful, searing journey into the American heartland. This book, like an epic road trip, is full of difficult truths, great music, and deeply human companions."
— Daniel José Older, award-winning author of Shadowshaper and the Bone Street Rumba series.

"Genuine, thoughtful, and heartbreaking, The Last True Love Story is the kind of book that kickstarts an awakening in your soul and will resonate with readers for years to come."
— Julie Murphy, New York Times Bestselling author of Dumplin' and Side Effects May Vary

"Some authors write with their hearts first and their heads second. Some the other way around. But Brendan Kiely manages, as always, to strike a skillful and delicate balance between deep, intellectual coming-of-age and poetic, emotional drama. The Last True Love Story stands in a league of its own both in regards to the way it portrays its teenage protagonists and the way it tells the very personal, tragic story of Alzheimer's. If the point of living is learning how to love, to quote Gpa, then I think we should all start by reading Mr. Kiely's beautiful novel."
— John Corey Whaley, Printz and Morris winner, National Book Award finalist, and author of Highly Illogical Behavior

"The Last True Love Story is a tender multi-generational story that's as much about the meaning of family as it is about falling in love. There's plenty of delightful adventure, but what I loved most about this book is its respect for moments that can be both quiet and life changing at once."
— Ava Dellaira, author of Love Letters to the Dead

"A quirky, romantic, and satisfying story."

"This bittersweet, sometimes humorous coming-of-age journey hits all the right notes, with its emotional language, vivid landscapes, and quirky characters…A good fit for new adults, graduates of Joan Bauer's Rules of the Road, or those who enjoyed John Green's Looking for Alaska."

**STARRED REVIEW** "Readers will be swept up in Kiely's musical prose as Teddy learns about love, romance, forgiveness, and reconciliation."

"The story seamlessly integrates family history and the present, creating a tale of love free from cheesiness. Raw, imperfect relationships will strike a chord with teenage readers. Part road trip, part romance, this story is the stuff of summer dreams. Recommended."

* "A sophisticated story about the power of love, music, and making amends. Deeply personal and universal at the same time, Kiely's truly lovely tale should find a home in every YA collection."

** STARRED REVIEW ** "poetic, lovely, and profound…Satisfying and full of longing, the book features deep feelings, full hearts, and heartbreak. It speaks to the importance of forging connections and the power of story to capture memories and meaning."
Upcoming Events
No upcoming events available