Save the Date (Paperback)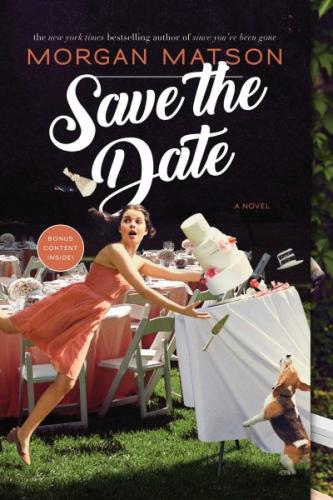 $10.99

Usually Ships in 1-5 Days
Staff Reviews
---
The Grant family is used to having their lives in the spotlight—the funny pages, that is. Mrs. Grant has been writing a comic strip based on their lives for 25 years; the five kids and her husband give her plenty of material. The strip is coming to an end the same weekend that the oldest daughter is getting married in the family homestead, which is being sold. When things start to go south Charlie Grant, who may be the youngest, is determined to make the last weekend in their house perfect come hell or highwater. Outlandish, funny, and sweet, Save The Date is Matson's best work yet and will have you boarding the train to Grant Central Station.
- Clare
— From
Clare's Recs
Description
---
"The cinema-worthy rom-com of your summer reading dreams." —Bustle
"A sparkling summer story ideal for teens who are on that bittersweet cusp of change." —Booklist
"[A] romantic comedy of errors." —Publishers Weekly

Father of the Bride meets Sixteen Candles in the latest novel from New York Times bestselling author Morgan Matson.

Charlie Grant's older sister is getting married this weekend at their family home, and Charlie can't wait—for the first time in years, all four of her older siblings will be under one roof. Charlie is desperate for one last perfect weekend, before the house is sold and everything changes. The house will be filled with jokes and games and laughs again. Making decisions about things like what college to attend and reuniting with longstanding crush Jesse Foster—all that can wait. She wants to focus on making the weekend perfect.

The only problem? The weekend is shaping up to be an absolute disaster.

There's the unexpected dog with a penchant for howling, house alarm that won't stop going off, and a papergirl with a grudge.

There are the relatives who aren't speaking, the (awful) girl her favorite brother brought home unannounced, and a missing tuxedo.

Not to mention the neighbor who seems to be bent on sabotage and a storm that is bent on drenching everything. The justice of the peace is missing. The band will only play covers. The guests are all crazy. And the wedding planner's nephew is unexpectedly, distractingly…cute.

Over the course of three ridiculously chaotic days, Charlie will learn more than she ever expected about the family she thought she knew by heart. And she'll realize that sometimes, trying to keep everything like it was in the past means missing out on the future.
About the Author
---
Morgan Matson is the New York Times bestselling author of six books for teens, including Since You've Been Gone and Save the Date, and the middle grade novel Firefly Summer. She lives in Los Angeles but spends part of every summer in the Pocono Mountains. Visit her at MorganMatson.com.