A Delicate Balance: Broadway Edition (Paperback)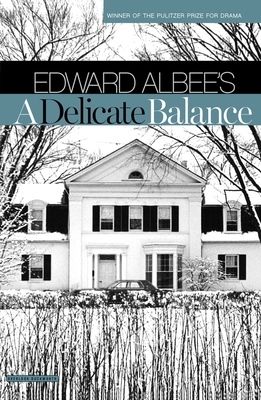 Description
---
Edward Albee's play A Delicate Balance won the Pulitzer Prize for Drama.

The play revolves around wealthy middle-aged couple Agnes and Tobias, who have their complacency shattered when their longtime friends Harry and Edna appear at their doorstep. Claiming an encroaching, nameless "fear" has forced them from their own home, these neighbors bring a firestorm of doubt, recrimination, and ultimately solace, upsetting the "delicate balance" of Agnes and Tobias's household.

A Delicate Balance has enjoyed many stunning revivals, including a Broadway production in 1996, which won the Tony Award for Best Revival, and another at the Almeida Theatre in London in 2011.
About the Author
---
Edward Albee's plays include "The Zoo Story" (1958), "The American Dream" (1960), "Who's Afraid of Virginia Woolf?" (1961 62, Tony Award), "Tiny Alice" (1964), "A Delicate Balance" (1966, Pulitzer Prize, and Tony Award, 1996), "Seascape" (1974, Pulitzer Prize, also available from Overlook), "Three Tall Women" (1994, Pulitzer Prize), and "The Play About the Baby" (2001, also available from Overlook). He was awarded the Gold Medal in Drama from the American Academy and Institute of Arts and Letters in 1980, and in 1996 he received both the Kennedy Center Honors and the National Medal of Arts."