Krav Maga (Idiot's Guides) (Paperback)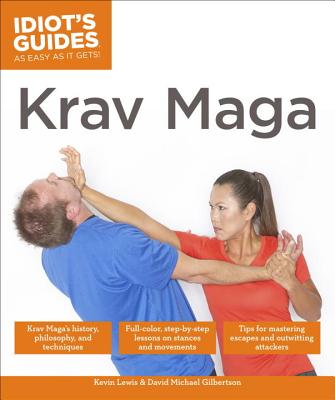 $21.95
Email or call for price/availability
Description
---
Krav Maga, which means "contact combat" in Hebrew, is an easy-to-understand/remember aggressive system of self-defense. Idiot's Guides®: Krav Maga will not only define what it is, but also review the principles and systems of techniques and training to ensure survival. Combining in-depth information and easy-to-understand illustrated instructions, this guide will be a wonderful tool to help train both men and women on how to protect themselves, deal with threatening situations, and reverse dangerous situations where they're at a disadvantage.
 
Idiot's Guides®: Krav Maga covers:

- The origination of Krav Maga: its history, birthplace, philosophy, and why it was created.
- The core essentials of Krav Maga's theory and practice.
- A review of how to condition the body and mind to outside threats and violence.
- An understanding of not only the physical aspect of Krav Maga, but how it is part of the bigger picture of personal protection.
- The thought process of the attacker and how to avoid potentially dangerous situations, if possible.
- How Krav Maga differs from martial arts, primarily in terms of not following handed down fighting rules and techniques.
- A breakdown of the belts in Krav Maga (yellow, orange, green, blue, brown, black), what it takes to attain them, and the differences between them. 
- Step-by-step illustrated directions on the popular stances, positions, movements, kick/punch strikes, falls, joint locks, deflections, and techniques from the basics to advanced moves.
- How to use body weight, your most powerful muscles, and momentum to defeat an attacker.
- Instruction on protecting the body and weapons defense, in addition to mastering escapes.
About the Author
---
Kevin Lewis personifies the philosophy that the best teachers are lifelong learners. From martial arts to tactical weapons training to survival training, Lewis is forever the eager student. Fortunately for rest of us, he's also the consummate teacher. A Navy veteran with security and antiterrorism training, Lewis is known as one of the world's top instructors for military and private sector security teams and as an expert in the instruction of defensive tactics. His private training roster reads like a "who's who" list, encompassing many prominent directors, writers, and actors who he's prepared for action roles in more than 20 major motion pictures. He has worked in all aspects of the security field, including executive protection, celebrity protection, and high- and low-profile operations. He's a third-degree black belt in Krav Maga, a first-degree in Shudo-Kan Karate, and a 2010 Martial Arts Hall of Fame inductee.David Michael Gilbertson is a black belt instructor in Krav Maga. He has been a fitness industry entrepreneur and consultant since his days as a collegiate athlete. Since coming to California to learn and train others in Krav Maga, David has run a number of successful functional fitness health clubs built upon the concept of incorporating fitness, nutrition, and restoration. Additionally, he partners with other entrepreneurs in a variety of outside ventures focusing on merging commerce with quality of life and leaving the world a better place. Currently on the Exercise Science Advisory Committee for Health and Fitness at a Southern California university, David has been involved in spreading the word about health, fitness, well-being, and Krav Maga for more than a decade. During that time, he's taught thousands of individuals worldwide, including first responders, celebrities, business leaders, and everyday people alike. While he loves the business of business, what drives him most is seeing positive transformational changes in his motivated clients every day. David is a natural mentor, and he loves helping people of all ages find and/or restore their missing mojo.