The Woman in the Library: A Novel (Paperback)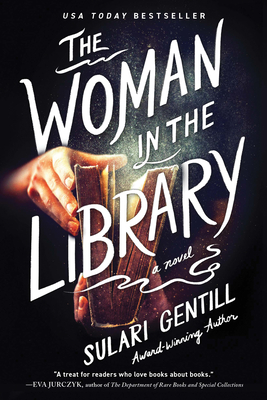 $16.99

Coming Soon - Available for Pre-Order Now
Staff Reviews
---
Avail. 6/7/22
Four strangers congregate in the reading room at the Boston Public Library - one of them, the narrator attempting to write a mystery. A piercing scream transforms them into friends. Get your coffee ready while you delve into this Aussie author's double mystery of crime scenes and coincidences, and try to figure out the true connections among these evasive characters and the meaning behind those insightful critiques tucked in each chapter of The Woman in the Library.
- MINDY
— From
Mindy's Recs
Description
---
"With each new chapter, The Woman in the Library opens the door to new histories. More murders...more clues...As Gentill's characters grow, the desire to know more about each ensnares us, and the only way out is to read to the end." —New York Journal of Books
Ned Kelly award winning author, Sulari Gentill sets this mystery-within-a-mystery in motion with a deceptively simple, Dear Hannah, What are you writing? pulling us into the ornate reading room at the Boston Public Library.
But fair reader, in every person's story, there is something to hide...
The tranquility is shattered by a woman's terrified scream. Security guards take charge immediately, instructing everyone inside to stay put until the threat is identified and contained. While they wait for the all-clear, four strangers, who'd happened to sit at the same table, pass the time in conversation and friendships are struck. Each has his or her own reasons for being in the reading room that morning—it just happens that one is a murderer.
Sulari Gentill delivers a sharply thrilling read with The Woman in the Library, an unexpectedly twisty literary adventure that examines the complicated nature of friendship and shows us that words can be the most treacherous weapons of all.
About the Author
---
After setting out to study astrophysics, graduating in law and then abandoning her legal career to write books, SULARI GENTILL now grows French black truffles on her farm in the foothills of the Snowy Mountains of Australia.
Gentill's Rowland Sinclair mysteries have won and/or been shortlisted for the Davitt Award and the Commonwealth Writers' Prize, and her stand-alone metafiction thriller, After She Wrote Him won the Ned Kelly Award for Best Crime Novel in 2018. Her tenth Sinclair novel, A Testament of Character, was shortlisted for the Ned Kelly Best Crime Novel in 2021.
Praise For…
---
PopSugar's Must Read Thrillers and Mysteries in 2022 

We Are Bookish 24 Highly Anticipated Books Hitting Shelves in 2022 

GoodReads Most Anticipated New Mysteries 

Book Riot's 15 Best New Mystery Books of 2022

SheReads Book Club Picks for Summer 2022

"The Woman in the Library is a sophisticated mystery with more layers than an onion, created by a master hand. Clever plot twists in Gentill's signature refined style will make you feel smarter just by reading. Sulari Gentill has done it again." — Ellie Marney, New York Times bestselling author

"Readers who enjoy a playfulness in their fiction will be delighted by this book-within-a-book. For fans of Anthony Horowitz." — First Clue

"Ned Kelly Award winner Gentill (Crossing the Lines) presents a complex, riveting story within a story. The fictional story of an author writing about another writer with messy, complicated friendships and suspicion is an innovative literary mystery." — Library Journal, Starred Review

"The pleasure of The Woman in the Library is that clever structure; a layered, literary hall of mirrors that's great fun to get lost in." — Seattle Times

"This thrilling excursion into metafiction from Australian author Gentill (Crossing the Lines) wittily examines the writing process itself...This elegantly constructed novel is intelligent, funny, and profound. Who could ask for more?" — Publishers Weekly, STARRED Review

"[The Woman in the Library] is a mystery-within-a-mystery, with the clues in Freddie's story becoming more intriguing as Leo's advice becomes more sinister. The two story lines work together beautifully, amping up the suspense before reaching a surprising conclusion." — Booklist

"The Woman in the Library by Sulari Gentill is a captivating literary thriller about the friendship forged by four strangers. " — PopSugar

"Brace yourself for twists and turns when picking up this thriller, which features a story within a story. " — BookBub Most Anticipated Books of 2022

"The ever-brilliant Sulari Gentill dazzles in her new The Woman in the Library...you'll have to figure this out for yourself. And you will cheer along the way." — BookTrib

"With each new chapter, Gentill opens the door to new histories. More murders...more clues...The Woman in the Library is a page-turner from beginning to end. As Gentill's characters grow, the desire to know more about each ensnares us, and the only way out is to read to the end." — New York Journal of Books

"Sulari Gentill's The Woman in the Library is a thrill. The library setting, the conceit of four strangers at a table, and the twisty story-within-a-story make Gentill's novel unputdownable. The book is a treat for readers who love books about books and who like their mysteries to keep them guessing until the very last page." — Eva Jurczyk, author of The Department of Rare Books and Special Collections

"The Woman in the Library is a delicious read—it's a book that makes you feel. Cunningly crafted, with layers that fold back and feed upon each other, charming characters, and revelations that will make you cringe and gasp. You will feel a rising sense of dread as you read it, but you won't want to stop." — Daniel O'Malley, author of The Rook