Twenty-Six Seconds: A Personal History of the Zapruder Film (Hardcover)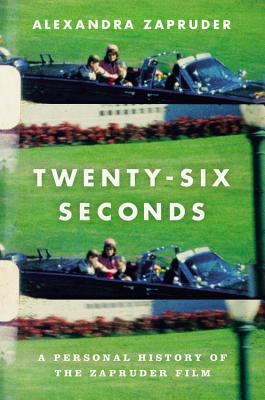 Staff Reviews
---
Abraham Zapruder never expected to film the most shocking twenty six seconds of modern presidential history: the assassination of President Kennedy in 1963. Now, his granddaughter traces what happened to that simple home movie in this fascinating account of overzealous journalists, unprepared government agencies, and a humble family trying to maintain a delicate balance between ethical action and ownership of an item that seemed to belong to the entire country. With access to previously unseen family documents and government files, Zapruder doggedly follows the provenance of the film while honestly examining her family's emotional, logistical and financial decisions. This book is an excellent companion to accounts of the assassination and its aftermath.
- Cindy
— From
Cindy's Recs 2
Description
---
The moving, untold family story behind Abraham Zapruder's film footage of the Kennedy assassination and its lasting impact on our world.

Abraham Zapruder didn't know when he ran home to grab his video camera on November 22, 1963 that this single spontaneous decision would change his family's life for generations to come. Originally intended as a home movie of President Kennedy's motorcade, Zapruder's film of the JFK assassination is now shown in every American history class, included in Jeopardy and Trivial Pursuit questions, and referenced in novels and films. It is the most famous example of citizen journalism, a precursor to the iconic images of our time, such as the Challenger explosion, the Rodney King beating, and the 9/11 attack on the Twin Towers. But few know the complicated legacy of the film itself.

Now Abraham's granddaughter, Alexandra Zapruder, is ready to tell the complete story for the first time. With the help of the Zapruder family's exclusive records, memories, and documents, Zapruder tracks the film's torturous journey through history, all while American society undergoes its own transformation, and a new media-driven consumer culture challenges traditional ideas of privacy, ownership, journalism, and knowledge.

Part biography, part family history, and part historical narrative, Zapruder demonstrates how one man's unwitting moment in the spotlight shifted the way politics, culture, and media intersect, bringing about the larger social questions that define our age.
About the Author
---
Alexandra Zapruder began her career on the founding staff of the United States Holocaust Memorial Museum in Washington, D.C. A graduate of Smith College, she later earned her Master's Degree in Education at Harvard University. She is the author of Salvaged Pages: Young Writers' Diaries of the Holocaust, which won the National Jewish Book Award in the Holocaust category. She also served as the guest curator for an exhibition of original diaries at Holocaust Museum Houston. She wrote and co-produced I'm Still Here, a documentary film for young audiences based on Salvaged Pages, which was awarded the Jewish Image Award for Best Television Special by the National Foundation for Jewish Culture and was nominated for two Emmy awards. Alexandra has traveled around the country and spoken to thousands of teachers, students, and others about her work.
Praise For…
---
"A fascinating and cautionary tale."—Wall Street Journal

"Zapruder is a gifted writer and storyteller who delicately unravels a minor mystery few people know or care about, but that she makes human, complex and quite interesting."—New York Times Book Review

"Making use of family and government archives, interviews, and her own memory, Alexandra offers a supple, tender portrait of a family lashed to history."—Boston Globe

"The fifty year saga of the most important witness to the JFK assassination-a home movie shot by Abraham Zapruder-is a high-stakes morality tale, suspenseful, thought-provoking, and at times nasty. Zapruder's embattled descendants defend their claim to the film, while researchers, conspiracy theorists, disapproving editorial writers and the federal government swirl around them, and millions of dollars hang in the balance."—John Berendt, New York Times bestselling author of Midnight in the Garden of Good and Evil

"A first-rate work of biography and history, addressing the film and the family in all their complexity and character...absorbing, deeply researched."—USA Today

"Enlightening...an intelligent blend of memoir and cultural criticism that breaks fresh ground in the crowded field of JFK assassination studies."—San Francisco Chronicle

"A moving and enlightening account of the famous film."—Joyce Carol Oates, The Washington Post

"Riveting...offers up a complex and highly entertaining story of an assassination, a reel of film, and a Texas-based clan, which also draws in Dan Rather, Life magazine, Geraldo Rivera, the Warren Commission, a pile of money, and a whole lot more."—The National Book Review

"The odyssey of America's most famous amateur footage is recounted with skill and sensitivity....Alexandra is a fine storyteller... the story never lags...Alexandra Zapruder has written a book which transcends the film and the tragedy in Dallas."—Washington Independent Review of Books


"Riveting."—The Dallas Morning News

"It is rare to find a book like TWENTY-SIX SECONDS that uncovers new informationa bout one of the most tragic events in American history...an intelligent examination of the changing media landscape, sudden notoriety, and its aftermath."—Washington Times

"[A] well-written exploration of conspiracy, propriety, copyright, and public good versus private gain...reaffirming [the film's] position as a true relic, one of the few in a secular world."—Publishers Weekly (starred review)

"An intriguing history of one of the most significant home movies ever recorded."—Kirkus Reviews

"Exhaustively researched."—Bookreporter

"Zapruder offers a unique perspective."—New York Post


"A fascinating history."—Men's Journal


"Connects the complex dots between [the author's] grandfather's chance footage of the attack (he was an amateur camera buff catching the president's motorcade) and the film's controversial and lasting impact on America's psyche, politics, culture, and laws-as well as the ways it strengthened and hurt the Zapruders over the next 50 years."—Elle.com

"A wholly unique family memoir and a fascinating monograph about one of the most consequential artifacts in recorded history...So much has been written and said about the Kennedy assassination that a reader might wonder what is left to be said. In the pages of TWENTY-SIX SECONDS, Alexandra Zapruder says it."—Jewish Journal

"Adds a fresh narrative to an old tragedy."—People

"Zapruder evokes the tension and horror of the assassination. Scrupulous facts are woven into an intensely personal, sometimes painful, family history....TWENTY-SIX SECONDS is an important contribution to our understanding of history on a grand scale, and to the personal history of a private family reluctantly thrust into history's spotlight."—Lone Star Literary Life
Coverage from NPR
Upcoming Events
Event date:

Mon, 03/02/2020 - 10:30am

Event date:

Mon, 03/09/2020 - 10:30am