The Bitchy Waiter: Tales, Tips & Trials from a Life in Food Service (Paperback)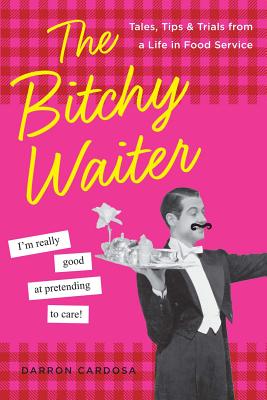 Staff Reviews
---
"I'd be happy to stop what I'm doing and take a picture of you with your food." " Your (screaming) child is so adorable!" Do you want to know what your server is really thinking behind that bright smile? Wonder no more, because Darron Cardosa, a.k.a. The Bitchy Waiter, just can't wait to give you the hilarious details. Cardosa, a career waiter, has written The Bitchy Waiter blog since 2008 and has appeared on TV and in cabarets spreading the gospel of overworked and underpaid servers everywhere. From his list of things never to say (Will you taste this first?), to clues as to what they really mean (When they say the plate is hot, it's hot!), you'll nod (and cringe) with recognition. Profane and side-splittingly funny, this book ensures you'll never look at your servers the same again!
- Cindy
— From
Cindy's Recs 2
Description
---
Millions of people have, at some point in their lives, waited tables. Some only did it in college, or got out by sheer determination, good luck . . . or suicide. Others took it on as permanent employment. And many remain haunted by nightmare scenarios where they are the sole server in a restaurant packed with complaining patrons. For all those disenchanted current and former food service employees, Darron Cardosa has your back. His career began at a Texas steakhouse in 1984, and since 2008 he's vented his frustrations in the popular blog The Bitchy Waiter. A snarky mix of David Sedaris, Anthony Bourdain, Erma Bombeck, and Mo Rocca, Cardosa distills 30 years of food service into dark, funny tales--about crazy customers, out-of-control egos, and what really goes on in that fancy restaurant--that anyone who worked in the industry will recognize and relate to.
About the Author
---
Darron Cardosa proudly refers to himself as a media whore, and has been known to spend hours at a time linking his blog to every conceivable website that may get him more traffic. The Bitchy Waiter blog now boasts nearly 10,000 followers on Twitter and 250,000 fans on Facebook. In 2011 he was featured in a New York Post article entitled "Should You Trust Your Server?" He has been a guest on WOR talk radio and also on WNYC public radio. In August 2011 he appeared as a guest on Dr. Phil to discuss children's behavior in restaurants, and in November 2011 he was a contributing commentator for CBS Sunday Morning, which reached more than five million viewers. In August 2012 his blog was referenced in an article on CNN's website Eatocracy.com, and most recently he was quoted in an article about tipping for the Wall Street Journal. Darron lives in New York, NY.