The Moving Toyshop (The Gervase Fen Mysteries) (Paperback)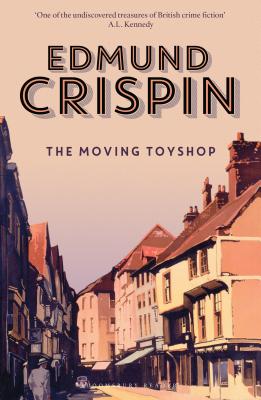 $16.00
Usually Ships in 1-5 Days
Staff Reviews
---
It's back in print! Hooray! Nobody writes intelligent, witty detective fiction like mid-20th-century Brits, and this book is a prime example. A poet goes to Oxford on holiday; arriving late and unsure of the address of his temporary digs, he stumbles into a toyshop – only to discover a woman's corpse. Almost at once, he's knocked out. Regaining consciousness the next morning, locked in a back room, he's alarmed to discover that the shop is now a grocery and he's arrested for trespassing and theft. Luckily an old friend, literature professor Gervase Fen, helps him sort it all out. Literary mystery at its best!
- Banna
— From
Banna's New Recs
Description
---
When a poet, Richard Cadogan, receives an unexpected £50 advance from his publisher for his new poetry book, he decides to go to Oxford for a well deserved holiday. The change of scenery and peace of mind is what he needs to recover his inspiration for writing. Little does he know that what he envisioned as a leisurely time spent on long walks and visiting friends will turn into a mystery solving adventure full of unexpected and dangerous twists.
After an eventful train journey, Cadogan arrives in Oxford late at night only to realize that he has forgotten the exact address of his stay. Relying on a distant memory of the place he boarded in years ago he accidentally enters a toyshop where, to his surprise and fright, he finds the dead body of a women. Before he knows it, he is knocked out and spends his first night of the holidays locked in the backroom of the shop. When he finally recovers from the concussion, the body is gone, the toyshop has turned mysteriously into a grocery store, and Cadogan himself is accused of trespassing and stealing food.
Luckily for the puzzled poet his old university friend, the professor of literature, Gervase Fen is there ready to plunge into the midst of this mystery.
The Moving Toyshop, first published in 1946, is Edmund Crispin's most famous novel featuring eccentric amateur detective, Gervase Fen.
About the Author
---
Edmund Crispin (1921–1978) was the pseudonym of Robert Bruce Montgomery (usually credited as Bruce Montgomery), an English crime writer and composer. Montgomery wrote nine detective novels and two collections of short stories under the pseudonym Edmund Crispin (taken from a character in Michael Innes's Hamlet, Revenge!). The stories feature Oxford don Gervase Fen, who is a Professor of English at the university and a fellow of St Christopher's College, a fictional institution that Crispin locates next to St John's College. Fen is an eccentric, sometimes absent-minded, character reportedly based on the Oxford professor W. E. Moore.
Praise For…
---
"Hilarious ... ranks among the most amusing light novels ever written." - Washington Post
"A rococo classic. It has abundantly the pervasive charm of the genre." - The Times
"One of the undiscovered treasures of British crime fiction: Crispin's storytelling is intelligent, humane, surprising and rattling good fun." - A.L. Kennedy
Upcoming Events
Event date:

Tue, 02/25/2020 - 10:30am

Event date:

Mon, 03/02/2020 - 10:30am

Event date:

Mon, 03/09/2020 - 10:30am