Dreaming In Color Living In Black And White: Our Own Stories of Growing Up Black in America (Abridged / Paperback)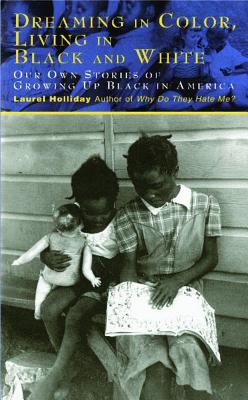 $10.99

Usually Ships in 1-5 Days
Description
---
In this young adult anthology, many people of color share their stories of oppression, discrimination, and triumph.

"I constantly questioned myself as a child. All of the positive images of people I'd seen were white. To be beautiful, you not only had to be stick-skinny, with no behind, you had to have long silky blond hair and blue eyes, a thin nose, and thin lips. I just didn't measure up." —Charisse Nesbit, Maryland

These true stories from every part of America tell what it was like growing up in world where the color of people's skin set them apart.

How do you feel when a teacher doesn't believe that you wrote the story he thinks is great? How can you make friends and belong in a black school when your father is black and your mother is Puerto Rican? What do you do when you're working in the kitchen of a summer camp in Vermont, but you're not allowed to swim in the camp lake?

All the writers' pain, confusion, humiliation, and rage are vividly expressed, but many of them went on to realize their dreams against overwhelming odds. Their voices offer hope, inspiration, and a challenge to us all.
About the Author
---
Laurel Holliday, formerly a college teacher, editor, and psychotherapist, now writes full time in Seattle. She is the award-winning author of the Children of Conflict series: Children in the Holocaust and World War II: Their Secret Diaries; Children of The Troubles: Our Lives in the Crossfire of Northern Ireland; Children of Israel, Children of Palestine: Our Own True Stories; and Children of the Dream: Our Own Stories of Growing Up Black in America. Laurel Holliday is also the author of Heartsongs, an international collection of young girls' diaries, which won a Best Book for Young Adults Award from the American Library Association.