Chilean New Song: The Political Power of Music, 1960s - 1973 (Paperback)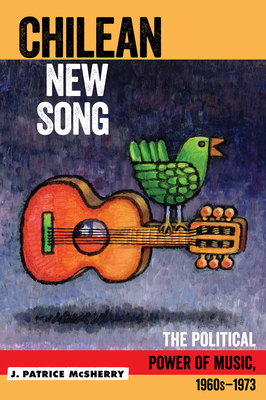 $45.95

Usually Ships in 1-5 Days
Description
---
Chilean New Song (la Nueva Canción chilena) entranced and uplifted a country that struggled for social change during the turbulent 1960s and early 1970s, until the 1973 coup that overthrew democratic socialist president Salvador Allende. This powerful musical style—with its poetic lyrics and haunting blend of traditional indigenous wind and stringed instruments—was born of and expressed the aspirations of rising classes. It promised a socially just future as it forged social bonding.  
 
In Chilean New Song, J. Patrice McSherry deftly combines a political-historical view of Chile with a narrative of its cultural development. She examines the democratizing power of this music and, through interviews with key protagonists, the social roles of politically committed artists who participated in a movement for change. McSherry explores the impact of Chilean New Song and the way this artistic/cultural phenomenon related to contemporary politics to capture the passion, pain, and hope of millions of Chileans. 

About the Author
---
J. Patrice McSherry is a Professor of Political Science at Long Island University and a Visiting Professor at Alberto Hurtado University in Santiago. She is the author of Predatory States: Operation Condor and Covert War in Latin America and Incomplete Transition: Military Power and Democracy in Argentina and the co-editor (with John Ehrenberg, José Ramón Sánchez, and Caroleen Marji Sayej) of The Iraq Papers.

Praise For…
---
"Chilean New Song, a product of several years of research conducted by J. Patrice McSherry in Chile, will have a significant impact on many of its readers.... The reader quickly moves from a rich, concise introduction to the rise of la nueva cancion, and its connection to social change, to the book's conclusion.... McSherry's discussion of la nueva cancion in Chapter 3 is exceptional. Here one can observe the process of blending folklore with an original composition.... Chilean New Song is a beautifully written treatise on the creative grassroots soul of Chile. The book also contributes to the literature on music and song as resistance, and to cultural and political memory studies." —Journal of Third World Studies

"McSherry focuses on the development and significance of Chile's nueva canción, or 'new music,' movement, which was linked inextricably to social, political, and cultural conditions in Chile.... [T]he research is impressive…she includes interviews with many musicians and other key figures in nueva canción.... A valuable resource for those interested in the intersection of the arts, politics, and culture…. Summing Up: Recommended." —CHOICE

"McSherry very clearly understands the power of la Nueva Canción in Chilean society, culture, and politics during the 1960s and 1970s, bringing to bear a solid grasp of the secondary literature and an impressive collection of oral-history interviews that give great vibrancy and life to the story of the movement. Her interviews with figures ranging from the famous—Ángel Parra and Quilapayún—to the 'behind-the-scenes' folks who were crucial to the movement's emergence, development, and success are impressive. What emerges is a treatment of la Nueva Canción that weds the cultural and the political with the real-life experiences of Chileans who were agents in the creation of the cultural-political milieu in which they circulated."—Patrick Barr-Melej, author of Reforming Chile: Cultural Politics, Nationalism, and the Rise of the Middle Class