My Zoo: A Book of Feelings (Hardcover)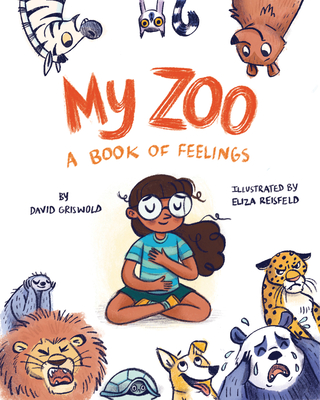 $16.99

Usually Ships in 1-5 Days
Description
---
My Zoo: A Book of Feelings helps readers identify the emotions they are feeling and be present with them. From angry lions to calm sloths and sad pandas to happy puppies, everyone has a zoo of emotions inside. Some days you might feel like a tiger or elephant, bear or rhino. But other days you may feel like all the animals in the zoo
Featuring colorful, expressive animals, bouncy rhymes, and awesome alliteration, readers will find My Zoo: A Book of Feelings to be a fun read-aloud book covering such emotions as happy, sad, scared, angry, brave, embarrassed, calm, jealous, excited, annoyed, and proud, and guaranteed to be a helpful tool for learning how to identify, accept, and become a zoo-keeper of their own feelings and emotions. This clever and colorful picture book invites kids to look inside themselves and get know their own lion, tiger, bear, sloth, zebra, turtle, and dog and just how wonderfully captivating and instructive those emotions and feelings can be.
About the Author
---
David Griswold graduated from Yale with a BA in English and a writing concentration in poetry, earning the Frederick M. Clapp fellowship for his original poetic works. He has previously published six seasonal editions of on-demand sonnets and two picture books: Mother, What is the Moon? and Fur & Feather Stand Together. He lives in the San Francisco Bay Area. Visit furandfeathertogether.org and davidbgriswold.com. Eliza Reisfeld is an illustrator and designer who graduated from Rhode Island School of Design with a BFA in Illustration. She captures charming personalities with a wide variety of mediums including paint, ink, clay, and digital media. Eliza lives in the San Francisco Bay Area. Visit elizareisfeldart.com and @ElizaReisfeldArt on Facebook and Instagram.