The Phone Booth at the Edge of the World: A Novel (Hardcover)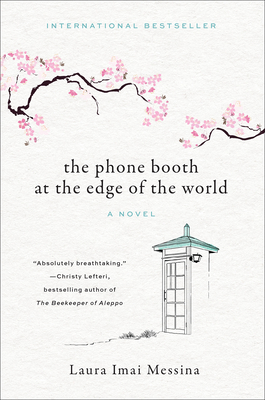 Staff Reviews
---
This debut English-language novel is beautifully unsettling. I loved being immediately transported to Japan and immersed in a culture that is worlds apart from my own. The story takes place in a remote private garden where we are introduced to three survivors: Yui, a 30 year old radio talk show host who has lost her mother and daughter; Takeshi, a physician who has lost his wife: and his daughter Hanna who hasn't spoken since. For me "the phone booth ..." is a zen-like meditation on how one deals with loss and grief.
Can visiting a garden and speaking to the dead on a disconnected phone in an old time phone booth be the way forward? You won't know unless you try it! The perfect book for our imperfect time.
- BILL
— From
Bill's Recs
About the Author
---
Laura Imai Messina has made her home in Japan for the last 15 years and works between Tokyo and Kamakura, where she lives with her Japanese husband and two children. She has master's and doctorate degrees from Tokyo University. Translated from the Italian by Lucy Rand, The Phone Booth at the Edge of the World is Laura Imai Messina's English-language debut.
Praise For…
---
"an astonishment...a quiet, contemplative, and gripping tale [that] provides a message of hope and endurance"

— Christian Science Monitor

"a tender tribute to grief and what it teaches us. Healing is not linear, and the ones we lose never truly leave us...The phone booth is a magical place that not only connects the living to the dead but also the living to the living."
— BookPage

"a must-read…a beautifully written book…Messina writes in a way that's evocative of Kazuo Ishiguro but in an opposite way: While Ishiguro leads with comfort and hints at the sadness to come, Messina offers grief and sadness first but offers the reader a trail of breadcrumbs toward future happiness."
— Kirkus

"Thoughtful and tender, full of small daily moments and acts of kindness, Messina's novel is a testament to the power of community (and a bit of whimsy) in moving forward after loss."
— Shelf Awareness

"There is a stillness and quietness to the book that makes each movement all the more meaningful. The words carry a weight that makes each sentence feel intentional; there's no fat to trim. Moving and heart-breaking, Yui's story—and that of the Wind Phone—is equally uplifting and heart-warming."

— Asian Review of Books

"This book is one to read now."
— Cosmopolitan (UK)

"A story about the dogged survival of hope when all else is lost . . . Messina shows us that even in the face of a terrible tragedy, such as an earthquake or a loss of a child, the small things - a cup of tea, a proffered hand - can offer a way ahead. Its meditative minimalism makes it a striking haiku of the human heart."
— The Times (London)

"Carefully told and with great care, this feels a particularly resonating story right now."
— Stylist

"Spare and poetic, this beautiful book is both a small, quiet love story and a vast, expansive meditation on grieving and loss."
— Heat

"This is a beautiful book. And a timely one. It tells a story about the aftermath of a disaster, long after the disaster. It tells of memories of the first few weeks after horror struck, but more it tells about the years after. If we're not directly affected, we lose sight of the years after that others have to endure. Or survive."
— Bookbag (UK)

"This beautiful novel tells a story of universal loss and the power of love. It will remain engraved in my heart and mind forever. During these difficult times we face, it addresses questions that we might all have—how to connect with those we have loved and lost and how to allow ourselves to live and to love again. Beautifully written, sensitive and evocative, it paints a picture of an inner and outer world that is infused with both tragedy and hope. It moved me to tears and made me want to speak my own secret thoughts in the phone box at the edge of the world. Absolutely breathtaking and stunning."
— Christy Lefteri

"Before I got started, I already loved the phone booth at the edge of the world. But then I loved everything else. Especially the beautiful prose, powerful but held back, like grief. And the characters—emerging blinking from their tragedies, hurt, and hesitant—but ultimately hopeful. It was a joy to read. Mesmerizing."
— Joanna Glen

"A message of hope for anyone lost, frightened, or grieving. Beautiful."
— Clare Macintosh

"The Phone Booth at the Edge of the World has such a subtle strength to it. The power to transfer such huge emotion from the page to my heart. It felt like a balm to my soul. . . . For me it is easily one of my books of the year."
— Waterstones (UK) bookseller