Sketch Your Style: A Guided Sketchbook for Drawing Your Dream Wardrobe (Paperback)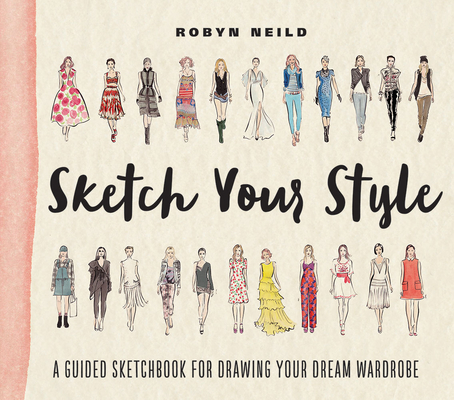 $19.95

Usually Ships in 1-5 Days
Description
---
From fashion illustrator Robyn Neild, Sketch Your Style is a fully interactive guided sketchbook for anyone who enjoys fashion and loves to doodle, sketch, and draw. Learn how to draw a croquis, facial features, and foot proportions; add texture to clothing; and much more.
In this book, you'll find step-by-step instructions for drawing and personalizing figures, and more than 50 inspirational exercises and prompts that will help you bring your creative vision to life. From exploring periods in fashion history and fun trends to the work of influential designers, each exercise is introduced with lively visuals and followed by pages where you can try out your own ideas. It includes:
Designer icons (Chanel, Gaultier, etc.)
Using color
Fashion fantasy: Oscar winner
Punk
And more!
This is an amazing resource. It features highlights from decades of fashion and offers drawing techniques, like how to sketch trousers. Learn how to take colors and textures and put them together beautifully. With drawing prompts to push you to try new skills, it is an amazing gift for young fashionistas and designers, and for experienced ones who want to add to their skill set.
Not only does this remarkably creative book explore various style genres, fashion by the decade, event, and body type, but it also gives simple advice for sketching better fashion illustrations. Each section is accompanied by a silhouette where you can design your own clothing or create your own face and hair style.
Some pages are blank, while others have printed templates as guides. Whether you like designing for fun or you want to take your skills to the next level, this book is a great place to start.
Includes illustrations
About the Author
---
Robyn Neild is a fashion illustrator who specializes in pen and ink, watercolor, and collage. Her work has been featured in magazines such as Vogue, Elle, and Glamour, and her clients have included Victoria's Secret, Vivienne Westwood, Givenchy, and Elizabeth Arden. She lives in London.