The Universe Has Your Back: Transform Fear to Faith (Paperback)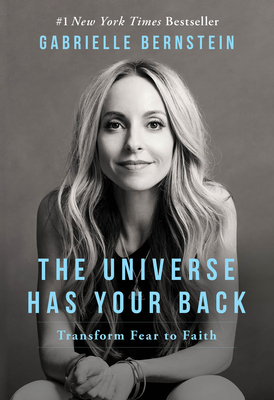 Description
---
Now in tradepaper: New York Times best-selling author offers simple prayers, affirmations, and exercises to support readers in releasing old thought systems and fears, and a return to peace.

Through acceptance, surrender, and a commitment to her continually evolving spiritual path, New York Times best-selling author and international speaker Gabrielle Bernstein has been transforming her fear into faith. Her stories and universal lessons provide a framework for releasing the blocks to what everyone most longs for: happiness, security, and clear direction. These lessons can help us relinquish the need to control in order to relax into a sense of certainty and freedom--to stop chasing life and truly live.
Ride the swell of your energy and true power to find strength when you are down, synchronicity and support when you are lost, safety in the face of uncertainty, and joy in what might otherwise be pain. Bernstein has secrets to reveal, and she is determined to unleash the presence of your power with the comforting knowledge that the Universe has your back.
About the Author
---
For over fifteen years, Gabrielle Bernstein has been transforming lives--including her own. The #1 New York Times best-selling author has penned eight books including The Universe Has Your Back, Super Attractor, and the latest, her first Audible Original, You Are the Guru. What started as hosting intimate conversations with twenty people in her New York City apartment, Gabby has grown into speaking to tens of thousands in sold-out venues throughout the world.
 
Gabby was featured on Oprah's SuperSoul Sunday as a "next-generation thought leader." The Oprah Winfrey Network chose Gabby to be part of the "SuperSoul 100," a dynamic group of trailblazers whose vision and life's work are bringing a higher level of consciousness to the world. The New York Times identified Gabby as "a new role model." She co-hosted the Guinness World Records' largest guided meditation with Deepak Chopra, and appears regularly as an expert on Today and Good Morning America among other publications. Gabby connects with her community through her books, her Miracle Membership, the Spirit Junkie app, social media, podcasts, masterclasses, digital workshops and e-courses, and live events. To learn more and experience it yourself, visit gabbybernstein.com.
Praise For…
---
"I love Gabby and her work. She just has a special way of reaching people, and I know this book will change the shape of many hearts."
— India.Arie, singer, songwriter, and teacher

"A new role model."
— The New York Times

"I came to one of Bernstein's monthly lectures and got my rst look at the woman I'd one day unabashedly refer to as 'my guru.'"
— ELLE magazine