Getting in Without Freaking Out: The Official College Admissions Guide for Overwhelmed Parents (Paperback)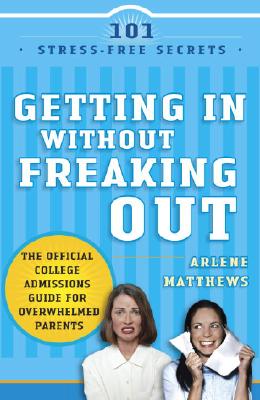 Description
---
Is College Planning Driving You Crazy?

Somehow, watching as your children decide which schools to apply to is as stressful for you as it is for them. If you've found yourself contemplating essay forgery, scheduling five college tours for a single holiday weekend, and obsessively checking the U.S. News and World Report rankings, you may be on the verge of freaking out. But as a parent, it's important to (try to) remain calm and help keep everything in perspective.

Written specifically for parents and their college-bound teens, Getting In Without Freaking Out is an insider's guide to the application process by professional college coach Arlene Matthews. Years of experience have taught her the secrets of playing the admissions game without all the anxiety. Now, Arlene shares what admissions officers won't tell you—that getting into a great college isn't as hard as it seems! You'll learn . . .

• How to get into a top college without ever taking the SATs

• Why a little procrastination never hurt anyone

• Why applying to fewer schools increases the chances of acceptance

• What really matters when your child goes off to college—and beyond

As entertaining as it is practical and realistic, Getting In Without Freaking Out is the only guide of its kind—one that helps you get through the getting-in process with grace, good humor, and knowledge that will enhance your student's chance of success.
About the Author
---
Arlene Matthews is the author of seven books on parenting and psychology and founder of Your College Coach (yourcollegecoach.com), an admissions advising service. She is the mother of a teenage son who will, all too soon, be college-bound.
Praise For…
---
"It is college anxiety season…a new book has come to the rescue. I like [the author's] sense of humor and low key approach to the torturous admissions rites."—Jay Mathews, Washington Post.