Holding the Note: Profiles in Popular Music (Hardcover)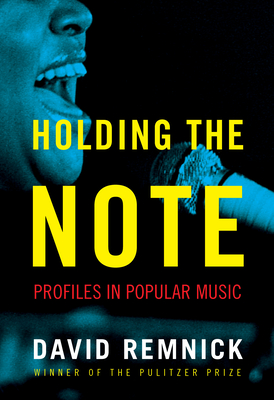 Description
---
NEW YORK TIMES BEST SELLER • The Pulitzer Prize–winning journalist and editor of The New Yorker gathers his writing on some of the essential musicians of our time—intimate portraits of Leonard Cohen, Buddy Guy, Mavis Staples, Paul McCartney, Bruce Springsteen, Patti Smith, and more.

The greatest popular songs, whether it's Aretha Franklin singing "Respect" or Bob Dylan performing "Blind Willie McTell," have a way of embedding themselves in our memories. You remember a time and a place and a feeling when you hear that song again. In Holding the Note, David Remnick writes about the lives and work of some of the greatest musicians, songwriters, and performers of the past fifty years.

He portrays a series of musical lives and their unique encounters with the passing of that essential element of music: time. From Cohen's performing debut, when his stage fright was so debilitating he couldn't get through "Suzanne," to Franklin's iconic mink-drop at the Kennedy Center, Holding the Note delivers a view of some of the greatest creative minds of our time written with a lifetime's passionate attachment to music that has shaped us all.
About the Author
---
DAVID REMNICK has been the editor of The New Yorker since 1998 and before that was a staff writer for the magazine for six years. He was previously The Washington Post's correspondent in the Soviet Union. He is the author of several books, including King of the World, a biography of Muhammad Ali, named the top nonfiction book of the year by Time magazine in 1998, and Lenin's Tomb, winner of the Pulitzer Prize.
Praise For…
---
"[A] gathering of exceptionally vivid and melodic profiles of musicians late in life. Written over the past three decades, these are keenly observed, deeply felt, and judiciously detailed encounters of genuine communion mixing interviews, biography, and analysis, all lyrically and radiantly composed . . . There's a bittersweet quality to Remnick's perceptions of these legendary figures. He offers arresting insights into Luciano Pavararotti, Aretha Franklin, and Buddy Guy; a funny and lacerating portrait of Keith Richards, fresh takes on Paul McCartney, Mavis Staples, Bruce Springsteen, Bob Dylan, and Patti Smith . . . There is acuity here, bemusement, tenderness, and gratitude." —Donna Seaman, Booklist

"Remnick, the intellectually nimble editor of the New Yorker, has lately been focusing closely on world politics, but he finds time to profile a number of artists who, having enjoyed early success, 'were all grappling, in music and in their own lives, with their diminishing gifts and mortality.'. . . There's dish here . . . and plenty of astute observation . . . A perceptive pleasure for literate music lovers." —Kirkus Reviews

"A tribute to the resilience of maturing music performers . . . Structured in a conversational style, the book touches on artists like Leonard Cohen, Aretha Franklin, Buddy Guy, Keith Richards, Paul McCartney, Mavis Staples, Bruce Springsteen, Pavarotti, Bob Dylan, and Patti Smith. Remnick ruminates about the connections and similarities among many of his subjects—depression and Dylan affected Cohen; Franklin's preacher father's hardships shadowed her; and Guy influenced Jimi Hendrix and Muddy Waters." —Library Journal

"[A] standout collection of pieces . . . Remnick's close observational details add texture, but what's most remarkable is his ability to give due at once to the artists' larger-than-life musical legacies and their all too human fallibilities. Music fans will revel in this peek behind the curtain." —Publishers Weekly (starred review)