Paddy's Pub: The Worst Bar in Philadelphia: An It's Always Sunny in Philadelphia Cookbook (Hardcover)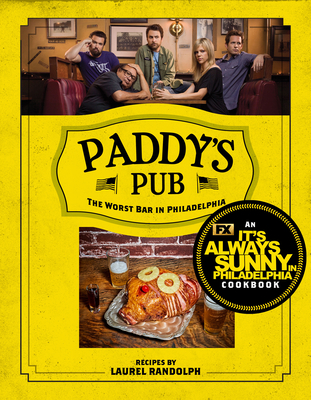 List Price: $22.99
Our Price: $20.69
(Save: $2.30 10%)
Description
---
For fans of It's Always Sunny in Philadelphia who want to don their aprons and take a crack at making some of the iconic foods from the show.

Ever wanted to try Frank Reynolds's iconic Rum Ham? Have you been dying to make your own Trash Bag Full of Chimichangas to rival Fat Mac's? Does the mere sight of Charlie's delectable Milk Steak (raw jelly beans on the side) make your mouth water? If not, you're clearly a jabroni.

But if you have any sense of taste or class, then this is the cookbook for you. Paddy's Pub: The Worst Bar in Philadelphia features more than 45 recipes straight from the Gang. Learn to cook Guigino's special $44 Snapper so you can demonstrate your value even when your fish supplier has an incident at their facility. Try your hand at making the McPoyles' Milk Punch, this time without the bath salts to save someone an eye or two. And don't forget Mac's Famous Mac and Cheese, where you can live your perfect suburban life with a simple whip of a spoon.

From breakfast to dinner, and plenty in between, this cookbook turns your favorite meals from the show into innovative and easy-to-follow recipes. Filled with playful photography and quotes, Paddy's Pub: The Worst Bar in Philadelphia is the ultimate guide to all the iconic dishes and is a must-have for every fan. Whether you're the golden god or the wild card, pick up this book and impress your own Gang with sick culinary skills. So . . . where's the food?
About the Author
---
Laurel Randolph has been a food writer for over ten years and a cook since she was old enough to properly hold a whisk. She is the best-selling author of The Unofficial Simpsons Cookbook, The Instant Pot® Electric Pressure Cooker Cookbook: Easy Recipes for Fast & Healthy Meals, The Instant Pot® No-Pressure Cookbook: 100 Low-Street, High Flavor Recipes, and Instant Pot Desserts. She has developed hundreds of recipes and written for numerous publications including The Spruce Eats, The Kitchn, Eaten Magazine, Food 52, Simply Recipes, Los Angeles Magazine, EatingWell, Paste Magazine, and Serious Eats.