Scavenge the Stars (Hardcover)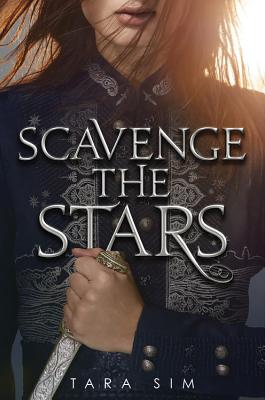 $18.99
Email or call for price/availability
Staff Reviews
---
This gender-bent retelling of The Count of Monte Cristo is an action packed adventure filled with deception, incredible riches, revenge, and romance. Theoretically, Amaya's and Cayo's paths should never have crossed. Amaya is serving time on a debtors' ship, and Cayo is the son of a wealthy merchant. But, a series of unimaginable circumstances force their lives to intertwine in a way that neither expects. This book will have you intrigued right from the first page, and is perfect for fans of Leigh Bardugo and Sabaa Tahir!
-Kirsten
— From
Kirsten's Recs
Description
---
From rising-star author Tara Sim comes an epic new YA fantasy duology—a gender-swapped The Count of Monte Cristo retelling that's perfect for fans of All the Stars and Teeth by Adalyn Grace.

When Amaya rescues a mysterious stranger from drowning, she fears her rash actions have earned her a longer sentence on the debtor ship where she's been held captive for years. Instead, the man she saved offers her unimaginable riches and a new identity, setting Amaya on a perilous course through the coastal city-state of Moray, where old-world opulence and desperate gamblers collide. Amaya wants one thing: revenge against the man who ruined her family and stole the life she once had. But the more entangled she becomes in this game of deception—and as her path intertwines with the son of the man she's plotting to bring down—the more she uncovers about the truth of her past. And the more she realizes she must trust no one? Packed with high-stakes adventure, romance, and dueling identities, this gender-swapped retelling of The Count of Monte Cristo is the first novel in an epic YA fantasy duology, perfect for fans of Sarah J. Maas, Sabaa Tahir, and Leigh Bardugo.
About the Author
---
Tara Sim is a YA fantasy author who can typically be found wandering the wilds of the Bay Area, California. She is the author of the Timekeeper trilogy, which has been featured on Entertainment Weekly,Bustle, and various media outlets. When she's not chasing cats or lurking in bookstores, she writes books about magic, clocks, and explosives.
Praise For…
---
"Tara Sim has crafted a story as deep and glittering as the churning sea--it will pull you under its surface from the first page and never let you go."—Laura Sebastian, New York Times best-selling author of Ash Princess

"With all the politics, intergenerational conflict, FEELINGS, and knives a girl could ask for, Tara Sim expertly weaves action, plot, and ensemble drama for a thrill ride that will keep you turning pages."—#1 New York Times best-selling author E. K. Johnston

"Tara Sim's Scavenge the Stars is a compelling tale of revenge, full of complications and reverses. I was hooked by Amaya's story from the beginning, and devoured this book in huge gulps. I loved it, and am already excited for the sequel."—Kat Howard, Alex Award-winning author of An Unkindness of Magicians

"Scavenge the Stars is a garrote of a book, and by the time you realize it, it'll already have you by the throat. Amaya and Cayo's quests for vengeance and redemption will tear them-and you-apart, even as they uncover the terrible truths that bind them together. Readers who like heroes with tragedy, heroines with knives, and stories with teeth, all I can say is: eat your heart out."—Margaret Owen, author of The Merciful Crow

"Tara Sim weaves a magical tale of revenge, swordfighting, and secrets set in a corrupt city where things aren't ever what they seem. This book is an attitude, in the best, bloodthirstiest of ways."—Rin Chupeco, author of The Bone Witch

"A dark, glimmering pearl of a tale-the echoes of the original Count of Monte Cristo add satisfying touches of familiarity, while the lush setting and enthralling characters give the story its own, vibrant flavor. I devoured this book in one sitting, and I recommend it to readers seeking girls who can cut your heart out, as well as breath-taking, perilous adventure."—Amanda Foody, author of the Shadow Game series

"An ensnaring blend of mystery and intrigue-this tale of revenge and redemption will keep readers guessing and gasping to the very end."—Natalie C. Parker, author of Seafire

"A rags-to-riches story with the promise of revenge... Captivating."—Kirkus Reviews

PRAISE FOR THE TIMEKEEPER TRILOGY

"An extraordinary debut, at once familiar and utterly original. Between its compelling world, its lovely prose, and its wonderful characters, the pages flew by."—Victoria Schwab, #1 New York Times best-selling author

PRAISE FOR THE TIMEKEEPER TRILOGY

"Alive with myth, mystery, and glorious romance, Timekeeper will keep hearts pounding and pages turning til the stunning conclusion. Reader beware-there's magic in these pages."—Heidi Heilig, author of The Girl from Everywhere and For a Muse of Fire

PRAISE FOR THE TIMEKEEPER TRILOGY

"Timekeeper's premise is original and its world unique."—Entertainment Weekly