Into Darkness (Stuffed, Book 2) (Hardcover)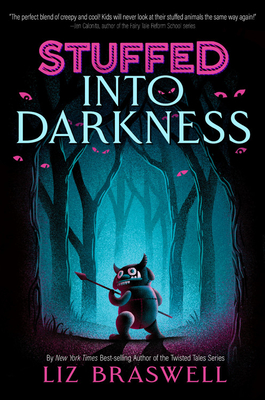 $16.99

Usually Ships in 1-5 Days
Other Books in Series
This is book number 2 in the Stuffed series.
Description
---
No Stuffy has ever gone into the Darkness and returned....

In this sequel to STUFFED, Clark can't wait to go away to camp. For the first time ever, he has actual friends to hang out with. Catherine-Lucille and D. A. will both be at Camp I Can with Clark, and C. L. has already promised to induct him into her exclusive camp club—the one for campers who know everything there is to know about the world of Monsters and how Stuffies protect kids from them. And now that he knows (or suspects . . . very strongly) that his grandma-made Stuffy, Foon, heroically saved his own father from a horrible fate, Clark is obviously bringing Foon to camp along with him.

But once Clark gets to camp, he and his friends discover things are off. There are strange, gooey findings in some of the bunks, the adults are acting weird, and, worst of all, their Stuffies and dolls go missing at the moment they need them the most—when they go on the intersession camping trip and end up trapped in a creepy old cabin. What Clark and his friends don't know, and what the mighty Foon soon discovers, is that the Monsters have launched a revenge campaign against Foon—a campaign that entails sucking the very life out of Clark. Now it's up to Foon to enter the World of Darkness and take on the Monster in charge in order to stop the plot and save Clark's life.

In the long tradition of Stuffies vs. Monsters, this one's a battle for the ages—one that will certainly go down in Stuffy history.
About the Author
---
Liz Braswell spent her childhood reading fairy tales, catching frogs, and going on adventures in the woods with her stuffed animals. She has a degree in Egyptology from Brown University (and yes, she can write your name in hieroglyphs). After making video games for ten years Liz now writes full-time and plays video games for fun. She has written Snow,Rx, The Nine Lives of Chloe King, and several books in the best-selling Twisted Tale series, including Part of Your World and As Old as Time. She lives in Brooklyn with her husband, two children, a cat, a part-time dog, three fish, and five coffee trees, and still sleeps with a Stuffy. You can email her at me@lizbraswell.com or find her on Instagram and Twitter @LizBraswell.