The Beautiful Something Else (Hardcover)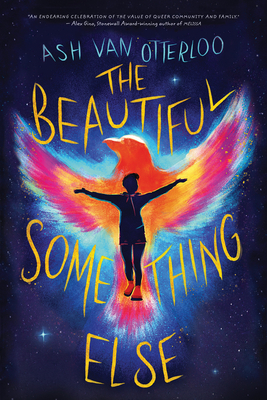 $17.99

Usually Ships in 1-5 Days
Description
---
Full of humor and heartbreak, this story about a nonbinary character navigating a binary world is perfect for fans of Alex Gino and Kyle Lukoff.
It's exhausting trying to be the perfect daughter. Still, getting good grades without making any waves may be the only way to distract from the fact that Sparrow Malone's mother is on the verge of falling apart. Which means no getting upset. No being weird. No standing out for the wrong reasons.
But when Mom's attempts to cope spiral out of control, Sparrow is sent to live with Aunt Mags on a sprawling estate full of interesting, colorful new neighbors. And for the first time, trying to fit in doesn't feel right anymore. Even Sparrow's shadow has stopped following the rules.
As Shadow nudges Sparrow to try all the scary, exciting things Mom has always forbidden, Sparrow begins to realize something life-changing: They don't feel like a girl. Or a boy. And while this discovery is exciting, now Sparrow must decide whether to tell everyone—their new family and friends, not-so-secret crush, and, most importantly, their mom—the truth, especially if it means things change forever.
About the Author
---
Ash Van Otterloo is the author of Cattywampus. When they're not writing and freelance editing, they love gardening, hiking, exchanging playful banter, and collecting folklore stories. A longtime resident of the foothills of the Smoky Mountains, they now live in Washington with their family and an enormous collection of plants.
Praise For…
---
Praise for The Beautiful Something Else:
"This is the loveliest example of finding yourself I've ever read. Hands down, I would recommend this for all gender identities and all ages...This book will save lives." -- Kate Larson, bookseller at Ballast Book Company
"An endearing celebration of the value of queer community and family." -- Alex Gino, Stonewall Award-winning author of Melissa
"The writing sings and the characters soar. I cheered for Sparrow on every page." -- Natalie Lloyd, New York Times bestselling author of A Snicker of Magic
"A character-driven novel that touches on navigating generational trauma, personal growth, and queer identity in circumstances both dire and abundantly safe." -- Publishers Weekly
Praise for Cattywampus:
"Deftly weaving elements of magic and nature with a story of adolescent change, debut author Van Otterloo conjures a timeless contemporary fantasy." -- Publishers Weekly
"A spirited debut." -- Kirkus Reviews
"Lively and entertaining! Ash Van Otterloo delivers spooky fun and an essential new kid-lit character in this spirited debut." -- Ingrid Law, Newbery Honor-winning author of Savvy
"It is southern, witchy, magical fun about friends and family and the histories that connect us and haunt us. The dialogue is fireworks... The subtle creepiness won't scare you (too bad), but the vibrant, beating heart of this story will haunt you for a good long time." -- Natalie Lloyd, New York Times bestselling author of A Snicker of Magic