Rising from the Ashes: Los Angeles, 1992. Edward Jae Song Lee, Latasha Harlins, Rodney King, and a City on Fire (Hardcover)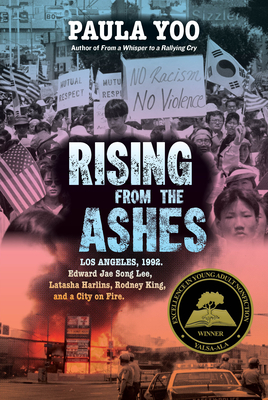 $19.99

Coming Soon - Available for Pre-Order Now
Description
---
Paula Yoo's latest is a compelling, nuanced account of Los Angeles's 1992 uprising and its impact on its Korean and Black American communities.
On April 29, 1992, following the acquittal of four police officers charged with the beating and arrest of Rodney King and the earlier killing of teenager Latasha Harlins, the city of Los Angeles erupted in violence. Many of these events were centered on the city's Koreatown, where tensions between the Black and Korean American communities had simmered for years, fueled by economic challenges and redlining and enflamed by sensationalized and racist media. Based on more than 100 personal interviews, Rising from the Ashes follows these events through the eyes and experiences of the families of King, Harlins, shooting victim Edward Jae Song Lee, and dozens of business owners, journalists, police officers, firefighters, activists, and other community members. Deeply researched and compulsively readable, this is a vivid, propulsive, and moving story of a pivotal moment in recent American history that continues to resonate today.
About the Author
---
Paula Yoo is a prolific TV writer/producer, freelance violinist, and author of several books for children, including her award-winning debut YA nonfiction book, From a Whisper to a Rallying Cry. She lives in Los Angeles, California.