Garner's Quotations: A Modern Miscellany (Paperback)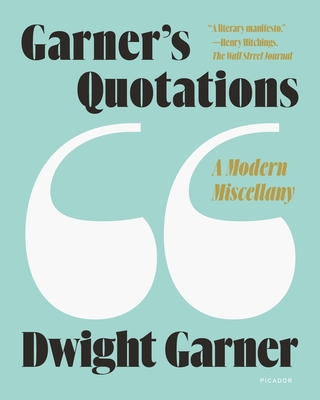 Description
---
A selection of favorite quotes that the celebrated literary critic has collected over the decades.

From Dwight Garner, the New York Times book critic, comes a rollicking, irreverent, scabrous, amazingly alive selection of unforgettable moments from forty years of wide and deep reading. Garner's Quotations is like no commonplace book you'll ever read. If you've ever wondered what's really going on in the world of letters today, this book will make you sit up and take notice. Unputdownable!
About the Author
---
Dwight Garner is a book critic for The New York Times and was previously the senior editor of The New York Times Book Review. His essays and criticism have also appeared in The New Republic, Harper's Magazine, Slate, and other publications. He is the author of Garner's Quotations.
Praise For…
---
"A literary manifesto—a celebration of direct and exacting voices, a rejection of the fuzzily adorable, and a recommendation of humor as one of the essential tools of both art and life." —Henry Hitchings, The Wall Street Journal

"A good Christmas present for pretty much anyone. . .Quotations books are often awful and faux-wise, but this is sharp and funny." —India Knight, Times Literary Supplement

"An uncommon commonplace book from a wide-ranging reader . . . A diverting trove of witty remarks."—Kirkus Reviews