The Blacktongue Thief (Paperback)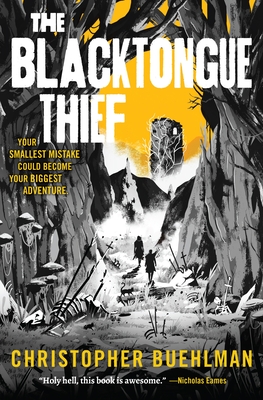 Staff Reviews
---
I love this medieval tale that is populated with goblins, giants, sea monsters, a princess/queen and a blind cat named Bully-Boy. The Blacktongue Thief is a bawdy, rollicking, hilarious, irreverent road trip. Against a backdrop of war and plagues, Chris Buehlman has created a magic-filled adventure that is the perfect antidote for our times.

- BILL
— From
Bill's Recs
As one of the most highly anticipated fantasy books of 2021, my expectations were high, and I certainly was not disappointed. While struggling to thieve enough to repay his debts, our narrator, Kinch Na Shannack, meets a mysterious traveling soldier on a mission to the faraway East. The two forge an unlikely alliance and embark on an epic journey full of magic tattoos, intricate lore, flesh-hungry monsters, an adorable blind cat, and so much more. Buehlman allows his experience telling bawdy Irish tales at the Renaissance Faire to shine through Kinch's voice in the best of ways; his humor and wit perfectly balance the tension-packed battle scenes and gruesome descriptions. Lovers of dark humor, unlikely heroes, and fantastical tales with elements of horror - this is a book you will not want to miss.
-Rachel
— From
Rachel's Recs
Description
---
Set in a world of goblin wars, stag-sized battle ravens, and assassins who kill with deadly tattoos, Christopher Buehlman's The Blacktongue Thief begins a 'dazzling' (Robin Hobb) fantasy adventure unlike any other.

Kinch Na Shannack owes the Takers Guild a small fortune for his education as a thief, which includes (but is not limited to) lock-picking, knife-fighting, wall-scaling, fall-breaking, lie-weaving, trap-making, plus a few small magics. His debt has driven him to lie in wait by the old forest road, planning to rob the next traveler that crosses his path.

But today, Kinch Na Shannack has picked the wrong mark.

Galva is a knight, a survivor of the brutal goblin wars, and handmaiden of the goddess of death. She is searching for her queen, missing since a distant northern city fell to giants.

Unsuccessful in his robbery and lucky to escape with his life, Kinch now finds his fate entangled with Galva's. Common enemies and uncommon dangers force thief and knight on an epic journey where goblins hunger for human flesh, krakens hunt in dark waters, and honor is a luxury few can afford.

"The Blacktongue Thief is fast and fun and filled with crazy magic. I can't wait to see what Christopher Buehlman does next." - Brent Weeks, New York Times bestselling author of the Lightbringer series
About the Author
---
CHRISTOPHER BUEHLMAN (he/him) is an author, comedian, and screenwriter from St. Petersburg, Florida, whose books include The Blacktongue Thief and Those Across the River. He tours the country most years, writing fantasy and horror and performing at Renaissance festivals. He and his wife, Jenn, travel with their rescue dog, Duck, and a black cat named Jane Mansfield, who is proficient in ninjutsu.
Praise For…
---
"Dazzling. I heartily recommend this one."—Robin Hobb, New York Times bestselling author of the Farseer Trilogy

"Wow! Truly outstanding. I can't say enough about how good The Blacktongue Thief is. Damned good stuff."—Glen Cook, author of The Black Company

"One of the most impressive novels I've read in a long time—clever, imaginative, and extremely well written."—Arthur Golden, New York Times bestselling author of Memoirs of a Geisha

"A delight from start to finish. Buehlman takes the well-worn tropes of fantasy and weaves them into a new and vibrant tapestry."—Anthony Ryan, New York Times bestselling author of Blood Song

"Fast and fun and filled with crazy magic. I can't wait to see what Christopher Buehlman does next." - Brent Weeks, New York Times bestselling author of the Lightbringer series

"Chock-full of wry wit, foul language, and characters who arrive on the page with savage, sordid pasts hot on their heels. Often humorous, occasionally horrifying, and sometimes incredibly poignant, I love every single page of this book. Every sentence, even. It's that good."—Nicholas Eames, author of Kings of the Wyld

"Equal parts fairy tale, D&D adventure, and acid trip. Buehlman has successfully blended the essences of these elements into something at once familiar and fresh. I look forward to returning to this evocative and f*cked up world!"—Jonathan French, author of The Grey Bastards

"The Blacktongue Thief is a masterclass in voice and thoughtful world design, with a wonderful cast and a protagonist who grabs you instantly. Fans of Lynch's The Lies of Locke Lamora will love this one."—Django Wexler, author of The Thousand Names

"Dark, gritty, lightning-fast, intelligent, irreverent . . . I loved it."—Anna Smith Spark, author of The Court of Broken Knives

"Masterfully woven, joyfully mischievous, but also tragic and so heartfelt. Fans of Nicholas Eames and Joe Abercrombie will love The Blacktongue Thief."—Brian Naslund, author of Blood of an Exile

"Buehlman's prose floats nimbly from grisly to lyrical and back again, evoking a damaged world that's by turns bleak and starkly beautiful. A fantastical road trip with a hard-boiled sensibility, complete with shape-shifting assassins, murderous kraken and some delightfully gruesome magic."—A. K. Larkwood, author of The Unspoken Name

"Nobody combines the lyrical and visceral quite like Christopher Buehlman. The Blacktongue Thief is fantasy of distinction—in its wit, its hard magic, its chiseled detail. Prepare to be transported."—Andrew Pyper, author of The Demonologist and The Homecoming

"Instantly immersive, with wit as sharp as a thief's blade and the most frightening take on goblins I've ever read."—David Dalglish, author of the Shadowdance series