This Vicious Grace: A Novel (The Last Finestra #1) (Hardcover)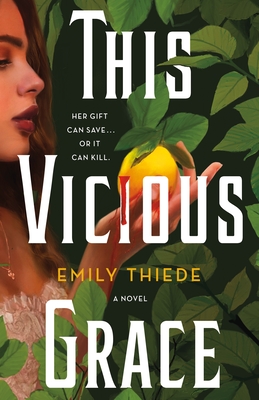 $18.99

Coming Soon - Available for Pre-Order Now
Staff Reviews
---
A surly outcast, a homicidal savior, and an island on the precipice of being devoured - these are the main elements of this fantastic novel. Alessa is the would-be savior of an island that is in immediate danger. She cannot seem to keep her partners alive long enough to harness their powers and prepare for the war that is coming. While those around her slowly turn themselves against her, she hires Dante, an outsider with a secret, as her personal guard. As they work together to understand how her powers work, their chemistry is comical and full of tension. Is Dante's secret the key to all of the problems, or the last straw that makes it all come down? Will Alessa become the Finestra that the island needs in order to survive, or will they all perish at the hands of the demon horde?
-Jo
— From
Joshalynn's Recs
Description
---
"One of the best fantasies of the year." - Buzzfeed

"Riveting, passionate, and full of high stakes danger." —Tamora Pierce, #1 New York Times bestselling author

Emily Thiede's exciting fantasy debut, This Vicious Grace, will keep readers turning the pages until the devastating conclusion and leave them primed for more!

Three weddings. Three funerals. Alessa's gift from the gods is supposed to magnify a partner's magic, not kill every suitor she touches.

Now, with only weeks left until a hungry swarm of demons devours everything on her island home, Alessa is running out of time to find a partner and stop the invasion. When a powerful priest convinces the faithful that killing Alessa is the island's only hope, her own soldiers try to assassinate her.

Desperate to survive, Alessa hires Dante, a cynical outcast marked as a killer, to become her personal bodyguard. But as rebellion explodes outside the gates, Dante's dark secrets may be the biggest betrayal. He holds the key to her survival and her heart, but is he the one person who can help her master her gift or destroy her once and for all?

"Remixing all the best parts of a dark fantasy and a romantic comedy, This Vicious Grace is a wonderfully fun time from start to finish, with lush, complex worldbuilding, intensely relatable characters, and relationships that are easy to root for." —Hannah Whitten, New York Times bestselling author of For The Wolf
About the Author
---
EMILY THIEDE spent her childhood daydreaming and reading in trees. A former public school teacher, she teaches creative writing and serves on the board of Writer House, a local writing nonprofit, is a cohost for the Basic Pitches podcast, and has mentored aspiring writers through the Pitch Wars mentorship program. Emily enjoys fostering rescue kittens and getting lost in the woods of central Virginia, where she lives with her family. This Vicious Grace is her first novel. Find her on Twitter, Instagram, and TikTok.
Praise For…
---
A Summer 2022 Kids' Indie Next Pick

Epic Reads, "The 21 Most Anticipated YA Books to Read in June"

Frolic, "Our Top 10 YA Reads for June"

Goodreads, "The 68 Most Anticipated YA Novels of 2022" and "The Can't-Hardly-Wait Young Adult Books of June"

Gizmodo, "58 New Sci-Fi, Fantasy, and Horror Books for Your Summer Reading Pleasure"

Nerd Daily, " Upcoming YA Book Releases to Add to Your TBR" and "24 Debut Releases To Get Your Hands On In 2022"

PopSugar, "Books by Women Writers Are Absolute Must Reads in 2022"

Nerdist, "13 Brilliant Books to Bring You Joy This June"

United by Pop, "Exciting New YA Reads For June 2022"

"Readers will be drawn to Alessa's kind and independent spirit as she grapples with duty versus agency, love and betrayal—all situated within a well-crafted world. An eerie, magic-infused debut." - Booklist

"One of the best fantasies of the year is this remarkable debut." - Buzzfeed, "Highly Anticipated Young Adult Novels Releasing In 2022"

"A richly written fantasy... Political intrigue, questions of faith, and Italian-inspired lore mix with a slow-burn romance, unexpected character revelations, and a smart, capable heroine to create something sure to appeal to anyone." - Paste Magazine, "The Best New YA Books of 2022"

"If you are a fan of dark fantasy and romantic comedies, then This Vicious Grace might be the perfect book for you!" - Her Campus, "5 Upcoming Novels to Read This Summer"

"Thiede's mesmerizing debut weaves political intrigue, power struggles, and faith with intense romance in this immersive series opener." - Publishers Weekly

"Thiede's dramatic and fantastical debut is artfully colored with Italian-inspired lore." - Kirkus Reviews

"This Vicious Grace is a luminescent fantasy with impeccable worldbuilding (an immersive Italian-inspired shoreline setting), a delightfully sharp-witted cast and a ravishingly provocative romance. This Vicious Grace is impossible to forget--a superb and captivating YA fantasy with wit, charm and a romance readers will swoon over." - Shelf Awareness

"An Italian-infused debut novel recommended for collections where fantasy is popular. Thiede creates an array of dynamic characters and a suspenseful story that will leave readers ready for the next installment." - School Library Journal

"This book is incredible! The banter, the romance, the tension! I couldn't get enough!" - Lauren Blackwood, New York Times bestselling author of Within These Wicked Walls

"Filled with witty banter, unlikely friendships, a swoon-worthy romance, and high stakes tension, Emily Thiede creates an immersive fantasy world inspired by the sun-drenched Amalfi coast that will captivate readers until the very last page. Sure to be a favourite for fans of Stephanie Garber, Leigh Bargudo, and Kerri Maniscalco." - Lyndall Clipstone, author of Lakesedge

"A richly imagined world featuring a slow burn, sizzling romance and a conflict that crackles with magic." - Elle Cosimano, award-winning author of Seasons of the Storm

"A remarkably fresh debut, This Vicious Grace is an absolute delight from cover to cover. Its rich, transportive world sparkles on every page, and I was spirited away by Thiede's beautifully rendered cast. I would follow Alessa and Dante anywhere, and can't wait for their next adventure." - Ayana Gray, New York Times bestselling author of Beasts of Prey

"From the lush setting to dire stakes and whip-smart banter, This Vicious Grace is romantic, suspenseful, and utterly unforgettable." - Sarah Glenn Marsh, author of the Reign of the Fallen series

"Riveting, passionate, and full of high stakes danger." - Tamora Pierce, #1 New York Times bestselling author

"The perfect blend of humor and heart, This Vicious Grace is a high-stakes romp that brims with deadly magic, sparkling chemistry, and the deep yearning for connection in an alienating world. Prepare to fall head-over-heels with Alessa and Dante!" - Allison Saft, New York Times bestselling author of A Far Wilder Magic

"Remixing all the best parts of a dark fantasy and a romantic comedy, This Vicious Grace is a wonderfully fun time from start to finish, with lush, complex worldbuilding, intensely relatable characters, and relationships that are easy to root for." - Hannah Whitten, New York Times bestselling author of For The Wolf