Certain Dark Things: A Novel (Paperback)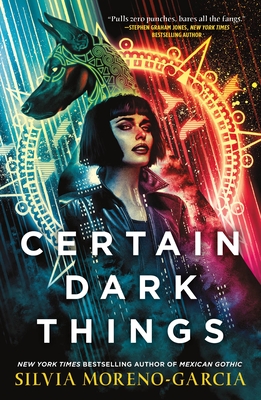 $17.99

Usually Ships in 1-5 Days
Staff Reviews
---
Moreno-Garcia's tale of vampires and adventure is refreshing in its uniqueness. The vampires are portrayed as various species with individual physical traits, abilities and weaknesses. The main storyline follows Atl, a descendant of the Aztec vampires. Nick is the main antagonist and comes from a line of Narcos – a nasty type of vampire that follows some of the traditional stereotypes of Transylvanian vampires, but with their own terrifying variations. Mixed in with these unpredictable creatures is a sweet, unassuming street-kid named Domingo. The story is sprinkled with Mexican culture, and I could not put it down.
-Joshalynn
— From
Joshalynn's Recs
Description
---
From Silvia Moreno-Garcia, the New York Times bestselling author of Mexican Gothic, comes Certain Dark Things, a pulse-pounding neo-noir that reimagines vampire lore.

Welcome to Mexico City, an oasis in a sea of vampires. Domingo, a lonely garbage-collecting street kid, is just trying to survive its heavily policed streets when a jaded vampire on the run swoops into his life. Atl, the descendant of Aztec blood drinkers, is smart, beautiful, and dangerous. Domingo is mesmerized.

Atl needs to quickly escape the city, far from the rival narco-vampire clan relentlessly pursuing her. Her plan doesn't include Domingo, but little by little, Atl finds herself warming up to the scrappy young man and his undeniable charm. As the trail of corpses stretches behind her, local cops and crime bosses both start closing in.

Vampires, humans, cops, and criminals collide in the dark streets of Mexico City. Do Atl and Domingo even stand a chance of making it out alive? Or will the city devour them all?
About the Author
---
Silvia Moreno-Garcia is the New York Times bestselling author of the novels Mexican Gothic, Gods of Jade and Shadow, Untamed Shore, and many other books. She has also edited several anthologies, including the World Fantasy Award-winning She Walks in Shadows (a.k.a. Cthulhu's Daughters).
Praise For…
---
"Silvia Moreno-Garcia's gritty novel is steeped in the history of Mexico City and vampire lore and yet manages to deftly re-invent the bloodsucker ... Certain Dark Things packs a wallop." —Paul Tremblay, author of A Head Full of Ghosts

"With its vibrant prose and stellar world building, Certain Dark Things is one of the best books I've read in years." —V.E. Schwab, New York Times bestselling author

"Silvia Moreno-Garcia pulls zero punches, bares all the fangs, and goes for every throat in the room with Certain Dark Things. And then she walks out without looking back." —Stephen Graham Jones, author of The Only Good Indians

"Certain Dark Things is a delicious, elegant, gritty vampire noir. Moreno-Garcia has created a world that pulses with life and terror and honesty." —Daniel José Older, New York Times bestselling author

"One of my favorite books by Silvia Moreno-Garcia, and one of my all-time favorite horror books...Certain Dark Things will make you think about vampires in a whole new way." —Charlie Jane Anders, Hugo Award-winning author of The City In the Middle of the Night

"A tense crime plot wrapped in grim, glittering vampire lore and perfectly delivered with Moreno-Garcia's unflinching prose, Certain Dark Things is a bloody neon dream of a book." —Hannah Whitten, author of For the Wolf

"A fresh, stunning interpretation of vampire lore ... Silvia Moreno-Garcia's writing is unforgettable." —Christina Henry, author of Alice and The Ghost Tree

"This is so much more than a vampire story. A lush and haunting supernatural noir, Silvia Moreno-Garcia's Certain Dark Things is visceral, beautiful, and teeming with originality and complexities. Perfect for those looking for a crime novel with a little more bite than usual." —Alex Segura, acclaimed author of Star Wars Poe Dameron: Free Fall, Miami Midnight, and Blackout

"Silvia Moreno-Garcia carves out the heart of Mexico City, and then eats it, in this riveting noir-punk reinvention of vampire lore. Certain Dark Things is exquisitely vicious and brutally beautiful." —Ann Aguirre, New York Times bestselling author

"Certain Dark Things is dark, inimitable, and so very, very cool. Unmissable." —Lavie Tidhar, World Fantasy Award-winning author of Osama

"Silvia Moreno-Garcia's novel lets us fall in love with many perspectives before she breaks our hearts and puts us back together again." —Fran Wilde, author of Updraft

"Certain Dark Things is arguably the vampire novel for the 21st century."" —New York Journal of Books

"Confirms that Moreno-Garcia is an author to watch." —Publisher's Weekly

"The Mexican setting is a huge part of the allure of this new novel from Moreno-Garcia, as are the fascinating varieties of vampires she sets forth." —Library Journal, starred review

"All the characters in this book are as sharply realized as the city in which they live and fight... I love to see compelling new takes on vampires, and Certain Dark Things succeeds beautifully.... Smart, tender and insightful." —NPR.org

"With Certain Dark Things, Silvia Moreno-Garcia demonstrates that there is always more to be done with familiar figures such as the vampire, and that in the hands of a talented writer, the creatures can rise to new (un)life." —Locus

"Moreno-Garcia's characters are vivid and compelling, as is her prose. As a novel, it's fantastic: honest, wrenching, compassionate, and brutal." —Tor.com

"One hopes that return visits to this urban fantasy world are in the offing." —New York Times

"This is a new favorite." —Book Riot

"With dark and delicious elegance, Moreno-Garcia delivers a satisfyingly bloody vampire story with a tantalizing twist." —The Globe and Mail