Surrounded by Psychopaths: How to Protect Yourself from Being Manipulated and Exploited in Business (and in Life) [The Surrounded by Idiots Series] (Hardcover)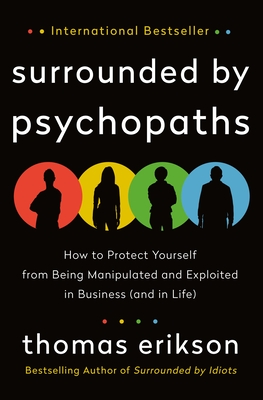 $26.99
Email or call for price/availability
Description
---
Part of the bestselling Surrounded by Idiots series!

#1 internationally bestselling author Thomas Erikson shows readers how to identify and avoid the psychopaths around them.

Charming, charismatic, and delightful or manipulative, self-serving, and cunning? Psychopaths are both and that's exactly what makes them dangerous. Bestselling author of the international phenomenon Surrounded by Idiots, Thomas Erikson reveals how to identify the psychopaths in your life and combat their efforts to control and manipulate.

Using the same simple four-color system of behavior classification that made Surrounded by Idiots so popular, Surrounded by Psychopaths teaches readers how to deal with psychopaths in their lives by becoming aware of their own behavior and their weaknesses. Vivid example stories illustrate ways that psychopaths can take advantage of various behavior types, helping readers identify their own weaknesses and be proactive about protecting themselves. Erikson outlines some of the most common forms of manipulation used by psychopaths—and others—to influence those around them. Since manipulation can often be a feature of ordinary, non-psychopathic relationships, the book also includes practical methods and techniques to help readers confront controlling people and rehabilitate negative relationships into mutually respectful ones.

By understanding your behavior as well as the tendencies and strategies of psychopaths, Surrounded by Psychopaths will teach you to protect yourself from manipulative influence in your workplace, social life, and family.
About the Author
---
Thomas Erikson is a Swedish behavioral expert, active lecturer, and bestselling author. For more than twenty years he has been traveling all over Europe delivering lectures and seminars to executives and managers at a wide range of companies, including IKEA, Coca Cola, Microsoft, and Volvo.

Surrounded by Idiots has been a Swedish runaway bestseller since it was first published in 2014. It has sold over 3 million copies worldwide and been translated into 42 languages.
Praise For…
---
"A guidebook for deflecting psychological manipulators. … Bluntly cautionary and applicable advice on the importance of vigilance." —Kirkus

"This easy-to-read guide will calm fears by arming readers with practical tactics for thwarting a psychopath's
strategies. Adults in the workplace and at home would benefit from Erikson's advice on how to recognize and understand different behaviors, as well as how to recognize red flags in all types of relationships." —Booklist