Do You Mind If I Cancel?: (Things That Still Annoy Me) (Hardcover)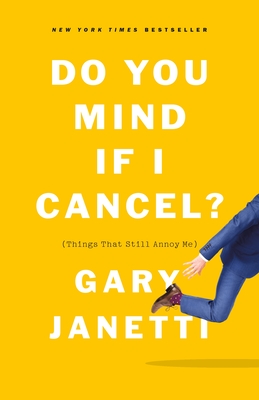 Staff Reviews
---
Writer, producer (Family Guy, Vicious) and Instagram rock star Gary Janetti offers hilarious and sometimes poignant essays on life and the pursuit of, if not happiness, then at least a good seat in a restaurant. Janetti writes about coming of age, coming out, family and adulthood with a self-deprecating tone and an eye for absurd (and annoying) behavior all around him. This collection, his first, is being compared to the essays of David Sedaris. Decide for yourself: grab this book and settle in, because you won't stop reading until it's finished!
-Cindy
— From
Cindy's Recs 2
Description
---
The Instant New York Times Bestseller

"From "Family Guy" to his own Instagram account, Janetti has been behind some of his generation's greatest comedy. This book of essays is no exception."
— The New York Times

Fans of David Sedaris, Jenny Lawson, and Tina Fey… meet your new friend Gary Janetti.

Gary Janetti, the writer and producer for some of the most popular television comedies of all time, and creator of one of the most wickedly funny Instagram accounts there is, now turns his skills to the page in a hilarious, and poignant book chronicling the pains and indignities of everyday life.
Gary spends his twenties in New York, dreaming of starring on soap operas while in reality working at a hotel where he lusts after an unattainable colleague and battles a bellman who despises it when people actually use a bell to call him. He chronicles the torture of finding a job before the internet when you had to talk on the phone all the time, and fantasizes, as we all do, about who to tell off when he finally wins an Oscar. As Gary himself says, "These are essays from my childhood and young adulthood about things that still annoy me."
Original, brazen, and laugh out loud funny, Do You Mind If I Cancel? is something not to be missed.
About the Author
---
Gary Janetti is a writer and producer of such shows as Family Guy, Will & Grace, and Vicious. He lives in Los Angeles.
Praise For…
---
"Gary Janetti's book is so rolling-on-the-floor funny, so brilliantly observant, and so full of heart, I'm sure a jealous Prince George will decree that Gary be locked up in the Tower of London."
— Kevin Kwan, New York Times bestselling author of the Crazy Rich Asians trilogy
"It's no surprise that Gary Janetti's book is laugh-out-loud funny. It is just as cutting, wild, and droll as I hoped."
— Taylor Jenkins Reid, New York Times bestselling author of Daisy Jones and the Six
"Do You Mind If I Cancel? is hilarious. Gary Janetti makes waiting tables at Bennigan's sound like one of Dante's circles of hell. It's one of the funniest stories I've ever read. Thank you, Gary Janetti, for making me fall in love with cruise ship puppeteers, and for giving Judith Light her goddam due."
— Helen Ellis, New York Times bestselling author of American Housewife and Southern Lady Code

"The writing of Gary Janetti, whether televised or tweeted, is famously incisive and sharp-tongued. What a revelation it was, therefore, to discover in these revealing personal essays an artist of great tenderness and vulnerability. And he's still funny as hell."
— Armistead Maupin, New York Times bestselling author of The Tales of the City

"Almost as soon as I began to read Gary Janetti's Do You Mind If I Cancel?, I found myself feeling the way I felt when I first encountered Fran Lebowitz and David Rakoff: laughing and wanting to shout out the best bits to whoever else was in the room, even if no one else was there. This crazy quilt of memoir, cultural history, one-liners aplenty, and periodic arias of hopefulness, frustration, and brashly rude rage, is a work of intertwined great humor and great feeling. I've already lost my copy, snatched up by its next eager reader."
— Benjamin Dreyer, New York Times bestselling author of Dreyer's English
"Gary Janetti, the voice behind some of TV's funniest comedies and a social media force (as Gary himself might say, you really should know this), finally takes center stage with this collection of raw, acerbic, and unflinchingly honest essays. As soon as I finished this book, I started all over again -- that's how much I never wanted it to end."
— Steven Rowley, bestselling author of Lily and The Octopus and The Editor

"These essays explore his dreams of becoming a soap star, the struggle of lusting after an unattainable coworker, and daydreams of fabulous success and the revenge it would allow are sure to satisfy Janetti's army of fans and enlist more than a few new recruits."
— Town & Country

"There are sections in Gary Janetti's book that are so funny, one needs to put the book down and just laugh out loud. This is particularly embarrassing on the subway, but it is good advertising for the book... Do You Mind If I Cancel? is packed with funny lines, wistful memories, and the kinds of coming of age experiences we all have."
— The New York Journal of Books

"A memoir that manages to be both intimate and imbued with the punishing wit he brings to his Instagram."
— InStyle
Upcoming Events
Event date:

Tue, 02/18/2020 - 10:30am

Event date:

Tue, 02/25/2020 - 10:30am

Event date:

Mon, 03/02/2020 - 10:30am

Event date:

Mon, 03/09/2020 - 10:30am