The Guest Book: A Novel (CD-Audio)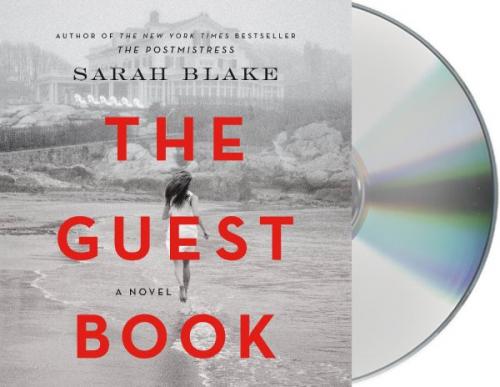 $44.99
Coming Soon - Available for Pre-Order Now
Description
---
"Sarah Blake is such a beautiful writer she can make any world shimmer." — Paula McLain, New York Times bestselling author of The Paris Wife and Love and Ruin

An audiobook about past mistakes and betrayals that ripple throughout generations, The Guest Book examines not just a privileged American family, but a privileged America. It is a literary triumph.
The Guest Book follows three generations of a powerful American family, a family that "used to run the world."
And when the audiobook begins in 1935, they still do. Kitty and Ogden Milton appear to have everything—perfect children, good looks, a love everyone envies. But after a tragedy befalls them, Ogden tries to bring Kitty back to life by purchasing an island in Maine. That island, and its house, come to define and burnish the Milton family, year after year after year. And it is there that Kitty issues a refusal that will haunt her till the day she dies.
In 1959 a young Jewish man, Len Levy, will get a job in Ogden's bank and earn the admiration of Ogden and one of his daughters, but the scorn of everyone else. Len's best friend, Reg Pauling, has always been the only black man in the room—at Harvard, at work, and finally at the Miltons' island in Maine.
An island that, at the dawn of the twenty-first century, this last generation doesn't have the money to keep. When Kitty's granddaughter hears that she and her cousins might be forced to sell it, and when her husband brings back disturbing evidence about her grandfather's past, she realizes she is on the verge of finally understanding the silences that seemed to hover just below the surface of her family all her life.
An ambitious story that weaves the American past with its present, Sarah Blake's The Guest Book looks at the racism and power that has been systemically embedded in the U.S. for generations.
More praise for The Guest Book:
"Sarah Blake has managed the extraordinary feat of writing both an intimate family saga and an ambitious excavation of the subterranean currents of race, class, and power that have shaped America. This is a vivid, transporting novel, written by a master conjurer of time and place." — Jessica Shattuck, New York Times bestselling author of The Women in the Castle
About the Author
---
Sarah Blake
is the author of the novels
Grange House
and the
New York Times
bestseller
The Postmistress
. She lives in Washington, D.C., with her husband and two sons.
Orlagh Cassidy is the winner of the 2009 Best Voice in Children & Family Listening and the 2008 and 2011 Best Voice in Mystery & Suspense. She's narrated for Jacqueline Winspear, James Patterson, Erica Spindler, Beth Harbison, and Frank Herbert, among others.
Cassidy's Broadway credits include Present Laughter with Frank Langella, Our Country's Good, and Suddenly Last Summer.  She has appeared Off-Broadway in Bright Ideas and The Field at The Irish Rep (Drama Desk Nomination). She was "Doris Wolfe" on The Guiding Light and her other television appearances include Sex and the City, Law & Order, Law and Order SVU, and Elementary.  She also appeared in the films Purple Violets, Young Adult, and Definitely, Maybe.