Dominicana: A Novel (Hardcover)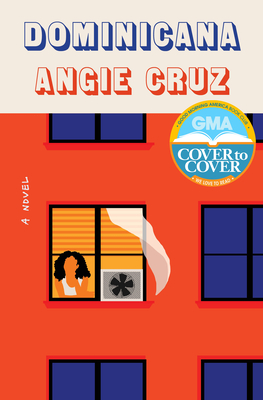 $26.99
Coming Soon - Available for Pre-Order Now
Staff Reviews
---
Ana's parents want her to marry Juan, who will take her from her small town in the Dominican Republic to New York City; the marriage will benefit her family in a number of ways. But she's 15, he's twice her age, and she doesn't love him. In fact, her heart lies elsewhere. But she agrees, and readers are swept along on her challenging journey: learning English and whom to trust, finding her "self" in a traditional marriage that has many demands and few rewards, and (spoiler alert) becoming a very young mom. An exceptional, nuanced look at the lives of a complex cast of characters - people whose stories are far too rarely told.
-Banna
— From
Banna's New Recs
Description
---
"Gorgeous writing, gorgeous story." —Sandra Cisneros
"An essential read for our times." —Cristina Garcia

Fifteen-year-old Ana Cancion never dreamed of moving to America, the way the girls she grew up with in the Dominican countryside did. But when Juan Ruiz proposes and promises to take her to New York City, she has to say yes. It doesn't matter that he is twice her age, that there is no love between them. Their marriage is an opportunity for her entire close-knit family to eventually immigrate. So on New Year's Day, 1965, Ana leaves behind everything she knows and becomes Ana Ruiz, a wife confined to a cold six-floor walk-up in Washington Heights. Lonely and miserable, Ana hatches a reckless plan to escape. But at the bus terminal, she is stopped by Cesar, Juan's free-spirited younger brother, who convinces her to stay.
As the Dominican Republic slides into political turmoil, Juan returns to protect his family's assets, leaving Cesar to take care of Ana. Suddenly, Ana is free to take English lessons at a local church, lie on the beach at Coney Island, see a movie at Radio City Music Hall, go dancing with Cesar, and imagine the possibility of a different kind of life in America. When Juan returns, Ana must decide once again between her heart and her duty to her family.
In bright, musical prose that reflects the energy of New York City, Angie Cruz's Dominicana is a vital portrait of the immigrant experience and the timeless coming-of-age story of a young woman finding her voice in the world.
About the Author
---
Angie Cruz is the author of the novels Soledad and Let It Rain Coffee, a finalist in 2007 for the International IMPAC Dublin Literary Award. She has published short fiction and essays in magazines and journals, including The New York Times, VQR, and Gulf Coast Literary Journal. She has received numerous grants and residencies including the New York Foundation of the Arts Fellowship, Yaddo, and The Macdowell Colony. She is founder and Editor-in-Chief of Aster(ix), a literary and arts journal, and is an Associate Professor of English at the University of Pittsburgh.
Praise For…
---
Praise for Dominicana
"In this coming-to-America story, the harsh realities of immigration are laid bare, but equally clear are the resilience and resourcefulness of the people who choose to make a new life far from home…A moving, sad, and sometimes disarmingly funny take on migration and the forces that propel us into the world."
—Kirkus Reviews
"A tale from that island called girlhood. Cruz describes this shipwrecked age with giddy accuracy. A season of hope, vulnerability, and disaster. Especially for a girl of color. Gorgeous writing, gorgeous story."
—Sandra Cisneros, author of The House on Mango Street
"Dominicana is a book that grabs you, that moves both quickly and deeply, as it explores how our very personal desires and destinies are shaped by forces of culture, politics, economics, language, migration. The kind of book I am always longing to read: a sexy book that is also meaningful. I couldn't put it down."
—Justin Torres, author of We the Animals
"This gorgeous new novel by Angie Cruz holds an unflinching gaze on one young immigrant woman's life--its hardships, its hopes, and its richly depicted loves. Ana's story is filled with music and reverence for survival, and for joy. An essential read for our times."
—Cristina Garcia, author of Dreaming in Cuban

"Dominicana is beautiful, engaging, and cuts right to the heart of what it is to be a dutiful young female from a poor country who is bright in every sense of the word, full of love and hope."
—Mary Gaitskill, author of The Mare and Veronica
"From the very first sentence of Dominicana, we remember why we've missed Cruz. This coming-of-age novel with its unforgettable young heroine takes on the pressing questions of the day—immigration, identity, the claim to Americanness—with a deceptively light touch and a whole lot of charm."
—Ayana Mathis, author of The Twelve Tribes of Hattie
"Angie Cruz, I'm so glad the time has come. What a wonderful, nuanced, and insightful writer."
—Edwidge Danticat, author of Brother I'm Dying and Breath, Eyes, Memory
"Cruz is a hero, a heartbreaker, and a visionary. Dominicana is a thrilling, necessary portrait of what it means to be an immigrant in America."
—Patricia Engel, author of The Veins of the Ocean and Vida
"This story feels so right for this moment. Cruz captures the texture and tenor of being an immigrant woman, caught between worlds and loyalties."
—Julia Alvarez, author of In the Time of the Butterflies
"An important novel that illuminates a world and time with truth and originality. Cruz is a brilliant novelist and her characters are unforgettable."
—Jennifer Clement, author of Gun Love

"Cruz shows how a moment in one country can reverberate for years in another. Dominicana is a fearless novel, laying bare the bewildering decisions made and revisited throughout the uncertain process of immigration and long after it ends."
—Idra Novey, author of Those Who Knew