The Ruin of Kings (A Chorus of Dragons #1) (Hardcover)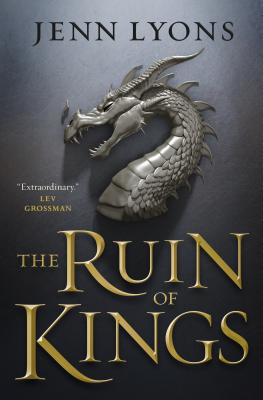 Other Books in Series
This is book number 1 in the A Chorus of Dragons series.
Staff Reviews
---
Jenn Lyons let her creativity shine when crafting this tale of a long-lost prince, which demands that you adventure into the pages with it. Told from a prison cell, Kihrin recounts the events that locked him in the decrepit hole - from discovering his true birth right after living as a thieving orphan, to being in the center of a war between gods and demons. This novel is gripping and fantastical at all the right moments, spinning a web of treachery that connects a multitude of kick-ass characters who will make you laugh, even in the hardest of times.
Kiera
— From
Kiera's Recs
Description
---
A Kirkus Best of Science Fiction and Fantasy pick for 2019!
A Library Journal Best Book of 2019!
An NPR Favorite Book of 2019!
"Everything epic fantasy should be: rich, cruel, gorgeous, brilliant, enthralling and deeply, deeply satisfying. I loved it."—Lev Grossman, author of The Magicians
When destiny calls, there's no fighting back.
Kihrin grew up in the slums of Quur, a thief and a minstrel's son raised on tales of long-lost princes and magnificent quests. When he is claimed against his will as the missing son of a treasonous prince, Kihrin finds himself at the mercy of his new family's ruthless power plays and political ambitions.
Practically a prisoner, Kihrin discovers that being a long-lost prince is nothing like what the storybooks promised. The storybooks have lied about a lot of other things, too: dragons, demons, gods, prophecies, and how the hero always wins.
Then again, maybe he isn't the hero after all. For Kihrin is not destined to save the world.
He's destined to destroy it.
Jenn Lyons begins the Chorus of Dragons series with The Ruin of Kings, an epic fantasy novel about a man who discovers his fate is tied to the future of an empire.
"It's impossible not to be impressed with the ambition of it all . . . a larger-than-life adventure story about thieves, wizards, assassins and kings to dwell in for a good long while."—The New York Times

A Chorus of Dragons
1: The Ruin of Kings
2: The Name of All Things
3: The Memory of Souls
About the Author
---
Jenn Lyons was a graphic artist and illustrator for twenty years and has worked in video games for over a decade. She previously worked on The Saboteur and Lord of the Rings: Conquest at EA Games. She is based out of Atlanta, Georgia.
The Ruin of Kings is the first installment of the epic fantasy series A Chorus of Dragons.
Praise For…
---
"It's impossible not to be impressed with the ambition of it all, the sheer, effervescent joy Lyons takes in the scope of her project . . . a larger-than-life adventure story about thieves, wizards, assassins and kings to dwell in for a good long while."—The New York Times
"Ms. Lyons is all set to take her readers on a long journey indeed, unfolding and unfolding like brilliant origami. So far, though, not a hairy chest in sight, nor a languishing maiden. Fantasy has moved on, and is all the better for it."—The Wall Street Journal
"An impressive and highly accomplished debut . . . The Ruin of Kings makes both an ideal introduction to epic fantasy and a rewarding read for fans of the genre."—The Los Angeles Times
"With the scope and sense of fatality of Patrick Rothfuss, and well-choreographed action sense of Brandon Sanderson, Lyons leaps into the big leagues of epic fantasy and sticks the landing."—Booklist, starred review
"[A] jaw-dropping, action-packed story of betrayal, greed, and grand-scale conspiracy . . . Lyons ties it all together seamlessly to create literary magic. Epic fantasy fans looking for a virtually un-put-down-able read should look no further."—Kirkus, starred review
"Tightly plotted . . . its lore and memorable characters will leave epic fantasy fans eager for the second volume."—Publishers Weekly, starred review
"This stunning debut takes epic fantasy to a high level, portraying a world filled with magic, demons, gods, and dragons, in which politics and power plays are the laws of the land."—Library Journal, starred review
"Rich, cruel, gorgeous, brilliant, enthralling and deeply, deeply satisfying. I loved it."—Lev Grossman, author of The Magicians
"It was one hell of a ride. I gobbled it up and was hungry for more."—Glen Cook, author of The Black Company

"The Ruin of Kings is a fascinating story about a compellingly conflicted young hero in an intriguingly complex world."—L. E. Modesitt, Jr., author of the Recluse series
"A thriller plot of revenge and loyalty with a get-under-your-skin and keep-you-reading-all-night mystery at its heart. I loved it."—John Gwynne, author of Malice
"The Ruin of Kings revs up with the glitz of a high-speed, multi-level video game, with extreme magic and a teen hero with angst."—Janny Wurts, author of The Curse of the Mistwraith
Upcoming Events
No upcoming events available