The Night Tiger: A Novel (Hardcover)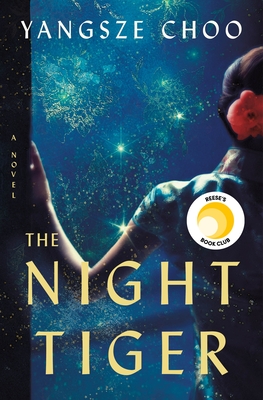 Staff Reviews
---
Set in 1930's Malaysia, this remarkable novel has a number of recurring motifs: twins, medicine, dreams, the eerie space between life and death, tigers, the five Confucian virtues, and – oh, dear! – severed fingers. But don't shy away; embrace this absorbing adventure in a time and place that will be new to most readers. Ji Lin, who works in a dance hall to pay off her mother's gambling debts; her stepbrother, Shin, a medical student; and Ren, an 11-year-old orphan who lives by his considerable wits, will take you by the hand and walk you through this extraordinary world.
- Banna
— From
Banna's New Recs
Description
---
The Reese Witherspoon x Hello Sunshine Book Club Pick
INSTANT NEW YORK TIMES BESTSELLER

"A sumptuous garden maze of a novel that immerses readers in a complex, vanished world." —Kirkus (starred review)
An utterly transporting novel set in 1930s colonial Malaysia, perfect for fans of Isabel Allende and Min Jin Lee
Quick-witted, ambitious Ji Lin is stuck as an apprentice dressmaker, moonlighting as a dancehall girl to help pay off her mother's Mahjong debts. But when one of her dance partners accidentally leaves behind a gruesome souvenir, Ji Lin may finally get the adventure she has been longing for.
Eleven-year-old houseboy Ren is also on a mission, racing to fulfill his former master's dying wish: that Ren find the man's finger, lost years ago in an accident, and bury it with his body. Ren has 49 days to do so, or his master's soul will wander the earth forever.
As the days tick relentlessly by, a series of unexplained deaths racks the district, along with whispers of men who turn into tigers. Ji Lin and Ren's increasingly dangerous paths crisscross through lush plantations, hospital storage rooms, and ghostly dreamscapes.
Yangsze Choo's The Night Tiger pulls us into a world of servants and masters, age-old superstition and modern idealism, sibling rivalry and forbidden love. But anchoring this dazzling, propulsive novel is the intimate coming-of-age of a child and a young woman, each searching for their place in a society that would rather they stay invisible.
"A work of incredible beauty... Astoundingly captivating and striking... A transcendent story of courage and connection." —Booklist (starred review)
About the Author
---
Yangsze Choo is a fourth-generation Malaysian of Chinese descent. Due to a childhood spent in various countries, she can eavesdrop (badly) in several languages. After graduating from Harvard University, she worked as a management consultant and at a startup before writing her first novel. The Ghost Bride, set in colonial Malaya and the elaborate Chinese world of the afterlife, is about a peculiar historic custom called a spirit marriage. Yangsze lives in California with her husband, two children, and a potential rabbit. She loves to eat and read, and often does both at the same time.
Praise For…
---
Praise for The Night Tiger
A Most Anticipated Book (Glamour, Real Simple, Parade, Bustle, BookPage, Goodreads, PopSugar, BookRiot, Refinery29, Tor.com, HelloGiggles)
USA Today: Best Books of the Year So Far
Refinery29: A Best Book of the Year (So Far)
National Geographic: 13 New Books for Spring Break Trips
"This is the kind of book that when you read it, you really are transported back to that time and place… [Choo has] captured, in a very atmospheric way, the time period and the superstitions [of colonial Malaysia in the 1930s]. It's a pretty wonderful book." —Nancy Pearl, NPR's Morning Edition

"Richly complex…Gorgeous…Transport[s] us into a colonial world we more often see from the view of the occupier, in this transcendent tale about twins who share no blood, mythology and superstition, sibling rivalry, loyalty, forbidden love and identity." —San Francisco Chronicle
"A mesmerizing tale of murder, romance, and superstition….So vividly told, you can practically smell the oleander blossoms outside Acton's house. This Night Tiger is worth a prowl." —USA Today
"A book for fans of Isabel Allende and for those who love a murder mystery with a beautiful backdrop." —Glamour
"Fans of Isabel Allende will likely soar through Yangsze Choo's The Night Tiger at a breakneck pace, so you might want to clear your schedule before sitting down to read it." —PopSugar
"So engrossing you could spend a day reading this lush historical novel without staring at your phone once... A sweeping novel with something for everyone — and incredible writing." —Refinery29

"A bravura performance." —Washington Independent Review of Books
"A sumptuous garden maze of a novel that immerses readers in a complex, vanished world…Choo weaves her research in with a feather-light touch, and readers will be so caught up in the natural and supernatural intrigue that the serious themes here about colonialism and power dynamics, about gender and class, are absorbed with equal delicacy." —Kirkus (starred review)
"A work of incredible beauty...Astoundingly captivating and striking in its portrayal of love, betrayal, and death, The Night Tiger is a transcendent story of courage and connection." —Booklist (starred review)
"Mythical creatures, conversations with the dead, lucky numbers, Confucian virtues, and forbidden love provide the backdrop to Choo's superb murder mystery. Mining the rich setting of colonial Malaysia, Choo wonderfully combines a Holmes-esque plot with Chinese lore." —Publishers Weekly (starred and boxed review)
"[Choo] presents complex characters and multilayered stories in a vivid setting that coalesce into a richly evocative and mesmerizing tale in which myths and folklore intertwine in daily life. For fans of Kate Mosse or Isabel Allende." —Library Journal
"Complex, ambitious...a little bit magical." —Shelf Awareness
"Yangsze Choo's lush writing will appeal to all kinds of readers." —HelloGiggles
"A lushly detailed novel imbued with folklore, mystery, and romance." —National Geographic
"…A fascinating and compelling story, deftly told. A story that is interesting both culturally and historically, while also being an intensely personal exploration of two very different people struggling to find their way in a difficult world that has very stringent expectations of them with little or no room for failure. The characters are both recognizable and memorable, and the resolution…will keep readers guessing and turning the pages until the very last one." —Los Angeles Public Library
Praise for The Ghost Bride

"Sumptuous...Unexpected...So full of longing, the pages practically sigh as you turn each one." --Oprah.com (Book of the Week)

"From whodunit to ghost story to coming-of-age to romance, there is enough plot to fill several more novels. But the beguiling tale...makes you hope Choo is the author who writes all of them." --USA Today

"A captivating love triangle with echoes of traditional Asian myths." --Good Housekeeping (August Book Pick)

"Impressive...Takes readers on one of the wildest rides since Alice fell down the rabbit hole." --San Jose Mercury News
Coverage from NPR