The Guest Book: A Novel (Hardcover)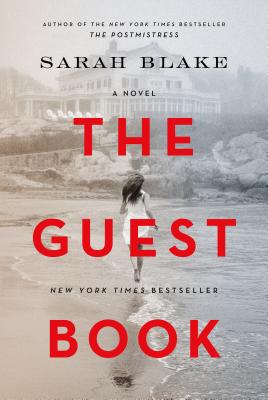 Staff Reviews
---
"At the end of old money, there is real estate." In 1935, a wealthy WASP couple buy an island off the coast of Maine. The island comes to enthrall, define, and obsess three generations of the Milton family, and the current generation must confront the costs, both financial and psychological. The unearthing of family secrets challenges assumptions and memories: the Miltons, products of their times, were not immune from their eras' racism and anti-Semitism. The scope of Blake's novel is huge, and so is her talent. Absorbing and enlightening, the book will revisit you long after the final page.
- Banna
— From
Banna's New Recs
Sarah Blake has delivered a seriously big novel! The Guest Book is this year's "must read" for everyone. I was reminded of Jeffrey Eugenides' Middlesex. Buy it! Read it! You'll love it! But whatever you do .... do not sign the guest book!
- Bill
— From
Bill's Recs
May 2019 Indie Next List
---
"I began The Guest Book expecting an excellent family saga set, in part, on an island in Maine. The magic of the family home is palpable as three generations build loyalty, identity, and memories there. But what I read was far, far more. This is a history of our country's evolution through matters of race, class, and politics, and it relates compellingly to our current struggles with those topics as the characters grapple with the underpinnings of privilege, familial love, and morality. Sarah Blake has written a stunning and complex novel that lingers in your mind long after the last page."
— Dana Brigham, Brookline Booksmith, Brookline, MA
Description
---
Instant New York Times Bestseller
Longlisted for Andrew Carnegie Medal for Excellence
2020 New England Society Book Award Winner for Fiction

"The Guest Book is monumental in a way that few novels dare attempt." —The Washington Post

The thought-provoking new novel by New York Times bestselling author Sarah Blake

An exquisitely written, poignant family saga that illuminates the great divide, the gulf that separates the rich and poor, black and white, Protestant and Jew. Spanning three generations, The Guest Book deftly examines the life and legacy of one unforgettable family as they navigate the evolving social and political landscape from Crockett's Island, their family retreat off the coast of Maine. Blake masterfully lays bare the memories and mistakes each generation makes while coming to terms with what it means to inherit the past.
About the Author
---
Sarah Blake is the author of the novels Grange House and the New York Times bestseller The Postmistress. She lives in Washington, D.C., with her husband and two sons.
Praise For…
---
#1 Indie Next Pick
One of the Best Books of May: Entertainment Weekly, Refinery29, PopSugar, Bookish, BBC, Chicago Review of Books, Real Simple, Goodreads

"Thought-provoking and propulsive…Welcome to old money, new heartbreak, big secrets, and the kind of mouthwatering picnics nobody packs in real life (boiled eggs, tin of sandwiches, bottles of gin). But the North Star of Sarah Blake's The Guest Book isn't the Milton family—although they are fascinating, even the ghosts—it's the Maine island cottage where they spend their summers." —The New York Times Book Review

"Beautifully crafted....The Milton family history, rife with secrets and moral failings, including a deep-seated bigotry, is a timely tale of America itself. An enveloping and moving page-turner." —People, Book of the Week

"Sarah Blake writes in the historical fiction tradition of someone like Herman Wouk…[She] is an accomplished storyteller, braiding in a large cast of characters and colorful excursions." —Maureen Corrigan, NPR's Fresh Air

"An American epic in the truest sense…Blake humanely but grippingly explores the heart of a country whose past is based in prejudice." —Entertainment Weekly

"Blake masterfully tells the Miltons' history—racism, prejudice, betrayal, loss, and all—and in the process, captures a slice of American history as well." —Real Simple

"Sarah Blake's latest novel, The Guest Book, is an engrossing epic that charts the course of the Milton family over three generations, from the 1930s to present day. Pertinent issues that have plagued American history like classism, prejudice, and identity are neatly tied in this transcendent novel." —BookRiot

"Sarah Blake delivers a juicy multi-generational novel." —Chicago Review of Books

"It's a gorgeous book with a strong sense of place, like Empire Falls....If you're going to read one book this summer make it this modern-day classic." —The Missourian

"Do you ever pick up a book just to check it out and find yourself lost in it an hour later trying to rearrange your life so you can just keep reading? Well that happened to me this week [with The Guest Book]." —WYPR, Baltimore

"Sarah Blake spins a fascinating epic that touches on privilege and ambition, racism and grief, revealing as much about America's identity as it does the Miltons." —Christian Science Monitor

"There are glimmers of To the Lighthouse in Blake's lyrical and questing new novel." —BBC

"Sarah Blake is such a beautiful writer she can make any world shimmer, but The Guest Book is particularly fascinating—an intergenerational exploration of memory, identity, love, and family loyalty, of what it costs to inherit a name, a place, and a difficult alignment with history. Powerful and provocative storytelling." —Paula McLain, New York Times bestselling author of The Paris Wife and Love and Ruin

"I loved The Guest Book. Sarah Blake has managed the extraordinary feat of writing both an intimate family saga and an ambitious excavation of the subterranean currents of race, class, and power that have shaped America. This is a vivid, transporting novel, written by a master conjuror of time and place." —Jessica Shattuck, New York Times bestselling author of The Women in the Castle

"Sarah Blake's powerful, beautifully written story portrays a couple's secret choices that come to haunt succeeding generations. The Guest Book is richly atmospheric and morally compelling in a way that stirs the mind long after the last page." —Nancy Horan, author of Loving Frank and Under the Wide and Starry Sky

"Epic and sweeping, without ever leaving behind the personal and profound, The Guest Book is a reminder of what novels do better than anything else. Without losing their specificity, three generations of Milton women reveal something about every family, the secrets and unspoken truths that color everything that happens to us. This is a book you will be dying to talk to someone about." —Arthur Phillips, author of The Tragedy of Arthur and Prague

"Breathtaking…Blake saturates each scene with sensuous and emotional vibrancy while astutely illuminating sensitive moral quandaries. Blake deftly interrogates the many shades of prejudice and 'the ordinary, everyday wickedness of turning away.' Blake's brilliant and ravishing novel promises to hit big." —Booklist (starred review)

"Spanning three generations of Miltons, The Guest Book deserves a spot on your summer TBR in 2019." —Bustle

"The story of the Miltons engages not just with history and politics, but with the poetry of the physical world. This novel sets out to be more than a juicy family saga—it aims to depict the moral evolution of a part of American society. Its convincing characters and muscular narrative succeed on both counts." —Kirkus Reviews (starred review)

"This powerful family saga…is potent and mesmerizing." —Publishers Weekly

"Blake is a masterful storyteller, whose past novel, The Postmistress, won considerable acclaim. I believe The Guest Book will as well." —San Diego Jewish World

"A juicy family saga and an examination of the American elite." —Refinery29


Praise for Sarah Blake's The Postmistress

"Great books give you a feeling that you miss all day until you finally get to crawl back inside those pages again. The Postmistress is one of those rare books. When I wasn't reading it, I was thinking about it." —Kathryn Stockett, author of The Help

"Some novels we savor for their lapidary prose, others for their flesh and blood characters, and still others for a sweeping narrative arc that leaves us light-headed and changed; Sarah Blake's masterful The Postmistress serves us all this and more." —Andre Dubus III, author of House of Sand and Fog

"Even readers who don't think they like historical novels will love this one and talk it up to their friends. Highly recommended for all fans of beautifully wrought fiction." —Library Journal, starred review

"Blake captures two different worlds…with a deft sense of character and plot, and a perfect willingness to take on big, complex questions." —Publishers Weekly

"To open Blake's novel… is to enter a slipstream, so powerful are its velocity, characters, and drama." —ALA Booklist, starred review

"The Postmistress belongs in what Gellhorn called 'the permanent and necessary' library." —Howard Norman, author of The Bird Artist and Devotion

"Hits hard and pushes buttons expertly…Ms. Blake writes powerfully about the fragility of life…." —The New York Times
Coverage from NPR
Upcoming Events
No upcoming events available