The Guest Book: A Novel (Hardcover)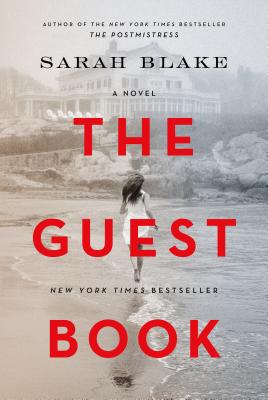 $27.99
Coming Soon - Available for Pre-Order Now
Staff Reviews
---
AVAIL. 5/7/19
"At the end of old money, there is real estate." In 1935, a wealthy WASP couple buy an island off the coast of Maine. The island comes to enthrall, define, and obsess three generations of the Milton family, and the current generation must confront the costs, both financial and psychological. The unearthing of family secrets challenges assumptions and memories: the Miltons, products of their times, were not immune from their eras' racism and anti-Semitism. The scope of Blake's novel is huge, and so is her talent. Absorbing and enlightening, the book will revisit you long after the final page.
- Banna
— From
Banna's New Recs
Description
---
A novel about past mistakes and betrayals that ripple throughout generations, The Guest Book examines not just a privileged American family, but a privileged America. It is a literary triumph.
The Guest Book follows three generations of a powerful American family, a family that "used to run the world."
And when the novel begins in 1935, they still do. Kitty and Ogden Milton appear to have everything—perfect children, good looks, a love everyone envies. But after a tragedy befalls them, Ogden tries to bring Kitty back to life by purchasing an island in Maine. That island, and its house, come to define and burnish the Milton family, year after year after year. And it is there that Kitty issues a refusal that will haunt her till the day she dies.
In 1959 a young Jewish man, Len Levy, will get a job in Ogden's bank and earn the admiration of Ogden and one of his daughters, but the scorn of everyone else. Len's best friend, Reg Pauling, has always been the only black man in the room—at Harvard, at work, and finally at the Miltons' island in Maine.
An island that, at the dawn of the twenty-first century, this last generation doesn't have the money to keep. When Kitty's granddaughter hears that she and her cousins might be forced to sell it, and when her husband brings back disturbing evidence about her grandfather's past, she realizes she is on the verge of finally understanding the silences that seemed to hover just below the surface of her family all her life.
An ambitious novel that weaves the American past with its present, Sarah Blake's The Guest Book looks at the racism and power that has been systemically embedded in the U.S. for generations.
About the Author
---
Sarah Blake is the author of the novels Grange House and the New York Times bestseller The Postmistress. She lives in Washington, D.C., with her husband and two sons.
Praise For…
---
"I loved The Guest Book. Sarah Blake has managed the extraordinary feat of writing both an intimate family saga and an ambitious excavation of the subterranean currents of race, class, and power that have shaped America. This is a vivid, transporting novel, written by a master conjuror of time and place." —Jessica Shattuck, New York Times bestselling author of The Women in the Castle
"Sarah Blake's powerful, beautifully written story portrays a couple's secret choices that come to haunt succeeding generations. The Guest Book is richly atmospheric and morally compelling in a way that stirs the mind long after the last page." —Nancy Horan, author of Loving Frank and Under the Wide and Starry Sky
"Spanning three generations of Miltons, The Guest Book deserves a spot on your summer TBR in 2019." —Bustle
Praise for Sarah Blake's The Postmistress
"Great books give you a feeling that you miss all day until you finally get to crawl back inside those pages again. The Postmistress is one of those rare books. When I wasn't reading it, I was thinking about it." —Kathryn Stockett, author of The Help
"Some novels we savor for their lapidary prose, others for their flesh and blood characters, and still others for a sweeping narrative arc that leaves us light-headed and changed; Sarah Blake's masterful The Postmistress serves us all this and more." —Andre Dubus III, author of House of Sand and Fog
"Even readers who don't think they like historical novels will love this one and talk it up to their friends. Highly recommended for all fans of beautifully wrought fiction." —Library Journal, starred review
"Blake captures two different worlds…with a deft sense of character and plot, and a perfect willingness to take on big, complex questions." —Publishers Weekly
"To open Blake's novel… is to enter a slipstream, so powerful are its velocity, characters, and drama." —ALA Booklist, starred review
"The Postmistress belongs in what Gellhorn called 'the permanent and necessary' library." —Howard Norman, author of The Bird Artist and Devotion
"Hits hard and pushes buttons expertly…Ms. Blake writes powerfully about the fragility of life…." —The New York Times