A Crown of Wishes (Star-Touched #2) (Hardcover)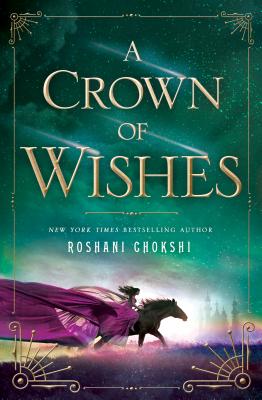 $18.99
Usually Ships in 1-5 Days
Staff Reviews
---
YOUNG ADULT
Princess Guari is a fierce and calculating young warrior who will stop at nothing to take back her stolen kingdom of Bharata. Prince Vikram, cerebral and clever, is the reluctant and despised heir to the throne of Ujijain. They grudgingly join forces to undertake a dangerous journey to the Tournament of Wishes where each hopes that they will be victorious and win their deepest desire. They must use their combined strengths to outwit and outfight murderers, tricksters and magical obstacles. Guari is determined to be the sole winner, but slowly realizes Vikram is more capable - and interesting - than she first believed. Can both achieve their wish, or must one of them be lost forever? A Crown of Wishes brings back the exotic and enchanted Indian-inspired worlds vividly imagined in Choksi's debut The Star Touched Queen. Fans of Victoria Aveyard and Kristen Britain will revel in this feisty new heroine.
— From
Cindy's Recs
Description
---
From the author of The Star-Touched Queen comes a beautiful lush fantasy, Roshani Chokshi's A Crown of Wishes.
Gauri, the princess of Bharata, has been taken as a prisoner of war by her kingdom's enemies. Faced with a future of exile and scorn, Gauri has nothing left to lose. Hope unexpectedly comes in the form of Vikram, the cunning prince of a neighboring land and her sworn enemy kingdom. Unsatisfied with becoming a mere puppet king, Vikram offers Gauri a chance to win back her kingdom in exchange for her battle prowess. Together, they'll have to set aside their differences and team up to win the Tournament of Wishes – a competition held in a mythical city where the Lord of Wealth promises a wish to the victor.
Reaching the tournament is just the beginning. Once they arrive, danger takes on new shapes: poisonous courtesans and mischievous story birds, a feast of fears and twisted fairy revels.
Every which way they turn new trials will test their wit and strength. But what Gauri and Vikram will soon discover is that there's nothing more dangerous than what they most desire.
About the Author
---
Roshani Chokshi is the New York Times bestselling author of The Star-Touched Queen, A Crown of Wishes, Aru Shah and the End of Time, and The Gilded Wolves. Her work has appeared in Strange Horizons, Shimmer, and Book Smugglers. Her short story, "The Star Maiden," was longlisted for the British Fantasy Science Award.
Praise For…
---
Praise for A Crown of Wishes:

Named "One of the Most Anticipated YA Novels of 2017" by Entertainment Weekly, Teen Vogue, and Bustle.com
"Careful plotting, multiple viewpoints, high-stakes action, and a slow-burn relationship makes this heady fantasy completely engrossing. A first pick for YA collections."—School Library Journal, starred review
"Chokshi's debut, The Star-Touched Queen (2016), was lush and gorgeously written, and Chokshi has only improved; this lovely companion tale boasts a stronger narrative structure in addition to the delightful prose."—Booklist
"With a happily-ever-after reminiscent of beloved fairy tales, this is a great pick for voracious readers who like their bejeweled princesses to have hard edges."—Kirkus Reviews
"Chokshi revives the luscious and strange setting of Alaka from The Star-Touched Queen pulling in further elements of Indian folklore for creatures both charming and terrifying."—The Bulletin of the Center for Children's Books
Praise for The Star-Touched Queen:

New York Times Bestseller
#9 on the Summer 2016 Kids' Indie Next List
Buzzfeed Book of the Year
Paste Magazine Book of the Year
Southern Magazine Book of the Year
Bustle.com Book of the Month

"Chokshi's prose is captivating." —Publishers Weekly, starred review
"A stunning debut with lush language."—School Library Journal, starred review
"A unique fantasy that is epic myth and beautiful fairy tale combined."—Booklist, starred review
"In Chokshi's prose, voices have substance and texture while light has color and flavor."—NPR.org
"Lush and dizzying."—New York Times Book Review