How About Never--Is Never Good for You?: My Life in Cartoons (Paperback)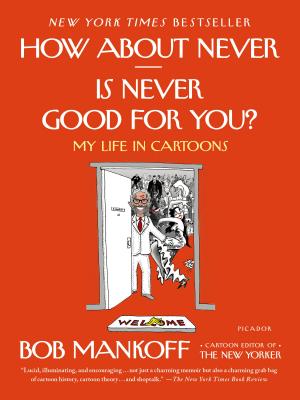 Staff Reviews
---
Bob Mankoff is the wise-cracking cartoon editor of the New Yorker. How does he pick the cartoons for each issue? What does that cartoon mean anyway? And- most importantly - how can I win the weekly caption contest? These questions and more - in addition to a highly engaging and copiously illustrated memoir of his childhood and career ladder to his current position - are answered in this entertaining book. A great read for anyone who loves the New Yorker and its cartoons!
- Cindy
— From
Cindy's Recs 2
Description
---
"Fascinating, forthright, and funny . . . Mankoff also writes with first-hand knowledge about the topic of laughter itself. He dares to ask the question, 'What makes something funny?', and answers it with intelligence, originality, and, of course, humor."-Roz Chast, cartoonist for The New Yorker
Hi, this is me, Bob Mankoff. And this is my memoir. In it I'll usher you into the hallowed halls of The New Yorker (Shhh! Quiet, you'll upset the fact checkers) to show you the soup-to-nuts process of cartoon creation, giving you a detailed look not only at my own work, but that of the artists who keep you laughing every week, except, of course, when they don't, puzzling you with a cartoon that you "don't get" and then you shoot me an email asking me to explain it. Well, you can stop the shooting. You're holding the solution to those cartoon puzzlers in your hands (it's in chapter nine). What else? Oh goodness, self-effacing, humble me has left out the personal part, the essential me-ness part, forged in 1950s Queens New York where I became a wisecracking Jewish kid who mimicked Jerry Lewis, did funny drawings, and turned my mother's Yiddishisms into American humor, leading straight to a career as a successful cartoonist. Nah, that's not the way it happened. You'll need to read the book to find out how it really went down.
About the Author
---
Bob Mankoff is the cartoon editor for The New Yorker. Before he succeeded Lee Lorenz as editor, Mankoff was a cartoonist for the magazine for twenty years. He founded the online Cartoon Bank, which has every cartoon since the magazine's founding. He is the author of the book The Naked Cartoonist: A New Way to Enhance Your Creativity.
Praise For…
---
"Lucid, illuminating, and encouraging." —The New York Times Book Review
"Fascinating, forthright, and funny . . . Mankoff also writes with first-hand knowledge about the topic of laughter itself. He dares to ask the question, 'What makes something funny?', and answers it with intelligence, originality, and, of course, humor." —Roz Chast, cartoonist for The New Yorker
"Mankoff's deep understanding of humor, both its power and its practice, is the live wire that crackles through his new book. . . . How About Never is more than a memoir . . . it's also an enormous window into the mystery and alchemy behind the creation and selection of New Yorker cartoons." —The Washington Post
"How About Never is not just a charming memoir but also a charming grab bag of cartoon history, cartoon theory (nothing too woolly), and shop talk." —The New York Times Book Review
"Is Bob Mankoff mad, a genius, or a mad genius? This book does not answer that question, but you'll love it." —Andy Borowitz
"This is a generous book, giving abundant credit to both the older generation of cartoonists whom the young Mr. Mankoff hero worshiped to the new blood he has brought to the magazine during his tenure." —Janet Maslin, The New York Times
"More than anyone, Bob Mankoff has kept the New Yorker tradition in cartooning alive, while managing to oversee its renewal. He's also a very funny guy, with either a stipple-pen in his hand or a computer keyboard beneath his fingers. And, if that's not enough, he's one of the few funny guys around who actually has something sensible to say about what makes funny funny and he does so here." —Adam Gopnik
"Evidence that The New Yorker's cartoons can still unerringly reflect the texture of our times." —The Wall Street Journal
"Hilarious . . . A unique look at how the best cartoons in the world are created." —Christopher Guest
"Fascinating . . . Mankoff offers a number of tips on the 'intelligent humor' that makes it into the New Yorker--and even how to better your odds in the weekly caption process . . . Those who aspire to a career drawing for the New Yorker will find this essential reading." —Kirkus
"How About Never serves up not only a mini-collection of great cartoons but also a look at the shift in styles through the editorships of legendary William Shawn, Tina Brown, and current editor David Remnick. Mankoff also provides a very funny and insightful look at how to win The New Yorker caption contest. . . A must read for devotees of the magazine." —Publishers Weekly
Coverage from NPR
Upcoming Events
No upcoming events available