The Book of Speculation: A Novel (Hardcover)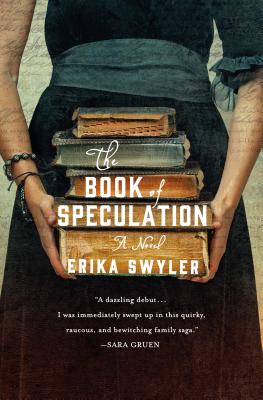 Staff Reviews
---
The duality of the destructive and healing properties of water flows over the characters in this captivating novel, both cleansing and destroying lives across generations. Simon Watson's life is literally and figuratively falling apart. His house on the edge of the ocean is a wreck, he lost his job, and he's uncovering dark secrets about his long dead parents. When a mysterious bookseller sends him a traveling carnival log from the 1700's, he begins to piece together the puzzle that is his family legacy. His mother, grandmother and great-grandmother - themselves carnival acts - drowned themselves on the same day, generations apart. That same day, only weeks away, causes Simon to fear that his increasingly disturbed sister will be next. Mermaids, mute boys, magic, fortunetellers and curses weave a colorful saga of desire and deceit that spans hundreds of years.
- Cindy
— From
Cindy's Recs 2
July 2015 Indie Next List
---
"Hauntingly beautiful, The Book of Speculation weaves a spectacular multigenerational story of magic, love, betrayal, and redemption. The story follows Simon, a young librarian and the descendant of circus mermaids, whose family is steeped in loss. Alongside his story is woven another's: Amos, a mute boy from the 1700s with a special gift. As histories are unveiled and unlikely connections are discovered, Simon is sent a mysterious book with a sinister message. Can he discover the secret that haunts his family in time? Fantastical history, engaging characters, and a love of the written word combine in this compelling novel."
— Jax Caldwell-Dunn (E), Bookshop Santa Cruz, Santa Cruz, CA
Description
---
One of BuzzFeed's 24 Best Fiction Books of 2015

"As Simon, a lonely research librarian, searches frantically for the key to a curse that might be killing the women in his family, he learns strange and fascinating secrets about their past. A tale full of magic and family mystery, The Book of Speculation will keep you up all night reading."—Isaac Fitzgerald, BuzzFeed

Simon Watson, a young librarian, lives alone in a house that is slowly crumbling toward the Long Island Sound. His parents are long dead. His mother, a circus mermaid who made her living by holding her breath, drowned in the very water his house overlooks. His younger sister, Enola, ran off six years ago and now reads tarot cards for a traveling carnival.

One June day, an old book arrives on Simon's doorstep, sent by an antiquarian bookseller who purchased it on speculation. Fragile and water damaged, the book is a log from the owner of a traveling carnival in the 1700s, who reports strange and magical things, including the drowning death of a circus mermaid. Since then, generations of "mermaids" in Simon's family have drowned--always on July 24, which is only weeks away.

As his friend Alice looks on with alarm, Simon becomes increasingly worried about his sister. Could there be a curse on Simon's family? What does it have to do with the book, and can he get to the heart of the mystery in time to save Enola?

In the tradition of Sara Gruen's Water for Elephants, Erin Morgenstern's The Night Circus, and Elizabeth Kostova's The Historian, The Book of Speculation--with two-color illustrations by the author--is Erika Swyler's moving debut novel about the power of books, family, and magic.
About the Author
---
ERIKA SWYLER is a graduate of New York University. Her short fiction has appeared in WomenArts Quarterly Journal, Litro, Anderbo.com, and elsewhere. Her writing is featured in the anthology Colonial Comics, and her work as a playwright has received note from the Jane Chambers Award. Born and raised on Long Island's North Shore, Erika learned to swim before she could walk, and happily spent all her money at traveling carnivals. She blogs and has a baking Tumblr with a following of 60,000. Erika recently moved from Brooklyn back to her hometown, which inspired the setting of the book. The Book of Speculation is her debut novel.
Praise For…
---
"While a book whose narrative hinges on drowning might not seem like a great beach read, Swyler's debut effort, redolent of salty ocean air, is just that...Its clever plot--fueled by a musty book and a powerful set of tarot cards--and Swyler's wonderful descriptions keep the pages swimming along." —Entertainment Weekly

"A good book is magical. A piece of our heart stays tucked inside its lines when we return the book to its place on our shelf. Good novels about good books can be even more special, doubling the fun with two tomes to love. And when the book within the book is actually magical, as it is - or may be - in Erika Swyler's The Book of Speculation, well, let the wild read start." —Star-Telegram

"Mermaids, tarot card readers, a wild man and other carnival characters work their literary magic in this debut novel...packed with fresh, unexpected marvels." —Oprah.com

"A wonderful novel, full of mystery through the centuries [with] great details about carnival life, similar to The Night Circus by Erin Morgenstern." —The Daily American

"In this dazzling novel, the immensely talented Erika Swyler sweeps seamlessly through generations and centuries, moving deftly back and forth and weaving the strands into an exquisite tapestry. I was immediately swept up in this quirky, raucous, and bewitching family saga. Swyler's prose is so polished and elegant it reads effortlessly, even as her distinct voice shines through--her rendering of the sea and its savage appetite rivals that of Annie Proulx's in THE SHIPPING NEWS. I absolutely loved this book, and consumed it whole. My only complaint is that I am already on the edge of my seat waiting for her next." —Sara Gruen, author of WATER FOR ELEPHANTS and AT THE WATER'S EDGE

"THE BOOK OF SPECULATION is a luscious experience--dark, sweet, and wild." —Katherine Dunn, author of GEEK LOVE

"Debut author Swyler creates a melancholy world with hints of magic at the edges. . . Fans of. . . Erin Morgenstern's THE NIGHT CIRCUS, Katherine Dunn's GEEK LOVE, or Katherine Howe's THE PHYSICK BOOK OF DELIVERANCE DANE, won't want to leave this festival." —Library Journal

"Illustrations by the author add even more atmosphere to her prose." —Booklist
Upcoming Events
No upcoming events available