The Tragic Age: A Novel (Paperback)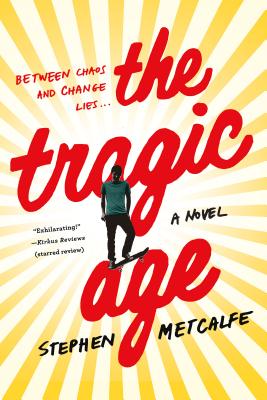 $14.99

Usually Ships in 1-5 Days
(This book cannot be returned.)
Staff Reviews
---
When your twin sister dies from cancer you're allowed to be sarcastic, witty, and critical, at least according to Billy Kinsey. His family may have won the lottery but they aren't winning everything. His parents are on the brink of divorce and Billy is skating by academically even though he's brilliant. Billy is sent into a tailspin when Gretchen, an old friend, and Twom, a mischievous new kid, enter his life. He could go along with Twom's antics, be "saved" by Gretchen, or maybe manage somewhere in between. Billy is on the cusp of adulthood but with a heartbreaking past and an unclear future, will he be able to conquer the tragic age, or will he be stuck there forever? Stephen Metcalfe's The Tragic Age will grab you on page one and keep you hooked until the very end.
- Clare
— From
Clare's Recs
Description
---
This is the story of Billy Kinsey, heir to a lottery fortune, part genius, part philosopher and social critic, full time insomniac and closeted rock drummer. Billy has decided that the best way to deal with an absurd world is to stay away from it. Do not volunteer. Do not join in. Billy will be the first to tell you it doesn't always work—not when your twin sister, Dorie, has died, not when your unhappy parents are at war with one another, not when frazzled soccer moms in two ton SUVs are more dangerous than atom bombs, and not when your guidance counselor keeps asking why you haven't applied to college.

Billy's life changes when two people enter his life. Twom Twomey is a charismatic renegade who believes that truly living means going a little outlaw. Twom and Billy become one another's mutual benefactor and friend. At the same time, Billy is reintroduced to Gretchen Quinn, an old and adored friend of Dorie's. It is Gretchen who suggests to Billy that the world can be transformed by creative acts of the soul.

With Twom, Billy visits the dark side. And with Gretchen, Billy experiences possibilities.Billy knows that one path is leading him toward disaster and the other toward happiness. The problem is-Billy doesn't trust happiness. It's the age he's at. The tragic age.

Stephen Metcalfe's brilliant, debut coming-of-age novel, The Tragic Age, will teach you to learn to love, trust and truly be alive in an absurd world.
About the Author
---
STEPHEN METCALFE wrote the production drafts for Pretty Woman, Dangerous Minds and Mr. Holland's Opus, among others. His stage plays have been produced in New York and at theaters throughout the US, Europe and Japan. He is an Associate Artist at The Old Globe Theatre in San Diego and has been an adjunct professor in dramatic writing at University of California at San Diego, University of San Diego and San Diego State University. The Tragic Age is his debut novel.
Praise For…
---
"Less Than Zero meets Catcher in the Rye in this biting bildungsroman. Written in an insightful, frenetic tone that occasionally turns surreal. Exhilarating and indicting." —Kirkus Reviews (starred review)

"Metcalfe snares readers' attention with rich, fantastic characters…A wonderful read that is hard to put down, The Tragic Age will continue to haunt readers long after the last page has been turned." —Voya

"Metcalfe's taut prose and unique narrative choices mark him as a writer to watch." —Booklist

"Billy makes for a mordant, smart, and angry protagonist...debut author Metcalfe, a screenwriter and playwright, amps up the melodrama with a car chase, a shooting, and a Grand Guignol ending that dooms some while reawakening Billy. " —Publishers Weekly

"Metcalfe's rich imagination is obvious throughout this dark tale of sex, violence, and mentions of suicide...you'll be hooked on this roller-coaster ride of a story from the get-go." —RT Book Reviews

"Metcalfe writes Billy's narration with a laconic, conversational tone that deftly combines age-appropriate nihilism with hints at the emotions behind it all... however, it's the tautly written contemporary events, with tension mounting along with the risk and the violence, that will keep readers on the edge of their seats. With the fatalism of Hassan's Crash and Burn, the chilling relentlessness of FX's series Fargo, and a touch of the wry worldview of Kurt Vonnegut, this will be an easy book talk that will absorb many young adult readers." —The Bulletin of the Center for Children's Books (Starred Review)

"The Tragic Age is not a story that promises happy times and a happy ending. It's sad. It's violent. It's messy. It's complicated. It's ugly. It's beautiful. It's heartbreaking. It's hopeful. It's real." —fiktshun.com

"Stephen Metcalfe's The Tragic Age, is an emotionally raw, unapologetically honest, and fiercely startling coming of age story about life, death, and every amazing, terrifying, fucked up thing in between." —Word Spelunking