Still Life with Tornado (Hardcover)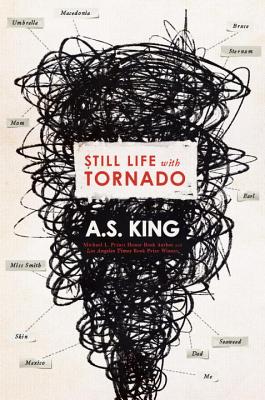 $17.99
Email or call for price.
Staff Reviews
---
A tornado is made of many pieces. Sarah's tornado consists of her mom, dad, brother she hasn't seen in six years, a street artist, and past and future versions of herself. A tornado only becomes a deadly storm when all of the pieces come together in the perfect mixture. For Sarah, her storm begins in art class when crimes are committed, secrets are kept, and she discovers that she is unoriginal. As the tornado rages on, it unearths years of struggling in a toxic family and examines the family vacation that changed her life forever. A.S. King artfully weaves together a relatable narrative that you are sure to be swept up in!
- Clare
— From
Clare's Recs
Description
---
A heartbreaking and mindbending story of a talented teenage artist's awakening to the brokenness of her family from critically acclaimed award-winner A.S. King.

Sixteen-year-old Sarah can't draw. This is a problem, because as long as she can remember, she has "done the art." She thinks she's having an existential crisis. And she might be right; she does keep running into past and future versions of herself as she wanders the urban ruins of Philadelphia. Or maybe she's finally waking up to the tornado that is her family, the tornado that six years ago sent her once-beloved older brother flying across the country for a reason she can't quite recall. After decades of staying together "for the kids" and building a family on a foundation of lies and domestic violence, Sarah's parents have reached the end. Now Sarah must come to grips with years spent sleepwalking in the ruins of their toxic marriage. As Sarah herself often observes, nothing about her pain is remotely original—and yet it still hurts.
 
Insightful, heartbreaking, and ultimately hopeful, this is a vivid portrait of abuse, survival, resurgence that will linger with readers long after the last page.

"Read this book, whatever your age. You may find it's the exact shape and size of the hole in your heart."—The New York Times 

"Surreal and thought-provoking."—People Magazine

★ "A deeply moving, frank, and compassionate exploration of trauma and resilience, filled to the brim with incisive, grounded wisdom." —Booklist, starred review
 
★ "King writes with the confidence of a tightrope walker working without a net."—Publishers Weekly, starred review

★"[King] blurs reality, truth, violence, emotion, creativity, and art in a show of respect for YA readers."—Horn Book Magazine, starred review

★ "King's brilliance, artistry, and originality as an author shine through in this thought-provoking work. […] An unforgettable experience." SLJ, starred review
About the Author
---
A.S. King is the award-winning author of eight acclaimed YA novels. Her novel Please Ignore Vera Dietz earned a 2011 Michael L. Printz Honor and Ask The Passengers won the 2013 Los Angeles Times Book Prize. The New York Times called her "one of the best YA writers working today." King lives with her family in Pennsylvania, where she returned after living on a farm and teaching adult literacy in Ireland for more than a decade. www.as-king.com
Praise For…
---
"Moving, unapologetically strange, skillfully constructed…. Read this book, whatever your age. You may find it's the exact shape and size of the hole in your heart."—The New York Times 

"Fans of Perks of Being a Wallflower will love this powerful new release from award-winning A.S. King."—Buzzfeed

"Surreal and thought-provoking."—People Magazine

"You'll find Still Life's exploration of an artist's inner strength particularly enriching."—Teen Vogue

A 2016 New York Times Notable Children's Book

A News & Observer Best Book of 2016

A Publishers Weekly Best Book of 2016 

A School Library Journal Best Book of 2016

A Booklist Best Book of 2016

Booklist Top of the List 2016

A Shelf Awareness Best Book of 2016

A BookPage Best Teen Book of 2016

A Bustle Top 30 YA Book of 2016

A Nerdy Book Club Best YA of 2016

A Bank Street College Best Children's Book of the Year

NAIBA Young Adult Book of the Year Award Winner 2017

★ "King's brilliance, artistry, and originality as an author shine through in this thought-provoking work. [...] An unforgettable experience."—SLJ, starred review

★ "A deeply moving, frank, and compassionate exploration of trauma and resilience, filled to the brim with incisive, grounded wisdom." —Booklist, starred review
 
★ "The presentation of the surreal as real, the deeply thoughtful questions she poses, the way she empowers her teenage characters to change the trajectory of their lives—King writes with the confidence of a tightrope walker working without a net."—Publishers Weekly, starred review

★ "Lack of original ideas is not something found in work by A.S. King, who blurs reality, truth, violence, emotion, creativity, and art in a show of respect for YA readers."—Horn Book Magazine, starred review

★ "Books about abusive families generally follow the problem-novel script of recognition, admission, and solution; in her inimitable style, King takes a totally different tack, exploring (through interpolated sections from Sarah's mother as well as Sarah's narration) the way abuse warps and gnarls a family over time into a thorny growth of anger and denial that becomes a daily norm, even for members who aren't direct victims.... Readers won't have to live with abuse firsthand to recognize the taut, invisible coils of family dysfunction and the difficulty of gaining perspective on it, let alone breaking free."—BCCB, starred review

★"King's ingeniously crafted, deeply engaging Still Life with Tornado will have readers by the collar the whole time."—Shelf Awareness, starred review

"King understands and writes teen anxieties like no other, resulting in difficult, resonant, compelling characters and stories."—Kirkus

"A.S. King is known for crafting deeply sympathetic portraits of teenagers in crisis, and Still Life with Tornado is no exception."—BookPage

"A.S. King has always brought her unique touch to her YA novels, but she may have outdone even herself in Still Life with Tornado."—Bustle 

"The payoff is great. King's surreal elements are balanced as always by the lucidity of her prose, and her generous, unflagging faith in her readers' ability to keep up with her mental fireworks results yet again in a book that's truly singular."—B&N Teen, "Best YA Books of 2016"

"Though touched with magical realism, this is otherwise a wholly contemporary story about a girl who needs to come to terms with her family's toxic and painful history before she can start dreaming of the future."—Bookish: "Fall 2016's Unputdownable Contemporary Young Adult Books."

 
Praise for Glory O'Brien's History of the Future (2014)
"Maybe there are writers more adept than King at capturing the outrageous and outraged voice of teenagers, but it's difficult to think of one." 
—The New York Times
 
Praise for Reality Boy (2013)
"Timely, incisive, compassionate. All of A.S. King's novels are must-reads." —Matthew Quick, New York Times bestselling author of The Silver Linings Playbook and Forgive Me, Leonard Peacock
 

 
Upcoming Events
Event date:

Thu, 09/30/2021 -

5:00pm

to

7:00pm