Beyond the Bright Sea (Hardcover)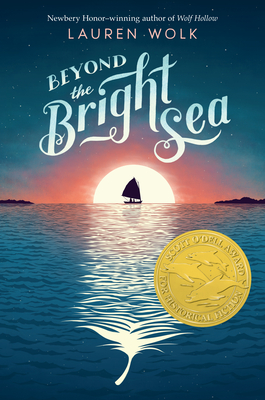 $18.99

Usually Ships in 1-5 Days
Staff Reviews
---
MIDDLE GRADE
Crow's life is a good one. She lives on an island off Massachusetts with Osh, a painter, who adores her, and is tutored by their neighbor, Miss Maggie. Their lives are pleasant, predictable, and self-sufficient. But there's a missing piece: Crow has no idea where she came from. Osh found her, just hours old, in a boat that washed ashore twelve years ago. The mainlanders she comes in contact with seem especially wary of her. Is it because she's black, or something more? Bit by bit she pulls together fragments of her history in a fascinating, suspenseful, and hugely satisfying story.
- Banna
— From
Banna's New Recs
For Crow, her family has always been the people who found her—Osh who saved her as a baby and their neighbor, Miss Maggie. She's always been happy with her simple life on their little island. That is, until Osh gives her a letter from her mother and other clues begin to fall into place. This sends Crow on a hunt to dig up her past and uncover exactly why she was sent away. Her journey unearths truths, as well as danger, and Crow must decide if she should risk it all for the answers she wants or keep the people she loves safe.
- Clare
— From
Clare's Recs
Description
---
- Winner of the 2018 Scott O'Dell Award for Historical Fiction - 

From the bestselling author of Echo Mountain and Newbery Honor–winner Wolf Hollow, Beyond the Bright Sea is an acclaimed best book of the year.

An NPR Best Book of the Year • A Parents' Magazine Best Book of the Year • A Booklist Editors' Choice selection • A BookPage Best Book of the Year • A Horn Book Fanfare Selection • A Kirkus Best Book of the Year • A School Library Journal Best Book of the Year • A Charlotte Observer Best Book of the Year • A Southern Living Best Book of the Year • A New York Public Library Best Book of the Year

"The sight of a campfire on a distant island…proves the catalyst for a series of discoveries and events—some poignant, some frightening—that Ms. Wolk unfolds with uncommon grace." –The Wall Street Journal
★ "Crow is a determined and dynamic heroine." —Publishers Weekly
★ "Beautiful, evocative." —Kirkus 

The moving story of an orphan, determined to know her own history, who discovers the true meaning of family. 

Twelve-year-old Crow has lived her entire life on a tiny, isolated piece of the starkly beautiful Elizabeth Islands in Massachusetts. Abandoned and set adrift in a small boat when she was just hours old, Crow's only companions are Osh, the man who rescued and raised her, and Miss Maggie, their fierce and affectionate neighbor across the sandbar.

Crow has always been curious about the world around her, but it isn't until the night a mysterious fire appears across the water that the unspoken question of her own history forms in her heart. Soon, an unstoppable chain of events is triggered, leading Crow down a path of discovery and danger.

Vivid and heart-wrenching, Lauren Wolk's Beyond the Bright Sea is a gorgeously crafted and tensely paced tale that explores questions of identity, belonging, and the true meaning of family.
About the Author
---
Lauren Wolk is an award-winning poet and author of the bestselling Newbery Honor–winning Wolf Hollow, described by the New York Times Book Review as "full of grace and stark, brutal beauty." She was born in Baltimore and has since lived in California, Rhode Island, Minnesota, Canada, and Ohio. She now lives with her family on Cape Cod.
Praise For…
---
"Be warned, once you pick up Beyond the Bright Sea, you won't be able to put it down...Lauren Wolk's writing is at once lyrical and fraught with danger and suspense, as Crow follows her instincts to hunt down a past that has eluded her and face an unknown future." – NPR's Best Books of the Year

"The sight of a campfire on a distant island…proves the catalyst for a series of discoveries and events—some poignant, some frightening—that Ms. Wolk unfolds with uncommon grace." –The Wall Street Journal

★ "Creating mystery and suspense in an unusual setting, Newbery Honor–winner Wolk spins an intriguing tale of an orphan determined to find her roots, set in the 1920s…. Crow is a determined and dynamic heroine with a strong intuition, who pieces together the puzzle of her past while making profound realizations about the definition of family." —Publishers Weekly, starred review

★ "The mysteries—and the words that describe them—are compelling enough to send readers to the islands for years to come. A beautiful, evocative sophomore effort from Newbery honoree Wolk." —Kirkus, starred review

★ "Wolk has a keen sense for the seaside landscape, skillfully mining the terror the ocean can unleash as a furious nor'easter heightens tension in the novel's climax." — Booklist, starred review
 
★ "A stellar story full of heart, action, and emotion that will make readers feel like they are a part of Crow's family." — School Library Journal, starred review

"[A] hauntingly beautiful sea song of a historical novel.... As Crow searches for clues to her origins, this soulful book turns into a riveting adventure." — Scholastic Teacher
 
"A beautiful tapestry of pirate-treasure adventure, suspense, a search for family, and warm family bonds that'll keep the pages turning and the heartstrings tugging." — Common Sense Media
 
"A sweeping work self-discovery and love, Beyond the Bright Sea is thought-provoking and pitch-perfect in every way." —The Times Herald

"This is the story of a girl trying to discover who she is and who she wants to be, but it is also a fast-paced thriller with kidnapping and buried treasure, a murderous escaped convict, and a shipwreck. Crow, Osh and Miss Maggie are wonderful characters, quirky and lovable and real. The lessons Crow learns about people and herself are profound. The sea crashes, and the smell of salt and fish and ocean spray will make you feel drenched as you read. The writing is fabulous."  — Historical Novel Society
 
"Heart-wrenching, Lyrical." — New York Public Library Biblio File blog
 



Praise for Lauren Wolk's Newbery Honor–winning debut, Wolf Hollow:

"The honesty of Wolf Hollow will just about shred your heart, but Annabelle's courage and compassion will restore it to you, fuller than before. This book matters." —Sara Pennypacker, New York Times bestselling author of Pax

"An evocative setting, memorable characters, a searing story: Wolf Hollow has stayed with me long after I closed the book. It has the feel of an instant classic." —Linda Sue Park, Newbery Medalist and New York Times bestselling author

"Wrenching and true. . . . comparisons to Harper Lee's To Kill a Mockingbird will abound. But Wolk gives us her own story—one full of grace and stark, brutal beauty." —The New York Times Book Review

"This exquisite debut confronts injustice and doesn't flinch." —People

"[A] powerful debut . . . beautifully written." —The Wall Street Journal

★ "Trusting its readers implicitly with its moral complexity, Wolk's novel stuns." —Kirkus, starred review

★ "The narrative is powerful, complex, and lifelike . . . a truly moving debut." —School Library Journal, starred review
 
★ "Wolk movingly expresses Annabelle's loss of innocence through the honest, clear voice of her protagonist." —Publishers Weekly, starred review
 
★ "Perfectly pitched to be used in classrooms in conjunction with To Kill a Mockingbird." —Booklist, starred review

★ "The tension builds and never lets up." —The Horn Book, starred review